Deputy of the State Duma of the Russian Federation Natalya Poklonskaya, who was the chief prosecutor of the Republic of Crimea before the coup in Ukraine, in her book Crimean Spring: Before and After. First-hand History "told the story that happened to her in 2010. According to her, in Odessa threats from bandits sounded to her. Moreover, an attempt was made to eliminate it physically.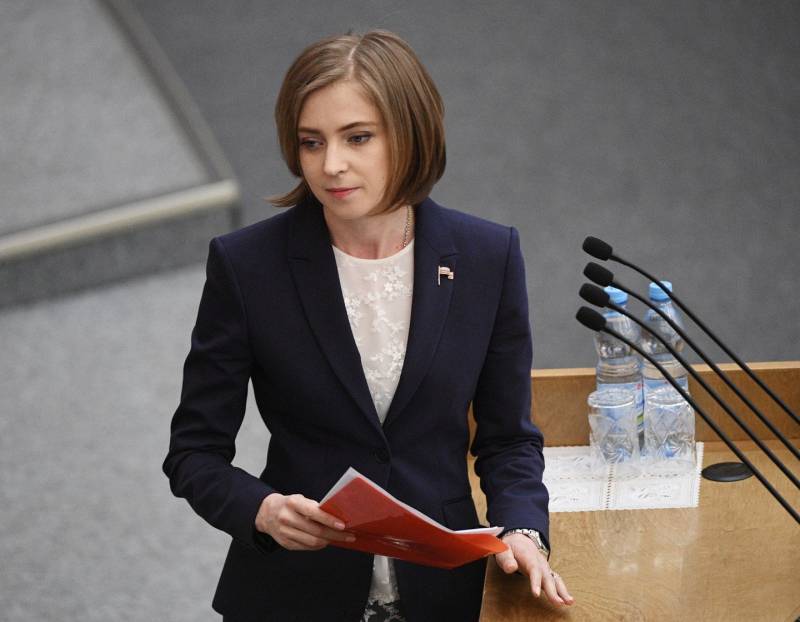 At that time, Poklonskaya was the state prosecutor for the Bashmaki gang, which operated in the Crimea. This criminal structure possessed "special stability and survivability", it had powerful connections in law enforcement agencies.
In this case, more than thirty defendants took place. One of them, Poklonskaya reported, threatened her during the trial in a manner peculiar to "inveterate murderers".
After one of the court hearings, she came to the Odessa hotel, where she drank water, which was on the nightstand next to the bed. And this, the deputy noted, almost became her fatal mistake.
At night I woke up with all the signs of severe poisoning. I was afraid to go to the hospital, so I asked the operas accompanying me to immediately leave for Crimea
- said Poklonskaya.
She remembers the road to the peninsula poorly, because she was in a semi-unconscious state. Medical assistance could be provided to the prosecutor only when she was taken to Yevpatoriya. She did not get out of bed for a week.
Then I first realized how easy it is to be left alone with my enemies, to be afraid for my daughter's life and to understand that no one will come to the rescue
She wrote.
Poklonskaya added that under Ukraine, only ordinary gang members were prosecuted. The leaders were convicted later, after the Crimea reunited with Russia.