Reuters reported that a Russian frigate was spotted off the coast of the Crimean city of Feodosia. On board, they even spotted a helicopter. According to the agency, which referred to a certain "eyewitness", the ship is located one and a half nautical miles from the coast and moves towards the Sea of ​​Azov.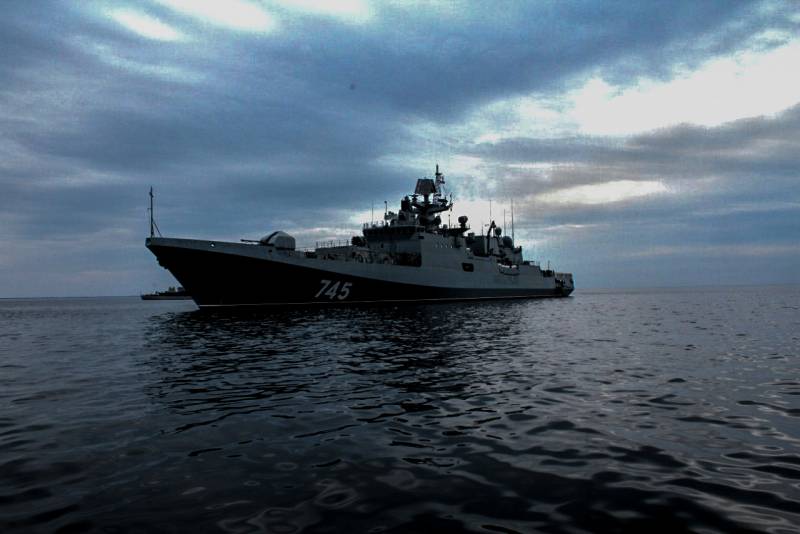 The name of the frigate is unknown. It is noted that it is equipped with two torpedo tubes, an A-190 artillery mount, an anti-torpedo bomb launcher, two vertical launchers - the Buk analogs and AK-630M six-barreled guns. Presumably, on board are Caliber-NK missiles and Onyx supersonic anti-ship missiles. As suggested by the TV channel "
Constantinople
", It can be either" Admiral Essen ", or" Admiral Grigorovich ", or" Admiral Makarov ". All of these ships are part of the Black Sea Fleet of Russia.
What is the reason for the direction of the ship to the Sea of ​​Azov? Perhaps, with a recent statement by the Ukrainian "bloody pastor" Alexander Turchinov, who threatened that Ukrainian ships were once again ready to make passage through the Kerch Strait. Despite the fact that the previous adventure of this kind ended for Ukraine very deplorably and ingloriously, in Kiev they are ready to send new sailors to the slaughter.
In addition, US senators submitted a resolution in which they propose to begin the operation "to ensure freedom of navigation." The initiators of this idea argue that it is necessary to ensure Ukraine the right to unauthorized passage through the Kerch Strait.
Some experts compared the American initiative with the Freedom Flotilla. In May 2010, the Turkish courts, on board of which there were volunteers trying to bring humanitarian aid to the Gaza Strip. The Israeli army fired on ships, killing nine people and injuring thirty. There were also wounded from the Israeli side.
Then Israel was criticized by the international community. Nevertheless, this criticism cannot be compared with the attacks that Russia is now subjected to. Although the Freedom Flotilla was not carrying weapons, but humanitarian supplies, it was in neutral waters. Ukrainian sailors illegally invaded the Russian water area. In addition, Russian border guards did not kill anyone. It seems that the inspirers of the previous provocation really want bloodshed with deaths, and therefore they are preparing a new similar action.