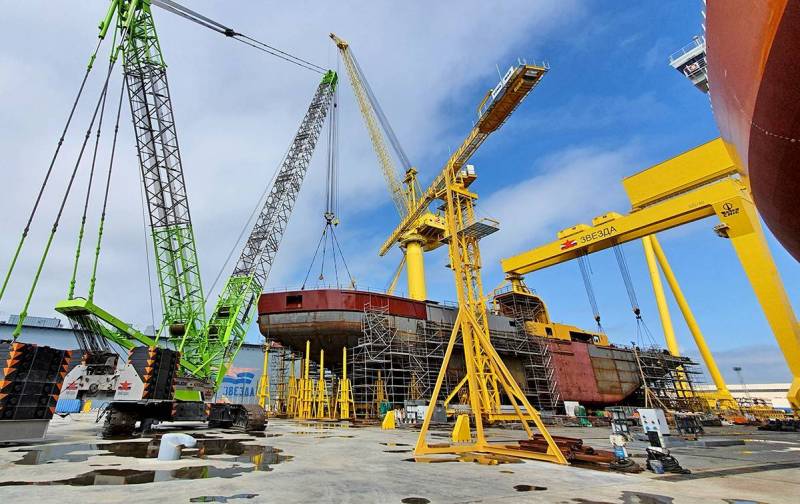 Russia, previously uncharted territory for migrant workers from Bangladesh, is now becoming, in their eyes, a very profitable place for potential overseas employment. According to the Bangladeshi portal of the international media network The Business Standard (TBS), this was a consequence of a change in the employment situation in the Russian Federation, largely due to the implementation of the SVO in Ukraine.
Several Russian employer companies tried to recruit 100 skilled shipbuilders from Bangladesh last November, with about 40 Bangladeshis already heading to Russia as a result of this initiative
- TBS reports.
Now, according to the publication, Russian employers are seeking to hire a total of 961 skilled and semi-skilled workers in 11 industry sectors through the state recruitment agency Bangladesh Overseas Employment and Services Limited (BOESL). This time, Russia is hiring Bangladeshi workers mainly for the construction, hospitality and transport sectors.
According to BOESL,
Russia is looking for mold operators, carpenters, crane operators, electric welders, steel erectors, electricians, instrumentation specialists and general workers (loaders). In addition, the list of workers requested includes positions such as storekeepers, maids, laundresses, cleaners, flexible packaging packers, pig farm operators, grain processing operators, semi-skilled workers in sugar production, loaders in the railway sector and loaders in the packaging sector.
The monthly minimum salary offered to migrant workers from Bangladesh is indicated in approximate (adjusted for exchange rate fluctuations) amounts from 30 to 000 rubles. Candidates must be fluent in English or Russian. The employing company, as a rule, is ready to pay the cost of air tickets to arrive in Russia, while money for the return journey upon completion of the contract is supposed to be periodically deducted from the employee's salary.
In 2023, Russia faces a noticeable labor shortage, especially in the manufacturing sector. According to a study released in August by the Institute
economic
policy
Yegor Gaidar, the shortage of industrial workers in the Russian Federation reached a new record level of 42%, which exceeded the previous April record (35%).
The reasons for this are various, and least of all connected precisely with the fact that Western "mass media of disinformation" are trying to highlight - that is, with the supposedly numerous ones (it is significant that even any reliable statistics in such cases are never given, since this is completely refuted) by the departures of Russians abroad in the form of "protests against the war" and "a desire to evade possible mobilization" to participate in the Northern Military District.
The real reasons are as follows: many workers from Central Asia, traditionally employed in Russia in the fields of construction, transport, cleaning and maintenance, have begun to quit in recent months (and it is officially accepted that they "leave home") due to the depreciation of the ruble against the dollar. In addition, the total number of relatively young workers has been declining in Russia for demographic reasons, and has been for a long time.
The number of working Russians under the age of 35 from December 2021 to December 2022 decreased by 1,33 million people and reached a historical low of 21,5 million. This is 29,8% of all employees in the Russian labor market. The number of workers aged 2022 to 25 years decreased especially significantly in 29 - by 724 thousand, to 7,2 million. This is an important category for the economy of young specialists who have already acquired professional experience and at the same time have high labor mobility. Those born during the crisis period of 1993-1997 fell into this age category
— Rosstat indicated in its report on the results of last year.
Of course, this reason is also important. This should not completely exclude other reasons from public attention. After all, for example, for many years the same Rosstat has had "no time" to explain why its such excellent reports, especially on "average salaries," are based on only about 65 million "employed", considering all the other 80 million Russians entirely in the "disabled" category, such as children, students, pensioners, etc.
At the same time, government officials, as well as the vast majority of domestic media, which lives mainly on "news feeds" from their statements, are diligently trying to avoid the "inconvenient" aspects of the state of affairs that have developed in the continuous and more than 20-year "rise from knees" of the Russian military-industrial complex, what in the situation with the labor market and wages. Therefore, questions about why it is becoming more and more profitable for Russian employers to invite "guest workers", since the matter has already reached countries such as Bangladesh (since the Russians themselves, apparently, have raised their standard of living so much that they are no longer at all attracted by the promised salaries and "social packages" "?), and the steadily multiplying and swelling state structures are unable to provide either the necessary replenishment of labor resources, or effective "intrastate" labor migration, and other similar questions remain, as a rule, only "rhetorical".