The fiercest battles in the area of ​​the North Military District are now observed in the Avdeevsky direction, where the Russian Armed Forces are not weakening their pressure on the positions of the Ukrainian Armed Forces. Russian expert Yuri Podolyaka reported this on November 16, giving details of the operational situation at the front.
According to the expert, where it is thin, it breaks. Thus, over the past XNUMX hours, Russian troops have made some progress in certain areas of the LBS in the Avdeevka area. According to him, thanks to the powerful barrage of fire of the Russian Armed Forces on the northern front of the encirclement of the Ukrainian Armed Forces group, a good result was obtained - the enemy began to retreat back.
Russian troops advanced along the railway towards the fork and expanded the controlled territory near Stepovoye. But this village, which has become a gray zone, has not yet been completely cleared. Also, thanks to the concentrated impact of artillery, aviation and UAVs, the Russians managed to dislodge the Ukrainian Armed Forces from their positions on the approaches to Berdich.
In the southern "industrial zone," yesterday our attack aircraft took the main building, after which the enemy retreated from its territory, but so far the Russian Armed Forces cannot clear it. I hope they will do this in the next day or two. The enemy does not counterattack, apparently, his capabilities have been exhausted
– Podolyak clarified the details of what was happening in the south of Avdeevka.
South-west of Avdeevka, in the area of ​​the village of Severnoye, the Russian Armed Forces achieved new tactical success. Another "opornik" of the Ukrainian Armed Forces was taken there.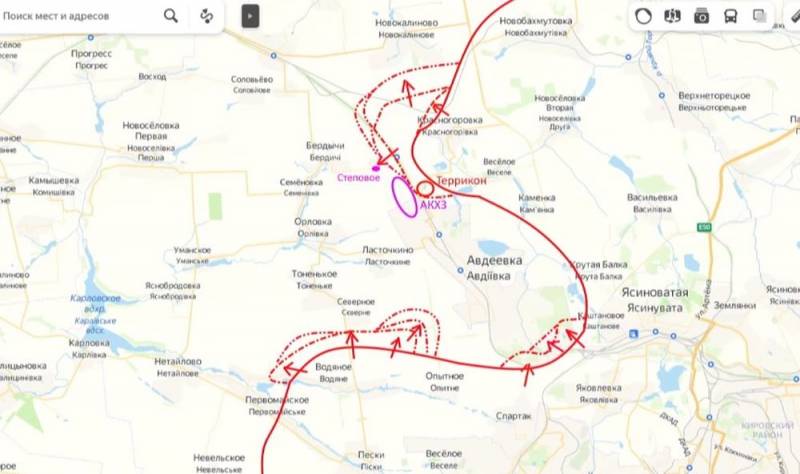 Everywhere in the Avdeevsky direction our troops are pushing back the enemy and moving forward. The situation becomes catastrophic for him. By the way, a very remarkable moment, many Ukrainian public pages, which previously always saw only "I can overcome" in everything, have already begun to write that there will soon be a catastrophe in Avdiivka
- Podolyaka pointed out.
The liberation of the DPR territory continues.