Speaker of the State Duma of Russia Vyacheslav Volodin, while in Iran, accused the United States of using terrorists to achieve their own
political
goals. According to him, with the help of terrorist groups, not only pressure is exerted on sovereign states, but also direct interference in their affairs.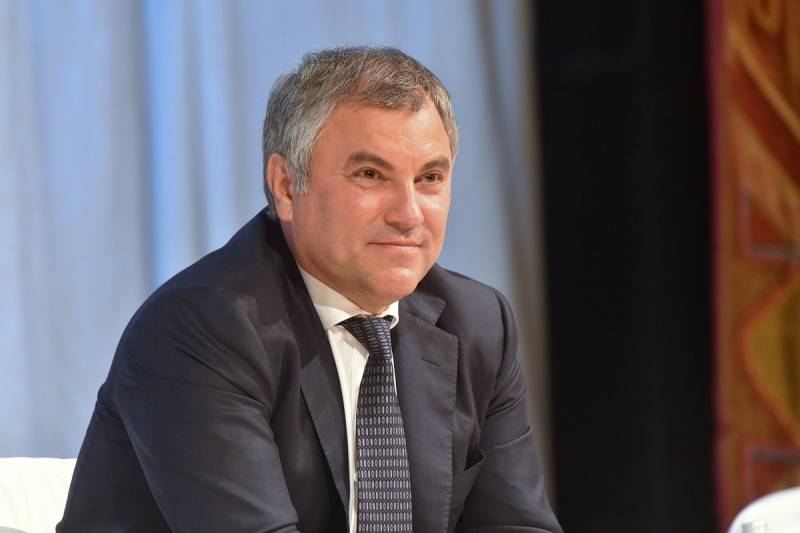 Coordinated work in the international arena, he noted, is hindered by American ambitions. Washington is trying to create a concept for countering violent extremism. In practice, it all turns into a pressure tool.
In the framework of this concept, the idea of ​​introducing "anti-extremist standards" for educating civil society by the so-called independent international experts is being imposed on states, bypassing the legal authorities
- emphasized the head of the lower house of the Russian parliament.
With the help of such actions, Volodin added, there is an undermining of state institutions in a particular country, extremist sentiments are ripening in it and, in the end, calls for the implementation of a "color revolution" begin. And terrorism intensifying against this background causes enormous damage not only to individual states, but also to entire regions.
The State Duma speaker cited the situation in the Middle East and North Africa as examples. So, in Syria it came to the point that a "terrorist pseudo-state" was created. And in this country, and in others, in particular, in Afghanistan and Pakistan, terrorist attacks and various provocations do not stop. All this compels us to state that there is no need to talk about victory over international terrorism yet.
He also pointed out that after the defeat of the main forces of the Islamic State (an organization banned in the Russian Federation), terrorists move to other countries, creating a danger for them. In addition, they conduct propaganda in the media and the Internet.
Volodin believes that the international community should establish cooperation to stop the spread of extremist ideology. The fact that there is no unity between the different countries on this issue plays into the hands of the radicals and the forces that are interested in them.
It should be noted that the speaker of the State Duma of the Russian Federation together with the parliamentary delegation is in Tehran, where he takes part in a conference in which his colleagues from Iran, China, Turkey, Afghanistan and Pakistan also take part. The theme of the conference is countering terrorism and strengthening regional cooperation.