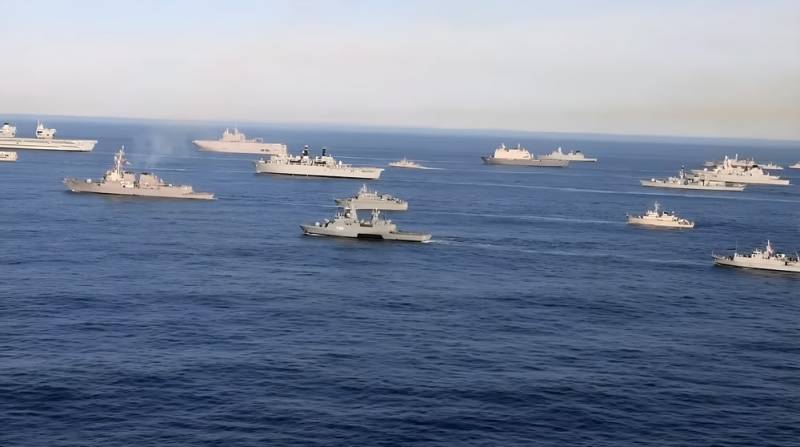 Amid the worsening Palestinian-Israeli conflict, the North Atlantic Alliance is concentrating a task force of ships in the Mediterranean Sea, which will become the largest formation of its kind in NATO history in this region.
Thus, south of the island of Sardinia, the aircraft carrier group USS Dwight D. Eisenhower (CVN-69) is based, which includes the missile cruiser USS Philippine Sea (CG-58), the destroyers USS Gravely (DDG-107) and USS Mason (DDG-87) , as well as the frigate Virginio Fasan (F 591).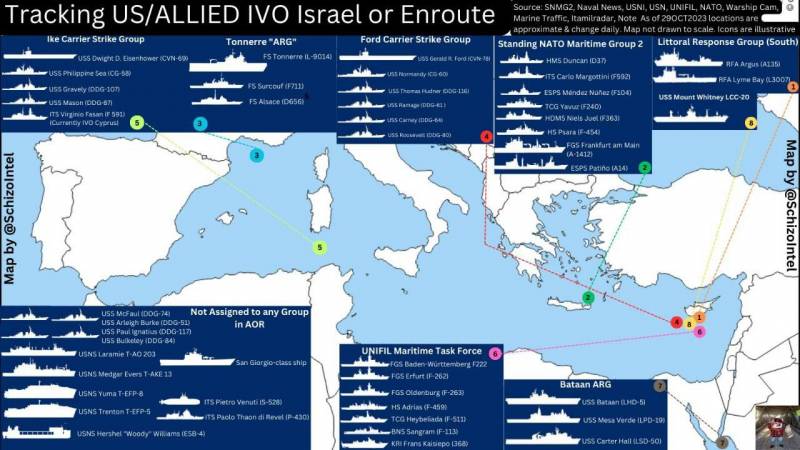 In addition, the amphibious helicopter carrier Tonnerre is located in the Gulf of Lion. North-west of Crete, a naval group of the Western bloc consisting of eight frigates is in combat guard.
At the same time, the British aircraft carrier R08 Queen Elizabeth entered the waters of the Mediterranean Sea.
The strike group of the aircraft carrier USS Gerald R. Ford with the cruiser USS Normandy, destroyers USS Thomas Hudner, USS Ramage (DDG-61), USS Carney (DDG-64) and USS Roosevelt (DDG-80) is concentrated west of Cyprus. There is also a Royal Navy task force nearby, consisting of the casualty reception ship RFA Argus and the landing ship auxiliary RFA Lyme Bay (L3007).
The flagship of the US 6th Fleet, USS Mount Whitney, is based south of Cyprus. The ships of the naval task force, consisting of the frigates FGS Baden-Württemberg and HS Adrias, the corvettes Erfurt, Oldenburg, TCG Heybeliada, BNS Sangram and KRI Frans Kaisiepo-368, are also waiting in the wings.
In the Red Sea are the amphibious assault ship USS Bataan and dock ships USS Mesa Verde and USS Carter Hall.
Along with this, 11 more warships of various classes and the ITS Pietro Venuti submarine, which do not belong to any maritime group, patrol the region.