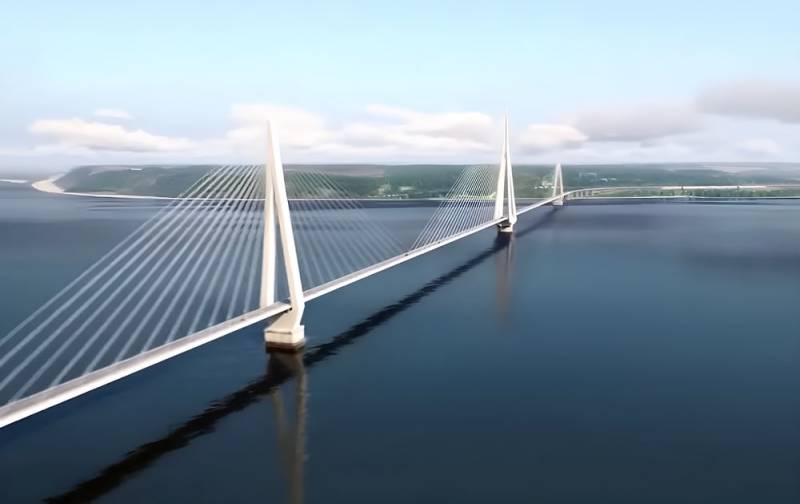 On September 8, an important event occurred - Glavgosexpertiza gave a positive conclusion to the project of a bridge across the Lena River in Yakutia. This means that the "construction of the century" is actually moving from the realm of discussion to the realm of practical implementation.
It is worth noting that the need to build this, without exaggeration, grandiose structure was discussed back in the mid-2012s. In XNUMX, the implementation of a complex project almost began, but a little later the "Crimean Spring" happened and the bridge across the Kerch Strait became a priority.
Finally, the issue of constructing a crossing across the Lena was returned to in 2019. Moreover, despite the difficult geopolitical situation, Russia did not stop working on an important project.
At the moment it is known that the length of the bridge crossing will be 14,5 km, of which 2,5 km is the crossing itself. Approximately 5300 vehicles will cross the bridge every day. The cost of the project will be 132 billion rubles.
It is worth noting that despite the most difficult geological and hydrological conditions, the bridge across the Lena will cost almost twice as much as the Crimean bridge. However, it will not have railway tracks.
Now about why this event is so important for our country.
Firstly, Yakutia is the largest administrative-territorial unit in Russia, and throughout the world. Meanwhile, only 1 million people live here, 600 thousand of whom are simply "cut off" by the Lena River from "mainland" Russia.
There are currently no bridges across the aforementioned river. In winter, people travel by car across the ice; in summer, by ferry crossing. In spring and autumn, the river is impassable, so you can only get to the other side by air, which is extremely expensive and not accessible to everyone.
The problems described above greatly slow down
economic
development of a very promising region.
However, after completion of construction, the bridge will connect three federal and five regional highways, the Amur-Yakutsk railway, an airport, and a river port. Transport accessibility of Yakutia will thus increase from 20% to 87%.
As a result, the bridge will become the largest "artery" capable of giving a fresh impetus to the economy of Yakutia.
Secondly, even the Soviet Union failed to cope with the task of building a bridge across the Lena. Modern Russia has all the necessary knowledge, skills and means to complete an important project that has been awaiting its turn since the early 80s.