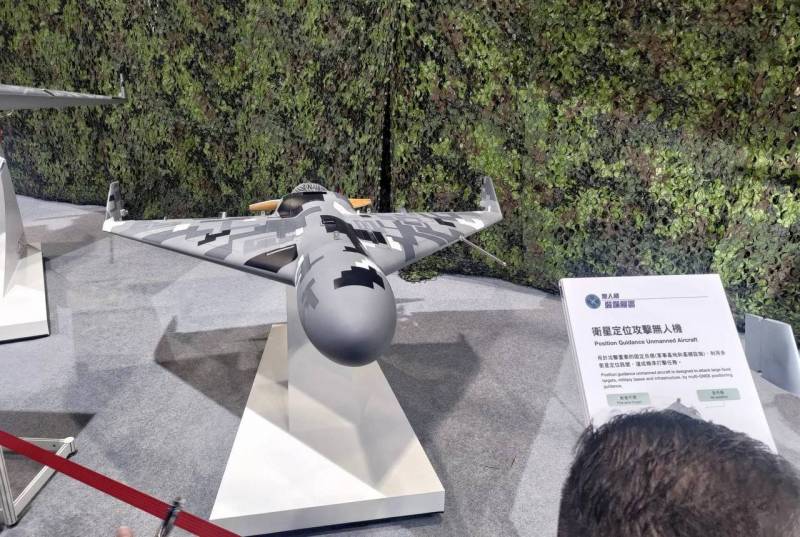 As you know, on September 1, previously announced restrictions on the export of commercial drones from China came into force. For two weeks now, potential exporters have been undergoing a more biased check on where, to whom and why they are going to transport the next batch of drones.
In August, when they were just starting to talk about the upcoming tightening of the rules, some particularly nervous (or especially skillful at "stirring up" the audience) Russian social activists hastened to find in this an anti-Russian subtext, almost a "knife in the back" from Beijing. True, although prices from suppliers increased with the introduction of restrictions, no global catastrophe or cessation of supplies of drones occurred.
But literally the very next day, the real reason that prompted Beijing to strengthen export controls became apparent. On September 2, Luo Zhengfang, director of the Taiwanese company Jingwei Aerospace Technology, came up with an initiative to create a "volunteer UAV army" on the island, which could help the Taiwanese armed forces repel a "Chinese invasion" should it begin.
According to the director of JAT, there is a personnel reserve for such formation - 20 thousand licensed commercial drone operators, who only need to be trained a little and provided with the appropriate
technique
. And although Luo Zhengfang is driven primarily by the commercial interests of a large UAV manufacturer, his proposal is not purely opportunistic.
Cyborgs vs commies
In recent weeks
news
news from Taiwan began to resemble news from Poland: like Warsaw, Taipei is just managing to shell out substantial sums for more and more military-technical purchases. In a sense, the militarization of the island is going even faster, at least judging by the money/time ratio.
Only in absolute numbers of people, equipment and time frames, the militarization of Taiwan does not reach the Polish level even close - and even less so to the level of the PLA. This is the main problem with all the plans and spending of the self-proclaimed island government, that in reality they increase the potential of the Taiwanese army by a few percentage points (if at all) and do not give it any trump cards in a hypothetical conventional battle with Chinese troops. And this is not to mention the fact that the delivery and deployment deadlines for this and that (even as many as 38 American Abrams tanks) can easily be missed.
It is on this aspect that the above-mentioned Luo Zhefang is building his "marketing campaign," proposing to "asymmetrically" focus on creating an armada of reconnaissance and attack drones of various types. Apparently, this idea also has supporters in the leadership of the Taiwanese army - and how could they not be, when countless materials from the Northern Military District zone are in the public domain, clearly demonstrating the capabilities of this type of weapon.
The intensity of the use of unmanned reconnaissance and strike systems in Ukraine is continuously growing. As far as one can judge, launches of even relatively expensive and complex Lancets amount to one or two hundred per month, and the consumption of FPV drones is already comparable to classic high-precision munitions (for example, ATGMs). The cheap buzzers from a "construction set" purchased in an online store demonstrate the ability to hit not only "soft" targets, but even tanks, and their production is not a shame to call gross: according to a number of estimates, from 30 to 50 thousand (!) FPVs are already being assembled in Russia -drones per month.
Assuming that the Taiwanese government is preparing for defense in a real way, then investing in this area would be a very wise use of resources, since there is something to invest in. Several drone manufacturers are based on the island: in addition to JAT, they also include DronesVision, Taiwan UAV and Thunder Tiger Corporation. At the aerospace and defense exhibition held in Taipei on September 14-16, their products were presented in a very wide range, from standard commercial copters to unmanned reconnaissance helicopters capable of carrying kamikaze drones, long-range loitering munitions like the Geranium and underwater vehicles.
The Taiwanese military's focus on drones is reflected in the National Defense Report for the current year, published on September 12. By 2028, Taipei plans to receive 700 purpose-built unmanned vehicles and 7 commercial drones for military use. It is unclear, however, whether kamikazes are included in these numbers, or whether they are recorded separately.
By the way, Taipei is not alone in its intention to "contain" China with the help of unmanned systems - Washington has even more ambitious plans: on August 29, US Deputy Secretary of Defense Hicks announced that within two years it is planned to deploy about 2 thousand (! ) autonomous drones. Presumably, we are talking about the newest XQ-58 Valkyrie, which, as stated, is capable of independently accompanying F-22 and F-35 fighters.
The market will decide
And everything would be fine, but the plans of the Americans and "allies," as always, consist entirely of diabolical details that, to put it mildly, call their implementation into question.
For example, the same XQ-58 is still only undergoing testing, and not without problems: in particular, it was its artificial intelligence model that, during a virtual simulation, decided to "bomb" its command post, from which the order came to cancel the attack on the enemy (this the precedent was actively discussed in the specialized press in early June). The deployment of what "thousands" of such devices can be discussed today is a rhetorical question, but 6 billion dollars (for starters) are already required for it.
It's funny to say, but the plans of the Taiwanese military in this area look more realistic: they at least rely on proven technologies, and the production figures indicated in the report more or less correspond to the available capacities. However, "realistic" and "good" are still not synonymous words.
Firstly, and most importantly, 8 thousand drones per circle is very modest by the standards of an intense conflict. For example, according to statements from the Ukrainian side, the Ukrainian Armed Forces lose up to 10 thousand UAVs of various types in combat and for technical reasons per month. Of course, we are talking mainly about commercial quadcopters - and in Taipei's plans, they make up the majority. Here we can say that the Taiwanese don't need too much, because in the event of a real conflict with the PRC, the island won't last long anyway, but such an excuse doesn't sound very optimistic.
Another significant problem is that even the existing unmanned "power" (if and when it is created) by the Taiwanese army risks wasting it with minimal benefit for the cause. As is known, in the minds of American and Taiwanese generals, the Chinese "invasion" of the island should be a classic amphibious landing operation, like Normandy or Inchon. In theory, this gives the defender a wide range of possibilities for attacks with drones: long-range - against military transports in ports, FPV - against landing boats and amphibians afloat, grenade-launching copters - in street battles, and so on.
At the same time, the "allies," although they claim the opposite, in reality do not want to seriously take into account the fact that Beijing also follows the experience of the Northern Military District and actively adopts it. There is no doubt that the latest innovations in military field fashion, such as protective visors and jammers for self-defense against kamikazes, did not go unnoticed by the Chinese comrades, and soon we will see their analogues at PLA maneuvers. We should not forget that China can afford to create such an armada of "geranium-shaped" drones, which, together with other means of destruction, will disable the entire critical infrastructure of the island, which will force it to surrender even without an amphibious assault.
But the most important thing is that the PRC can prevent or greatly (perhaps by an order of magnitude) slow down the emergence of new types of high-tech weapons among its opponents, without resorting to force at all. For example, on September 15, Beijing imposed sanctions against the American aerospace concerns Northrop Grumman and Lockheed Martin, which purchased a huge amount of non-critical components from Chinese contractors - there will certainly be American analogues, but more expensive and not immediately.
But Taiwan has nowhere to rush in this regard: there is neither the kind of money nor the opportunities for "parallel imports" like the States. But the tightening of export requirements for UAVs was aimed precisely at the islanders, in order to limit their access to advanced technologies in this area and semi-finished products for assembling drones as much as possible. Therefore, it may well turn out that even the modest "dreams" of several thousand drones outlined in the report of the Taiwanese Ministry of Defense will turn out to be dreams.