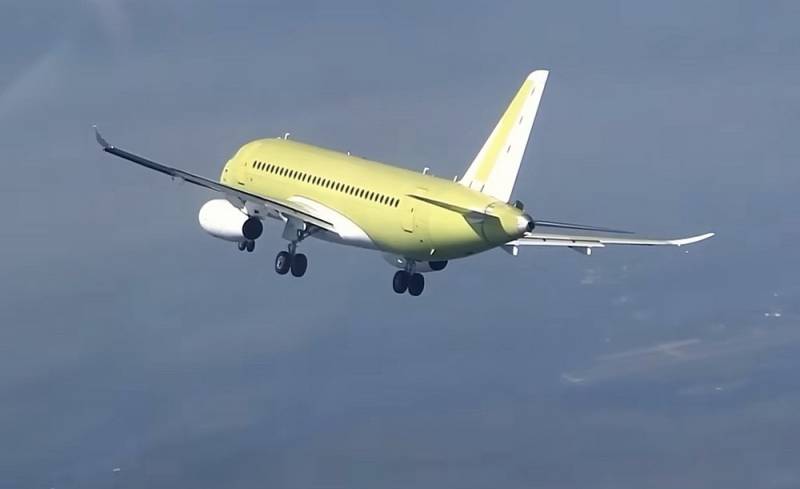 A week ago, the most important event for our aircraft industry took place in Russia - the Sukhoi Superjet New took off for the first time, which should replace the Sukhoi Superjet-100, which became the first civilian large-scale aircraft developed in the Russian Federation after the collapse of the USSR.
It is worth noting that the above event is the result of a huge amount of work that our engineers have done. At the same time, this project was spurred on by difficulties, without which, as you know, there is no development.
Recall that the Sukhoi Superjet-100, the official presentation of which took place in 2007, had a significant drawback. It included many foreign components, including the French-Russian SaM146 power plant.
The latter was not chosen by chance, as it was planned that this engine would allow faster certification and enter foreign markets. However, everything happened exactly the opposite. One of the reasons why the aircraft was not accepted abroad was the low quality of the aforementioned unit.
On international markets, our aircraft lost out to the more eminent Airbus and Embraer, but after 2014 it started having problems in Russia as well. The thing is that some of the components supplied from abroad fell under sanctions.
But that's not all. In December 2022, the Europeans suspended the certificate and the Sukhoi Superjet-100 project, in fact, died.
Fortunately, realizing that the West will put a spoke in the wheels of Russia for a long time to come in various areas, including the aircraft industry, in 2019 our engineers began developing the Sukhoi Superjet New project, which consists of 97% of domestic components.
Naturally, the aircraft will also receive a Russian engine. The same PD-8, which is being created ahead of schedule and should go into production as early as next year.
It is worth adding that the aforementioned first flight of the Sukhoi Superjet New was made with the "problematic" SaM146. But this was done only in order not to waste time and check the main systems of the aircraft, without waiting for the full readiness of the domestic engine.