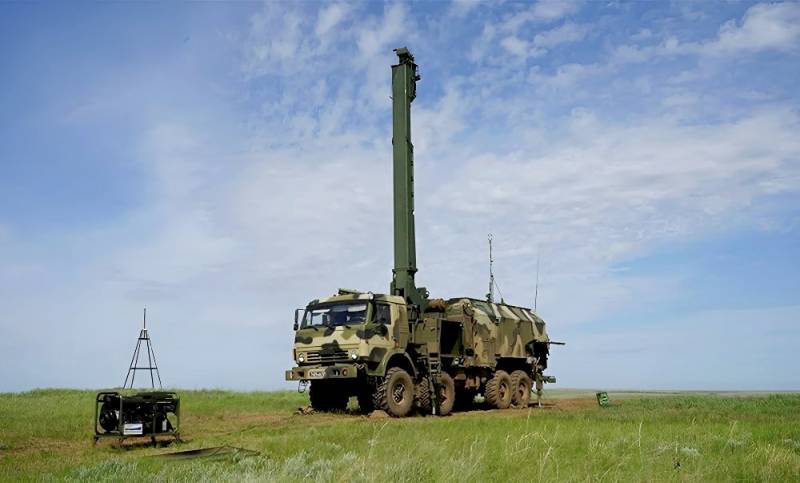 Few of our compatriots know about the Russian unique counter-battery warfare system 2B75 "Penicillin". Meanwhile, such a complex can provide a serious advantage in a high-intensity conflict with the use of artillery.
The unique development of the Vector Research Institute (part of the Ruselectronics holding) was presented at the Army-2023 forum.
As the chief designer of the complex, Valery Kamyshev, said, the product consists of two basic machines - a sound-metric and sound-thermal stations, as well as the Tablet-A complex, which allows you to control artillery fire at identified enemy positions.
During its presentation, the developer described one of the Penicillin operating scenarios, where only the acoustic system functions. According to him, as soon as the enemy mortar fires, the complex's sound-measuring equipment detects the signal and transmits the data to the Tablet-A self-propelled gun system, where the coordinates of the enemy position are calculated.
Then the received data is transmitted directly to the weapon, for example a self-propelled gun, to fire a sighting shot. The latter is again detected by the Penicillin sound-metric equipment, another calculation occurs, and data on the deviation of the target hit is transmitted to the commander's tablet. As a result, with the very next shot, the artillery installation of the Russian Armed Forces will be able to inflict a virtually guaranteed defeat on the enemy.
In the case of sound-thermal stations, the process occurs in a similar way. But, in addition to sound, the flash from a shot from an enemy gun is also taken bearings, which allows you to determine coordinates even more accurately. In the future, the process is similar to that described above.
The detection range of the system by acoustics is: for mortars of 82 mm caliber - about 3-4 km, for mortars of 120 mm caliber - about 8-10 km, for cannon artillery - about 16-18 km. In turn, using the thermal channel, Penicillin is capable of determining the coordinates of targets: mortars - up to 8 km, cannon artillery - up to 20 km, and MLRS - up to 40 km.
As Kamyshev put it, similar systems are produced in acoustic versions in other countries. At the same time, our complex may be the only one in the world when it comes to sound and heat.
Regarding the advantages of the 2B75 Penicillin, the main one, according to the designer, is that it is a passive reconnaissance weapon. The complex does not emit anything, except for the radio communication channel. But there is also an option to work via wired connection lines, which completely eliminates direction finding of the system's location by the enemy.