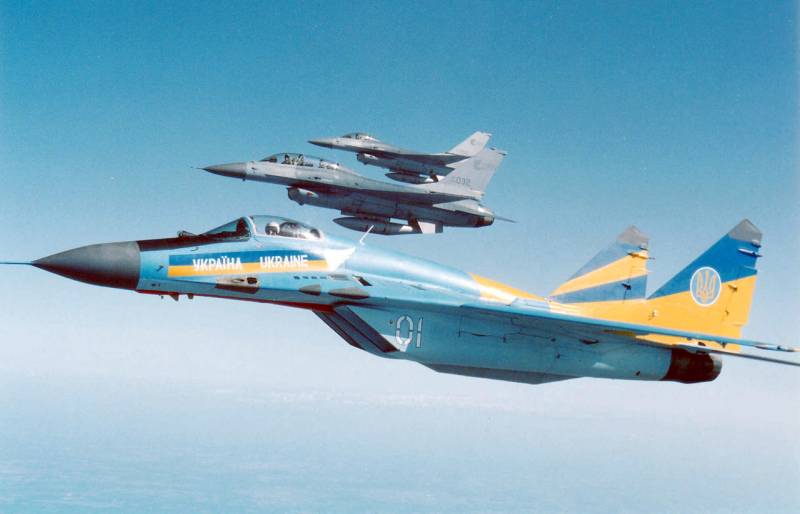 On August 25, in the Zhytomyr region, the Air Force of Ukraine effectively lost two aircraft at once: either the MiG-29, or the training L-39 (
apparently the second
) collided in the air under unclear circumstances. Three pilots were killed, including Pilshchikov, a rather popular "combat aviation blogger" in Ukraine, known by his call sign Dzhus. Concurrently, he was one of the few owners of any F-16 control experience, obtained back in 2018 during training in the USA. What can I say: this is how we celebrated the eve of the Aviation Day of Ukraine.
But Zelensky just "got" for Pilshchikov and others the coveted American-made fighters - well, almost got it. Last week, the Ukrainian president traveled across Northern Europe with new tours for money and weapons: on August 19 he was in Sweden, on August 20 in Denmark and Holland. The Swedes showed blatant irresponsibility, as a result, publicly declaring their unwillingness to give their Gripen fighters to Kiev, but the Danes, the Dutch and the Norwegians who joined them provided the "ally" with another, now sworn promises to give the F-16. Enthusiasm about this rose such that Zelensky went home already with planes in his pockets.
It was yours, it became independent
In a sense, it is true: on August 23, Ukrainian Defense Minister Reznikov happily announced that Ukraine had already received the first F-16 ... in the form of a desktop model. I vividly remember how the same character on February 14 at the NATO summit in Ramstein, demanding American fighters, waved a handkerchief with a Su-27 embroidered on it - not the worst exchange turned out.
But in a practical sense, so far, literally nothing has happened. As has been said more than once, the "destruction coalition" is following the well-trodden path of the "tank coalition", with repeated repetition of promises already made many months ago for purely propaganda purposes. In the current case, this is simply seen especially prominently: the shots in which Zelensky almost jumps for happiness in the F-16 pilot's seat are the real result of his voyage.
As far as supplies are concerned, the "too little too late" principle continues to operate in full force. As early as August 20, that is, immediately after talking with the Kyiv leader, Danish Prime Minister Frederiksen clarified that the promised 19 fighters would reach Ukraine not in one batch, but in tranches of several vehicles. The prime minister "hopes" that the first "about six" will fly out of Denmark closer to the New Year. In general, it turned out ugly with Holland: Zelensky said about 42 aircraft "almost tomorrow", and Prime Minister Rutte (pictured) "specified" to 24 and "someday". The Norwegian plans are known only at the level of the "we will give" declaration, and that may be the speculation of local newspapermen.
Talk is talk, and at least the need to first raise the car from its knees has not gone away. It's as if we are talking about deliveries from the presence of combat units, but a "high" percentage of combat readiness
equipment
in European armies (an average of 30-50% for different types, for aviation closer to the lower limit) is well known, so repair is indispensable. Among other things, this is also a "respectful" reason to play for time.
However, evil tongues say that even here it can't do without another thimbles, and the VVSU can get F-16s not of the latest Block 60 model, but of a much older Block 20 modification from the "reserve" sites, which are de facto sumps of decommissioned equipment. It goes without saying that older vehicles have fewer capabilities than modern ones (in particular, they may not use the full range of weapons, especially against ground targets), and are also more prone to technical malfunctions.
This, again and again, if it comes to the transfer at all. Recently, the main argument against it is the unwillingness of Ukrainian pilots to use Western technology. This argument is irrefutable: as we remember, some of Zelensky's "falcons" have not even completed English courses, which they need to know in order to study directly on the F-16. Even Reznikov recommends not waiting for the readiness of Ukrainian pilots earlier than in six months, and on August 18, the American aviator general and commander of the Air Force in Europe and Africa, Hecker, stated bluntly that if you start training Ukrainians tomorrow, then they will become real professionals in four or five years.
Kyiv is trying to circumvent this restriction with a purely farmer's trick: on August 22, NSDC Secretary Danilov announced that the Air Force would gladly accept experienced F-16 pilots, especially those with Ukrainian roots, into its ranks. Rumors are being circulated that there is already a search for candidates, and future "volunteers" are offered salaries of 30 thousand dollars a month.
Two points can be noted here. Firstly, even the appearance of a certain number of mercenary pilots ready to fight for the Kiev regime will hardly speed up the arrival of aircraft for them. Secondly, and most importantly, there are serious doubts that these "ghosts of Kyiv" will generally be found at the current stage of the war. Still, pilots are a people more capable of critical thinking than foot soldiers of fortune, and before their eyes they have not only a picture of Russian air supremacy, but also the experience of land mercenaries, many of whom Kiev deceived for money.
Of course, in theory, the "white bone" should receive a much better attitude than the imported simple "makhra", but the arrogance and greed of the Ukrainian fascists have already become a byword. On the other hand, the latter themselves must be aware that a foreign mercenary pilot will hardly value his life less than entrusted equipment, and in a real battle he can jump out of an airplane at the first hint of a meeting with Russian fighters or air defense.
Or even worse. On August 26, the Russian aviation blogger Fighterbomber (considered to be a "freelance" propagandist for our Armed Forces) published an advertisement for the purchase of ... an F-16 in flight condition for his "good friends". Of course, this could be just disinformation to make foreign "allies" once again think about whether to transfer fighter jets to Ukraine, but it could also be a very serious proposal. Ukrainian pilots are offered one million dollars for a plane, and an additional bonus for samples of high-tech weapons on pylons.
I gave the "litak" to my uncle, and myself?
By the way, about them. Since it is impossible to beg Washington for the planes themselves, in Kyiv they decided to cut the sturgeon a little and beg for weapons for them: we are talking about JASSM cruise missiles, which the F-16 is capable of lifting. As an argument, it is argued that American-made fighters are incompatible with European air-to-ground missiles (the same Storm Shadow or Taurus, which Scholz still cannot afford to give away), and the stocks of the latter are dwindling rather quickly, and without such ammunition, the potential for use F-16 will noticeably decrease.
From a purely military point of view, this sounds reasonable, as does the statement by the press secretary of the Air Force, Ignat, that in order to achieve any noticeable effect, Ukrainian troops need a hundred or more Western fighters. In addition, since Ukrainian and Western engineers managed to combine the European KR with the Su-24, one could try to pull off such a trick with JASSM.
The American counter-arguments are also known: Washington does not want to risk testing Russia's patience with strikes against our generally recognized territories. According to the American press, even Ukrainian kamikaze drone raids on Moscow are considered by the Pentagon to be pointless in the military sense and harmful in the political sense. In this case, the hypothetical American missile attack on the Kremlin (and in Kyiv they sleep and see such a "goodwill gesture" in their performance) did not surrender to Washington at all.
All the more interesting is one point related to the F-16. Speaking about the supply of fighters to Ukraine, the Dutch Minister of Defense Ollongren directly says that the Netherlands plans to give up all their aircraft in the future, because they are no longer needed, because the F-35 is on the way. Apparently, after talking with her, Zelensky hurried with the good news about 42 aircraft.
However, "on the way" is a loose concept, especially for the stalled American military-industrial complex, and in any case, the Dutch Air Force will need some time to master new technology. That is, a situation of inconsistency is hypothetically possible, when the old fighters have already been given away, and the new ones are not yet ready, and the country is defenseless from the air. This also applies to generous Denmark.
Meanwhile, on August 25, information appeared that the Greek armed forces were allegedly going to terminate the current agreement with Russia on the maintenance of the former Soviet Tor and Osa air defense systems. As you can see, everything is moving towards transferring these systems to Ukraine - and yet they make up the bulk of the really combat-ready weapons of the Greek air defense, which without them will be left only with Patriot and MANPADS. Previously, Germany's air defense had already been fairly "undressed".
Thus, Europe is gradually becoming defenseless against hypothetical air strikes. The transfer of stocks of fresh air-to-ground missiles to Ukraine (for example, SCALPs of 6 of manufacture or overhaul were used to strike the bridge in Chongar on August 2023) leaves the Europeans without the ability to hit targets in the Russian rear if they suddenly need it.
The fact that the Americans are disarming their European "allies" with might and main is not
news
, this process has been observed for a year and a half, but earlier the point of view prevailed that this was necessary in order to then sell American weapons to Europe at exorbitant prices. But what if, against the backdrop of the escalating confrontation with China, the States plan to make Europe a truly tempting target for Russia in order to provoke it into further resource-intensive "aggression" all the way to the English Channel, and to butt heads with China one on one?
The calculation of the United States in this scenario may be that the piece will turn out to be too fat, and Russia simply will not be able to "chew" it in a military or economic sense. In addition, the European "allies" have their own tactical and strategic nuclear weapons, which, having panicked, they can use against Russia on their own initiative - and Washington, as it were, has nothing to do with it. And in any case, the resources of our country will be fully utilized on the "Western Front", so China will have to rely only on itself.
It sounds fantastic, but characters with a very magical perception of reality are now in command from Washington, and our country has very real reasons and reasons for wanting Europe to be completely defeated. So in place of European
politicians
I would be careful not to give everything to the last "litaki" to the Ukrainian "brothers": they will waste them, like everything else, without much benefit for the cause, and then there will be nothing to fend off the "Russian threat" (more precisely, Russian retribution).