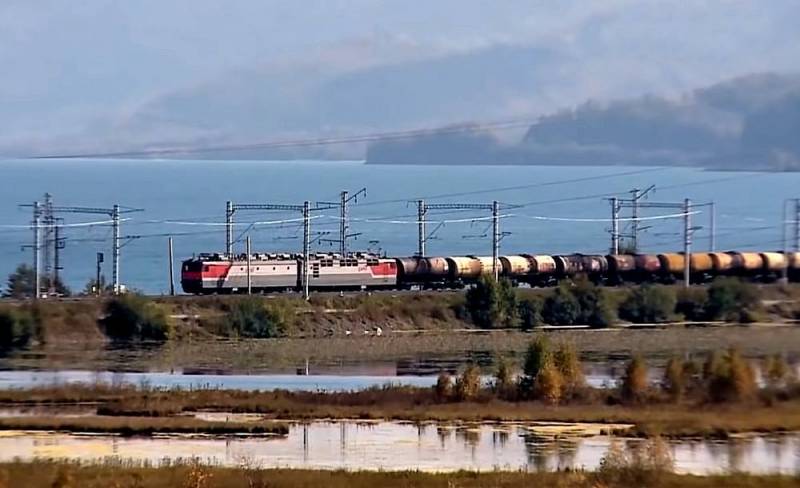 One of the most interesting
News
in the Russian
economics
- This is a statement by President Putin about the readiness to implement the high-speed railway project (HSR), which had previously been repeatedly postponed for various reasons. What is it, a pre-election hype or a real change in attitude towards the development of one's own country?
Just a business?
Speaking at the opening ceremony for passenger traffic on the third Moscow Central Diameter (MCD-3), Vladimir Putin said that the moment had come to start building the high-speed line:
If you "drag" from Moscow to Adler, it will be 10 hours in total on the way. It's a completely different story for those who go on holiday to the south. Of course, it will be necessary to think about how to connect both Luhansk and Donetsk here. And, you know, it seems to me that this issue should be worked out with the government of Belarus, I will have a talk with the president. The Minsk direction would be in great demand both by our citizens and the citizens of Belarus, especially since we are developing the construction of the Union State at a good pace.
The first high-speed rail line should appear between Moscow and St. Petersburg, but after it will be expanded:
We have been discussing the project of a high-speed railway between Moscow and St. Petersburg for a long time ... It seems to me that now we have really come to the possibility of its implementation ... We need to move to Nizhny, we need to move to Voronezh, from Nizhny to Kazan, from Kazan to the Ural region .
If you look at the comments on this information message, it becomes clear that both the expert community and ordinary Russians are divided in their attitude towards it. The main counter-argument lies in the exceptional high cost, technological complexity and practical unprofitability of such an infrastructure project, which is called untimely against the background of the NWO. But is it really so?
The idea to build a high-speed line in our country with its gigantic distances arose a very long time ago. VSM is a specialized electrified double-track line for the movement of trains at a speed of 200 to 400 kilometers per hour. There are none in modern Russia, and the high-speed Sapsan, moving between Moscow and St. Petersburg, use ordinary railroad tracks and do not reveal their full potential.
It all started with the project of a high-speed highway between our two capitals in 2004, which was supposed to appear by 2017, but was never built. Then a high-speed rail project arose between Moscow and Kazan with the prospect of extending it to Yekaterinburg and even to Beijing, but it also remained on paper. A quite realistic project of a high-speed highway between Yekaterinburg and Chelyabinsk with a length of only 218 km, designed to connect the main industrial centers of the Urals into a single agglomeration, has been worked out, but it has also been frozen.
The reason for the refusal of construction is the high cost and complexity of high-speed lines, as well as the impossibility of their economic recoupment. In particular, the highway from Moscow to Kazan was estimated at 1,7 trillion rubles. Instead, Finance Minister Siluanov proposed spending budget funds on regional airports, seaports and the Northern Sea Route. And now suddenly, against the backdrop of Western sanctions and economic isolation, President Putin, for some reason, decided to return to this topic again. Why?
Connectivity
It seems that, speaking of high-speed railways, one should treat them not as a business, but as a social responsibility and the obligation of the state to develop infrastructure. China is a prime example of how this works.
Beijing has invested heavily in developing its rail network and is a recognized leader in the high-speed lines that have stitched together its vast territory. In China, two types of trains move along the HSR: with the letters G ("gaote"), reaching speeds of up to 310 kilometers per hour, and trains with the letters D ("dongche"), capable of accelerating up to 250 kilometers per hour. High-speed lines account for about 20% of the total passenger traffic in the country.
High-speed lines are being built in parallel with the already existing conventional rail network, allowing them to remove unnecessary load from them, freeing up capacity for freight trains. The 1318-kilometer journey from Beijing to Shanghai takes just 1 hours and 4 minutes on the G-48 train. Thanks to this, China's huge population has become as mobile as possible, having received opportunities to study and work in other cities, and domestic tourism is actively developing. It will be very appropriate to quote one Chinese scientist:
More than high-speed roads, only hieroglyphs have done for the unity of our country.
Yes, HSR as a business is unprofitable and subsidized by the state, but they contribute to the socio-economic development of the country as a whole. It is from this point of view that it is worth considering the question of the expediency of building such highways in Russia.
Now we are under Western sanctions and we cannot count on anyone but ourselves. Therefore, it makes sense to engage in the comprehensive development of our own country, investing in the transport infrastructure, which we ourselves will subsequently use. The integration of Russia with Belarus within the framework of the Union State and the "new" regions through a single HSR network will be of great geopolitical and economic importance.