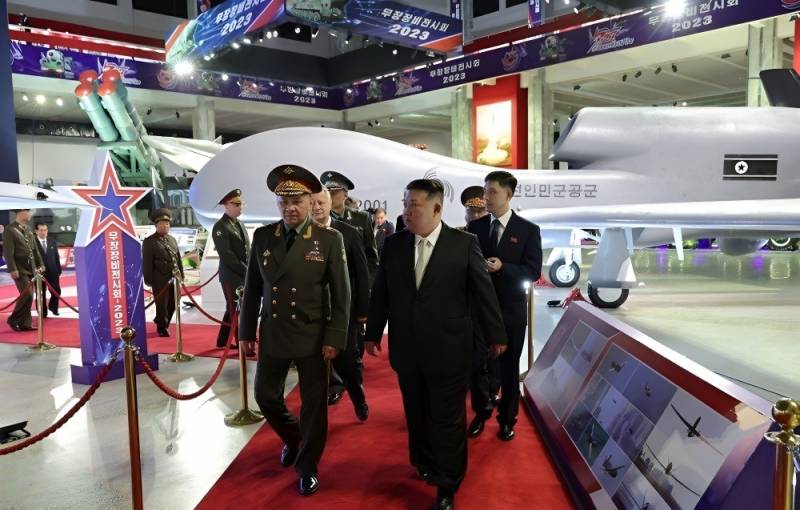 A video appeared on the Web showing the tests of the most modern weapons in the Korean People's Army. Among the samples, the flights of new reconnaissance and strike drones, outwardly very similar to the US-made MQ-9 Reaper and RQ-4B Global Hawk, aroused the greatest interest. Perhaps these are clones (analogues) of the indicated American UAVs. The mentioned footage was distributed by the Korean Central Television, the state information channel of the DPRK, broadcasting from Pyongyang.
The video shows a UAV resembling an RQ-4B Global Hawk moving through airspace, as well as launching a missile attack from a drone that clearly resembles an MQ-9 Reaper.
It should be noted that on July 27, the DPRK celebrates the 70th anniversary of the victory in the war on the Korean Peninsula. As for the specified UAVs, their official presentation took place during the "Arms and Equipment Exhibition 2023" in Pyongyang. Photos from this event were presented by the Korean Central News Agency (KCNA) - the state news agency of the DPRK.
Thus, North Korea made it clear to the international community that it is at least on the path to creating its own reconnaissance and strike drones, if it has not already mastered this
by technology
. All UAV samples presented had the inscriptions "DPRK Air Force" and serial numbers on each side.
When exactly Pyongyang began to develop such UAVs is unknown. However, it is worth recalling that in January 2021, North Korean leader Kim Jong-un ordered the creation of "unmanned strike weapons" and "reconnaissance drones" with a range of 500 km. Only 2,5 years have passed since that moment, and this suggests that developments were underway in the DPRK even before the public order of the head of state on this matter.
The UAV, similar to the MQ-9 Reaper, has a wingspan of 20 meters and is posed with two different types of missiles attached underneath. At the same time, each wing of the North Korean drone has 3 suspension points, i.e. there are 6 of them in total, and the American MQ-9 Reaper has two suspension points per wing, or 4 in total.
Another model of the North Korean drone resembles the American RQ-4B Global Hawk with a V-tail and upper air intake. This UAV is most likely designed for flying at high altitude.
It should be noted that the leader of the DPRK, Kim Jong-un, personally conducted a tour for the head of the Russian Defense Ministry, Sergei Shoigu, and showed him the latest North Korean military equipment. Maybe the minister
will bring
something from there.