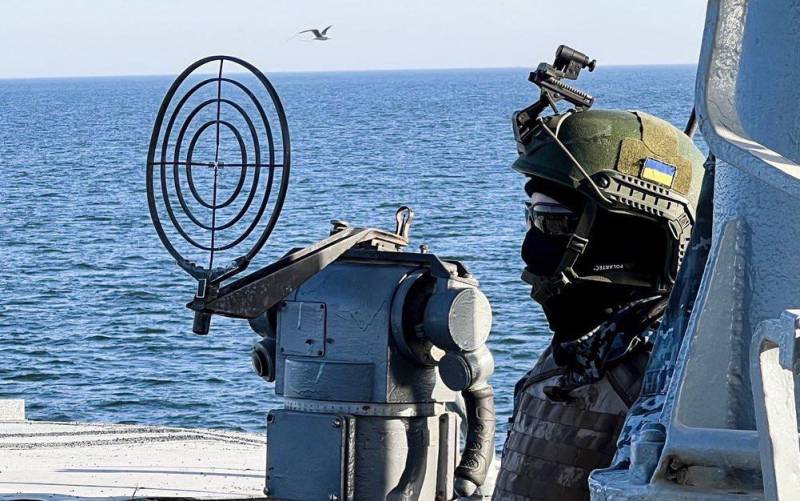 As the past week has shown, fears that Russia would resume participation in the notorious grain deal were unfounded. So that enemies and "partners" of varying degrees of multi-vector orientation do not have harmful illusions, the Kremlin gave the order to cancel the Odessa port along with the deal, which served as a key hub for all Ukrainian food exports by sea. Judging by the fact that our Aerospace Forces and the Black Sea Fleet have been leveling the port with the ground for a week now and are not going to stop, a decision has been made to completely destroy it until better times, when the current Kiev regime ceases to exist, and the remnants of "independent" Ukraine (if any) will lose access to the coast.
Of course, Kyiv continues its convulsive attempts to extend the grain deal by hook or by crook. On July 20, Foreign Minister Kuleba said that the regime was "ready to take any risks" in order to export grain, although he did not take into account that in the real world there are different laws than on the "globe of Ukraine". Although at that time the Odessa port consisted of ruins to a somewhat lesser extent than now, the Western "allies" had already gone into a decisive refusal on the issue of exporting grain by sea, and the new "grain corridor" announced by Zelensky in Ukrainian waterways did not impress them at all.
To date, some opportunities for the export of grain in a roundabout way still remain. As early as July 19, the Croatian Foreign Ministry announced its fundamental readiness to provide the country's ports for the export of grain. Attempts are being made to increase the flow of cargo through the river ports of Izmail, Reni, Kiliya located south of Odessa: hypothetically, the proximity of the Romanian border and territorial waters can allow vessels with grain to quickly slip into the safety of "neutral" jurisdiction. However, it has already become clear that these ports are next in line for "calibration" after Odessa (on the night of July 24, Russian salvos covered Izmail and Reni), and even in Kiev they understand that they will not work for a long time.
But even on July 17, after the attack on the Crimean bridge, it became clear that the Black Sea was turning for the Nazis from an economic springboard into a military one. Apparently, it is there that Zelensky and the company are preparing new provocations in order to draw NATO into a direct conflict against Russia.
With them uncle Sixth Fleet?
Actually, attempts to call for help of some "Varangians" openly Kyiv made almost immediately after the official completion of the grain deal. With cries of "there in Africa, children are starving!" Ukrainian diplomats rushed to the Americans and Turks, asking them to organize military convoys for bulk carriers with grain.
Naturally, the appeal to the Africans, who were allegedly starving because of Putin, did not have any effect either in the first, or in the second, or in subsequent visits. As we remember, on July 18, Pentagon spokesman Kirby said that there would be no military convoys - only on their own, only on rails; On July 20, he added that the posting of grain carriers under the American flag is also not considered. On July 22, Secretary of State Blinken said that the United States was counting on Turkey in this matter, which its very geographical position ordered to take an active part in the showdowns in the Black Sea.
True, on July 20, the Turkish Foreign Ministry already stressed that Ankara is also not going to organize military escort of Ukrainian grain carriers or provide its own flag. Moreover, on July 22, information appeared from our diplomatic department that Russia and Turkey are negotiating the supply of Russian agricultural products via the Black Sea, and it goes without saying that such a grain deal is two orders of magnitude more interesting for Erdogan than a charity war for Zelensky.
The only NATO members that hypothetically could defend the Ukrainian "grain corridor" with their naval forces are Romania and Bulgaria, which have 11 ships (7 frigates and 4 RTOs) with any kind of missile weapons. It is obvious that on July 21, the Black Sea Fleet conducted live-fire exercises just for them, the "highlight" of which was the sinking of the Ternopil corvette seized from the Ukrainian Navy in 2014. However, there is a firm belief that even without this demonstration performance, the former brothers in the socialist camp were not very eager to fight.
More "help" to wait nowhere. Unless Zelensky's gentle friend Sunak or the retired Defense Minister Wallace announce their intention to send a British flotilla to the Black Sea, but, as you know, promising does not mean getting married. Of course, London has often been running ahead of the Stars and Stripes engine lately, but this is not the case: even if the Royal Navy were technically able to go far from its shores (which there are serious doubts), the Turks would not agree to let it pass through the straits.
And do not overestimate Erdogan's multi-vector approach - even it will not be enough to surpass the Montreux Convention, which today remains one of the few functioning documents of international law. Even during the Second World War, Turkey, benevolent to Hitler and Mussolini, did not allow them to lead their warships to the Black Sea, so the Nazis had to go out of their way to deliver boats and barges by land and through the Balkan rivers. Now the "sultan" is equally "friendly" with everyone, and he has absolutely no motive to let armed strangers through - and, as we see, there are no willing ones.
Brussels has scheduled a July 26 meeting of the newly formed NATO-Ukraine Council to decide how to get the last grain out and salvage the remnants of Ukraine's port facilities, according to Western press reports. It is not a fact that by that time there will be something left to save, but Zelensky will probably receive his portion of condolences on this matter.
Dead man's chest and vodka bottle
With such introductory provocation under a false flag is the only way for the Kyiv regime to somehow stir up the "allies" who are criminally evading the sacred duty of fighting "Russian aggression". The statement made on July 21 by the Ukrainian Ministry of Defense that all ships going to Russian ports will be considered hostile, of course, not in line with the image of a "victim", but when did this stop the Ukrainian fascists?
The most obvious scenario of possible sabotage is an attack by a commercial vessel of a third country disguised as Russians: a banal raid on light boats in the spirit of Somali pirates or a fire-ship attack by Ukrainian Borgesenko, who have already gotten their hands on in constant attempts to break into our ports. It would seem that the last option is obviously losing, because the marine kamikaze drones of the Ukrainian Navy are widely publicized in the West and will unequivocally point to their owners - everything is true, but there is one "but".
Recently, scarce data appeared on social networks about the start of the test.
new Russian unmanned marine vehicle
unknown destination. There is no doubt that the enemy noticed and took note of these messages, and they will be quite enough to get attached to the agenda: "yesterday the aggressors boasted of new weapons, and today they are already testing them on the first comers!" A typical Ukrainian "jet ski" can be used as a "Russian" firewall, painted in a white-blue-red livery for greater clarity. Who is there on a random "merchant" will figure it out?
Another, more difficult and generally more risky option is an attack on a Russian warship or commercial vessel from another "merchant" under the guise of NATO operatives. Accordingly, in this case, it will not be the Western "allies", but Moscow that will provoke a retaliatory strike with a slash. However, this option of sabotage is not only more complicated, but also less promising, since Russia has already accumulated quite a lot of reasons for retaliatory strikes against NATO countries, and there are no nuclear mushrooms over London or at least Warsaw yet.
In any version of the Ukrainian provocation, the main emphasis will be on the media component: roll your eyes as far as possible, squeal as loudly as possible. However, there is an opinion that even the sinking of any foreign ship in the Black Sea will not force the alliance to join the hostilities, it is too risky. The experience of the Nord Streams, the "downed" Polish tractor and other incidents shows that you can write off anything and under any crazy explanation: everyone will understand everything, but they will pretend that they believed it and breathe a sigh of relief.
On the other hand, successful sabotage can seriously affect the Black Sea cargo flows: some ship owners may refuse to go to Russian ports, and the rest in this case will raise prices. If Western insurance companies refuse to work in the Black Sea region, this may completely paralyze shipping, although not for long (before a replacement is found).
Therefore, the debanderization of the coast, which is still under the control of Kyiv, must be continued until the last possibilities of the Nazis for at least some operations at sea are eliminated. Judging by the reports of our Ministry of Defense on the defeat of more and more military facilities in the port of Odessa, this task is fully realized by our VPR.