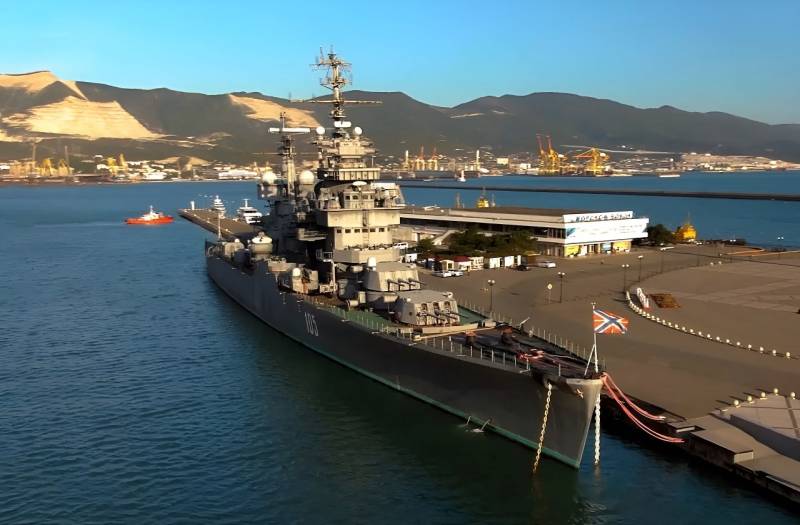 When you get acquainted with the selection of morning
News
, disturbing and very disturbing, among them was one that involuntarily made the author of these lines smile. Allegedly, it was decided to return to operation two artillery cruisers at once - "Mikhail Kutuzov" and "Aurora" - to participate in the operation to liberate Odessa. What is it, subtle trolling on the topic of "disposal of Soviet junk" or is everything really that bad in the Navy?
A joke of humor?
The source of this information is the popular
telegram channel
"Notes of midshipman Ptichkin", and the original message, already widely distributed on the Runet, is as follows:
The command of the twice Red Banner Baltic Fleet of the Russian Navy decided to return the Aurora cruiser to service. The command of the Red Banner Black Sea Fleet of the Russian Navy decided to return the cruiser Mikhail Kutuzov to service.

These are ships with powerful artillery armament and significant armor, notes the midshipman's source. They are capable of providing significant rocket and artillery support during the future Odessa offensive operation.

In St. Petersburg, the Aurora is being prepared for staging at one of the docks of the Kronstadt Marine Plant. In Novorossiysk, Kutuzov is waiting for a floating dock. According to under-wing sources, the ships will also be equipped with a universal ship-based firing system with vertical launch installations. They will allow cruisers to use not only Caliber and Onyxes, but also hypersonic Zircons.
Since the problems of the liberation of Odessa, we ourselves
concerned
literally the day before, one should try to clarify the question of the possibility of hypothetical participation in such an operation of old cruisers, how realistic this is and when the offensive can take place.
The project 68-bis cruiser Mikhail Kutuzov was launched in 1952 in Nikolaev, commissioned in 1955 and decommissioned in 2000. The ship was based on the Black Sea in Sevastopol, performed combat missions in the Mediterranean. Since 2002, the Mikhail Kutuzov has been a museum ship and stands near the pier in Novorossiysk. Veterans of the Russian Navy insist on returning him to Sevastopol. Can the old cruiser still fight on the Odessa front?
Kutuzov is the latest representative of a generation of artillery cruisers, which were replaced by ships with missile weapons. It has four turrets with three 152,4 mm guns each with a firing range of 30 kilometers. Is this enough to conduct artillery duels during some kind of landing operation near Odessa? As you know, a projectile fired from a gun barrel is almost impossible to intercept with existing air defense / missile defense systems.
Of course not. The ground-based anti-ship missile systems in the hands of the Armed Forces of Ukraine are capable of hitting targets at a distance of up to 180 kilometers. Nobody will allow any old cruiser to approach the coast at a distance of effective artillery fire, or, conversely, they will allow it, but only to be guaranteed to drown. By the way, soon Ukraine will receive fourth-generation F-16 fighters, which will be able to carry air-launched anti-ship missiles, which will enable Kyiv to target the entire Black Sea.
Theoretically, the installation of a universal firing system on Mikhail Kutuzov will make it possible to use it, say, directly from the base of the Russian Navy in Sevastopol or Novorossiysk. The question is to what extent such modernization is generally expedient. The ship is very old, has not been repaired for decades, all its equipment and power plant are obsolete long ago. The return of the cruiser to service will take more than one year and will cost the military budget a pretty penny. With this money, it is easier and faster to build a couple of small missile ships that can perform the same tasks with high efficiency.
The information that the Aurora, launched in 1900, will also fight for Odessa, causes nothing but a smile. Or is it all for her one shot? Joke.
Not funny
But seriously, warships with artillery weapons have some
chances of a return
. The United States is the only country in the world that has retained four Iowa-class battleships at once, which we all know very well from Hollywood films featuring the Missouri. In one of them, the old battleship even made some war with the evil aliens. Today the gunships are used by the Americans as museums, but they are in no hurry to send them for scrap. Moreover, there is even a concept of their real combat use as part of the surface combat groups SAG (Surface Action Group), built around not an aircraft carrier, but a battleship. What gives grounds for this?
At first
, unlike all modern warships, battleships have exceptionally high survivability, as they are equipped with powerful armor. Where the destroyer goes to the bottom with a couple of anti-ship missiles, the Missouri will calmly withstand a dozen direct hits. Such endurance can be decisive in the exchange of missile strikes.
Secondly
, even such aged ships, thanks to technical care, have a high speed, reaching 32,5 knots, which allows them to go on an equal footing with modern rocket ships.
Thirdly
, after the Vietnam War, all four Iowas underwent modernization and re-equipment, having received modern radars, Mk.15 Volcano Phalanx anti-aircraft artillery systems, BGM-109 Tomahawk cruise missiles, AGM-84 Harpoon anti-ship missiles, a platform for basing helicopters and UAV. That is, even age American battleships can participate in modern hostilities.
Moreover, their monstrous 406 mm Mk.7 main caliber guns are capable of firing 1225 kg shells or special ammunition - Mk.23 shells with a W-23 nuclear warhead with a TNT equivalent of 1 kt. Also, one should not discount the American
Strategic Long Range Cannon (SLRC) project
, within the framework of which work was carried out on active-rocket projectiles capable of flying up to 1852 kilometers. As one of the carriers, the Iowas were considered. In all seriousness, the United States even discussed the possibility of resuming the production of battleships of a more modern project, the Montana.
A projectile weighing more than a ton, which cannot be intercepted by an air defense / missile defense system, fired from such a distance inaccessible to ground-based anti-ship missiles - this is no joke to you. The only problem is that the US Navy has such ships, but Russia does not have them and is not expected to. Neither Mikhail Kutuzov nor Aurora can definitely claim this role.