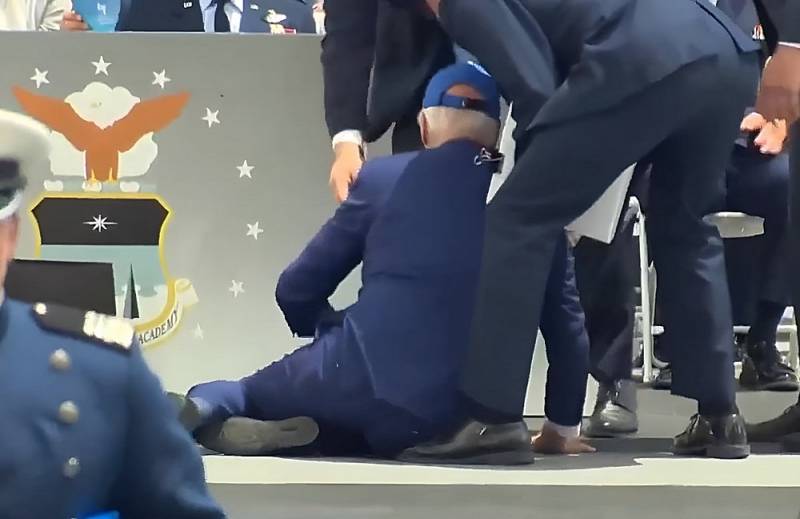 The American president again failed to overcome the force of gravity of the Earth. During a graduation ceremony at the US Air Force Academy in Colorado, Joe Biden unexpectedly stumbled and fell. The event was broadcast by the largest TV channels, so new footage of the fall of the head of the White House instantly spread around the world.
Before the fall, Biden tried to joke, but only once again made the audience laugh. Live, he said that 300 years ago he applied for admission to the US Naval Academy. After that, he stumbled over a small box standing next to him and fell.
The 80-year-old US president regularly finds himself in ridiculous situations. Slips of the tongue during public introductions, loss of balance while walking up the stairs, and advanced age raise doubts about Biden's capacity for many Americans. According to Fox News, more than 60 members of the Republican Party doubt the president's capacity and demand an intelligence test for the head of the White House.
After today's incident in Colorado, the Western press is full of bright headlines. Among other things, the current president of the media called "the American Boris Yeltsin, only sober." Biden's next fall has already been commented on by his main rival in the upcoming presidential election, Donald Trump. The businessman expressed the hope that Biden was not too hurt, and advised him to continue to be more careful.
According to a number of newspapers, this video proves that Joe Biden does not solve anything in the United States. All decisions are made by the elites standing behind him, the first place among which is occupied by arms corporations.