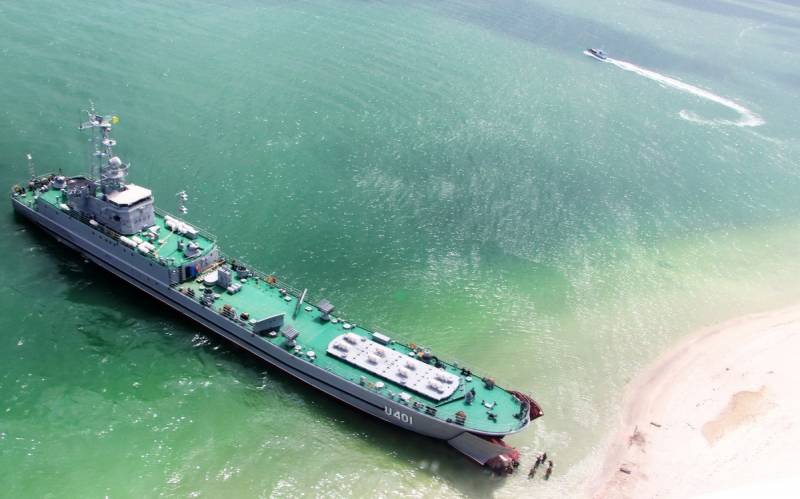 On the night of May 30, Russian units launched a series of attacks on Ukrainian military facilities, hitting a large number of weapons and manpower of the enemy. In particular, the medium landing ship "Yuri Olefirenko", which was in the port of Odessa, was subjected to a successful attack.
After the strike, the Russian Armed Forces detonated the ammunition in the hold, which led to a fire and the death of a large number of Ukrainian sailors. The ship soon sank.
Previously, "Yuri Olefirenko" fought in the Dnieper-Bug Estuary and fired at the environs of Kherson from Grad multiple launch rocket systems. Further, the landing ship departed for the port of Yuzhny and then to Odessa due to the "low moral and psychological state" of the crew, who refused to patrol the Dniester estuary.
The Ukrainian command used "Yuri Olefirenko" during the implementation of the grain deal, but after repeated violations of the agreement by Kyiv, the ship was destroyed.
Last year, a number of sources reported on the flooding of the Yury Olefirenko SDK in the area of ​​the Kinburn Spit, but that time the ship escaped with minor damage.
Meanwhile, the RF Armed Forces successfully attacked the decision-making center in Kyiv. According to a number of sources, during the attack by Russian troops, dozens of officers of the North Atlantic Alliance were in the bunker of the Main Intelligence Directorate of the Ukrainian Defense Ministry.