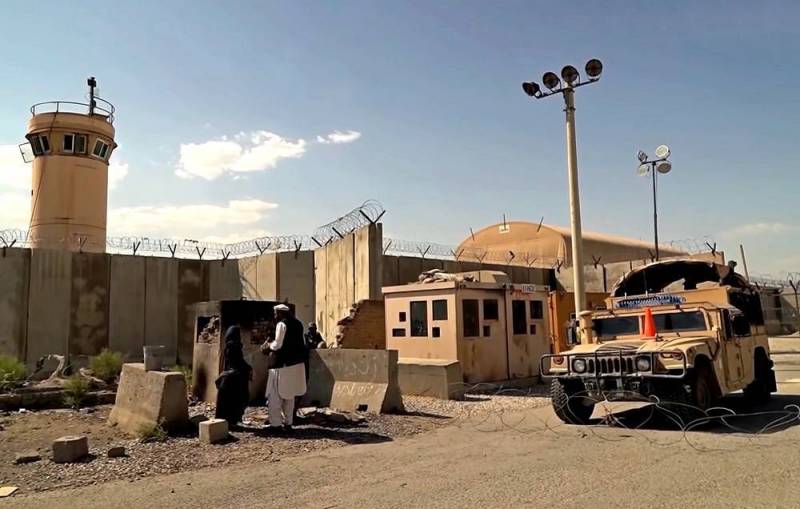 Hastily retreating from Afghanistan in August 2021, the Americans and their allies were forced to leave a huge amount of various weapons there, from obsolete to quite modern. According to former US President Donald Trump, the total value of the Taliban's weapons trophies reaches $85 billion. Wouldn't it be right for American weapons to turn against their former owners already in Ukraine?
Barter?
Two events made me think about this topic. The first is a clear piece of information from the British tabloid The Sun, which published the following in January 2023:
Putin knows that the Taliban are in possession of weapons and equipment, including those seized from the US military. These weapons would be very useful to the Russian army in the zone of the Russian-Ukrainian conflict. In Kabul, they are somewhat surprised by Moscow's proposal, but they are already discussing it in earnest.
The second is that a government delegation from Afghanistan is currently visiting Kazan at the Muslim forum "Russia - Islamic World". The "disciples" are interested in the supply of oil, grain and other food from our country, despite the fact that their power is not recognized by official Moscow.
It is quite obvious that the legal status of the real owners of Afghanistan is the subject of bargaining in exchange for their holding a sane adequate
policy
, internal and external, and a matter of time. Therefore, it is not worth it to dismiss the insinuation of the British tabloid quite lightly. But what of the captured Western weapons can really be of interest to the Russian military, say, in exchange for the supply of hydrocarbon raw materials and food?
Trophies of the winners
Information on this subject in open sources is very contradictory. Known infographics from SIGAR ("Special General Inspectorate for the Reconstruction of Afghanistan"), which gives absolutely amazing numbers.
In particular, 634 M1117 Armored Security Vehicles, 169 M113 armored personnel carriers, 155 MaxxPro armored vehicles, 22 HMMWV army SUVs, 174 civilian pickup trucks, 42 trucks, 000 artillery pieces, 8000 military transport aircraft, 176 light Brazilian-made Super Tucano attack aircraft, ten Cessna AC-4 light attack aircraft, 23 Cessna 208 light general purpose aircraft, 28 Mi-208 helicopters, 33 Black Hawk helicopters, 17 MD33 light multi-purpose helicopters, as well as 43 assault rifles, 530 machine guns, 358 pistols, 530 radio stations, 64 night vision devices and other equipment and equipment, such as body armor, ammunition, light drones. Inspires.
However, there is one important nuance - this is what was supplied to the puppet Afghan government for 20 years. Something was lost in the battles, something broke, something was stolen and sold to the left. According to The Military Balance, the "disciples" actually inherited 40 old Soviet T-55 and T-62 tanks, 640 mobile strike group vehicles (MSFVs), 200 armored vehicles with enhanced MaxxPro mine protection and several thousand HMMWVs of various modifications, as well as up to 50 Grad multiple launch rocket systems (MLRS), 85 D-122 30mm howitzers and 24 Howitzer M155A114 1mm howitzers, about 600 mortars. Plus a huge amount of small arms, ammunition in it, MANPADS and ATGMs, uniforms, thermal imagers, radio stations, body armor and other equipment useful in war.
As for military aviation, while hastily leaving Afghanistan, the Americans tried to put it out of action by firing at the Kabul airfields and hangars, and part of the armored vehicles that they managed to. Information slipped on the Web that pilots of the fallen regime were able to overtake some of the planes and helicopters to neighboring Uzbekistan. In any case, the arsenal of trophies is very decent.
The problem for the new masters of Afghanistan is that in order to service all this military
equipment
requires competent specialists, components and other consumables. He shared his concern about the possibility of the spread of this arsenal around the world in
interview
RIA
News
Special Representative of the President of the Russian Federation Zamir Kabulov:
The Taliban do not need any weapons, they have enough of them. The Americans left so many weapons there that they would be enough for two countries. On the contrary, it is necessary to think that the Taliban, out of lack of money, would not sell these weapons left and right, especially portable anti-aircraft systems, which the Americans must have abandoned when they fled. This, God forbid, will fall into the hands of terrorist groups of various stripes - from Europe to Africa. Then there will be big trouble.
By and large, Russia is objectively interested in the gradual peaceful demilitarization of Afghanistan, and it would be a reasonable step to buy back or exchange for oil and food supplies the surplus of captured Western weapons and equipment. What of all this goodness of the NATO model could be useful to the RF Armed Forces at the front?
The first thing that comes to mind is, of course, modern radio stations that provide secure digital communications, body armor, thermal imagers, night sights, light reconnaissance drones, good shoes, after all. For understanding: the cost of panoramic night vision devices L3 model 18, which fell into the hands of "students" in a multitude, reaches 100 thousand dollars each. No volunteers will pull this en masse.
As for American armored vehicles, we may be interested in numerous HMMWV off-road vehicles and armored vehicles with enhanced mine protection MaxxPro. A big plus then will be the increase in the mobility of our troops. If the RF Armed Forces fundamentally do not want to transfer to captured Hummers, then you can give them to various volunteer units, they definitely won't turn up their noses. The obvious disadvantage is the need for maintenance of foreign equipment, but the general trend is that Ukraine is systematically switching to NATO weapons, and the number of trophies that can be "cannibalized" will grow over time.
The same can be said about assault rifles, machine guns, pistols, sniper rifles, MANPADS and ATGMs of Western production. According to some estimates, one "student" now accounts for 75 modern trunks. Arming with all this stuff, for example, all the same volunteer units or territorial defense will quickly raise the issue of ammunition. However, this problem is not unsolvable, since a few years ago, due to the sanctions regime in Russia, the reform of the cartridge and rifle industry began. Due to the US refusal to purchase domestic-made cartridges, Rostec decided to master the production of NATO-style ammunition for small arms, about which
told
in the press service of the state corporation:
For the first time, we started developing "NATO" calibers 7,62x51 mm and 8,6x70 mm. Work on gunpowder, capsules, cartridge cases has already been completed. Prototypes have been created, which show good results at the test sites. By the end of the year, we expect to receive ammunition that is close to ideal. Serial production is scheduled to start by 2022.
Regarding captured aircraft, it would probably be useful to get our hands on Brazilian Super Tucano attack aircraft capable of flying in order to study the possibility of their use as "drone fighters" and patrol aircraft for the Border Guard Service of the FSB of the Russian Federation.