Most recently, we informed readers in detail why the launch of the reusable manned spacecraft Federation, scheduled for 2021, was first postponed to 2022, and then to 2023, and like Roskosmos under the leadership of Dmitry Rogozin,
Appeared
a serious competitor within Russia. But now the difficulties, the state corporation, only increased.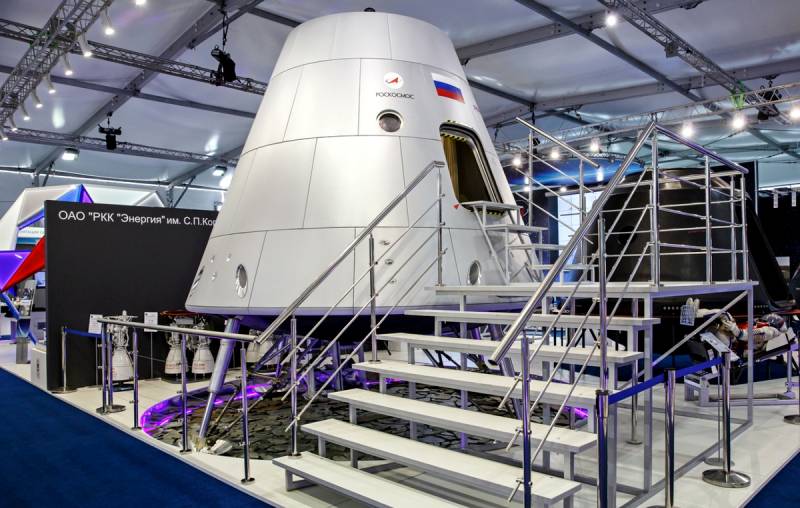 And so, from the depths of RSC Energia im. Korolev "report that the first launch of the reusable" Federation ", which is supposed to replace the disposable manned spacecraft Soyuz (not to be confused with the launch vehicles of the same name) and the automatic cargo ships" Progress ", can be postponed to 2024. Sergey Romanov, General Director of the developer company, told about this.
It turns out that the state of the "Federation" does not allow sending it into orbit at the previously scheduled time. It is unrealistic to succeed by 2022, because you need to debug all the processes, complete the release of design documentation and prepare the production at the enterprise.
Romanov said that the "Federation" will have eight experimental facilities, and all of them must first be verified by conducting tests. And you don't need to forget about the production cycle. Since the normal release of some products takes some time. He stated that without experimental testing there could be no talk of any manned launch. No one will risk people.
It should be reminded that the Molniya NGO (Kalashnikov concern) is engaged in thermal protection of the "Federation" and
best practices
Soviet orbital reusable spacecraft "Buran" will not be wasted. At the same time, the Tekhnodinamika holding is developing a parachute system for the Federation, and in the summer of 2018 a set of tests was to begin (28 drops, including with a full-size model of the Federation), and the transfer to Roscosmos should take place in 2020.
However, there is already talk at Roskosmos about the appropriateness of postponing the launch of the Federation for an even longer term. Tentatively for 2026 - 2027 years.