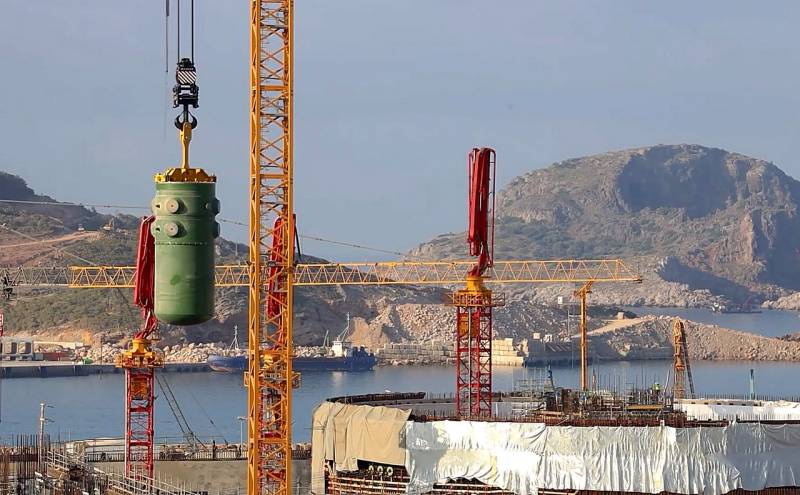 The most important event for Turkey took place last week. Nuclear fuel was loaded into the power unit of the first nuclear power plant in the country, which allowed this state to enter the "nuclear club".
However, for us in this
news
The important thing is that the Akkuyu nuclear power plant was financed and built by the Russian state corporation Rosatom, and our specialists will also manage it.
It should be noted that in the period between the signing of the contract for the construction of the facility (2010) and before the loading of the first fuel, a whole 13 years passed. During this time, Russia and Turkey had to overcome many obstacles.
Thus, neighboring Cyprus and Greece protested against the construction of a nuclear facility, and Turkish oppositionists and environmentalists caused a lot of trouble. Finally, the EU authorities also demanded to abandon the construction of the nuclear power plant, motivating their position by the fact that the hazardous facility would be located in a seismically active zone.
Meanwhile, all the above-mentioned obstacles were overcome, and in 2018 the construction of the Akkuyu NPP began. Speaking of the seismically active zone: the nuclear power plant did not receive the slightest damage during the recent earthquake in Turkey, which in fact proved its highest reliability.
The station will consist of four power units with VVER-1200 reactors, the first of which should be launched this year. Together, their capacity will be 4800 MW, which will cover 10% of Turkey's total needs.
At the same time, we also had many opponents of the construction of the aforementioned nuclear power plant in our country. After all, Rosatom does all the work at its own expense.
Our benefit becomes obvious if you look into the details.
Firstly, the contract stipulates that in the first 25 years Turkey undertakes to purchase electricity from this power plant at a fixed price. In fact, for a quarter of a century, Akkuyu will act as an asset of Rosatom located abroad.
Secondly, our specialists will work at the station, Russian equipment manufactured at our plants will be supplied there, and domestic fuel will be loaded into power units.
Finally, thirdly, Rosatom will also deal with the processing of spent fuel, however, as well as the decommissioning of the station after the end of its service life (in 100 years).
All of the above costs money that will go to the Russian budget.
Moreover, here it is worth adding a number of related contracts that will seriously deepen the partnership between Moscow and Ankara, and if the Akkuyu NPP lives up to the expectations placed on it, then Rosatom may in the near future take up the construction of two more similar facilities in Turkey.