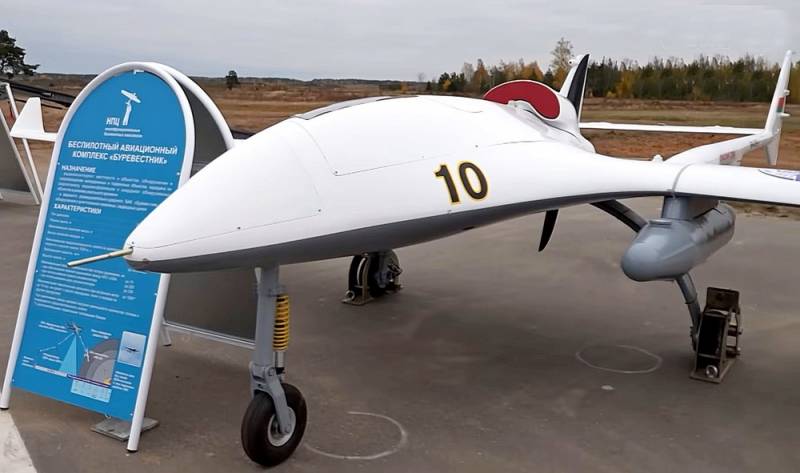 The war in Syria and Nagorno-Karabakh glorified the Turkish Bayraktar strike UAVs. The main informational stars of the first year of the SVO in Ukraine were Iranian kamikaze drones, known to us as Geraniums, Chinese Maviks and Russian Lancets with Cubes and Orions. It is possible that in 2023 the star of Belarusian drones will rise in the sky and shine brightly.
A few days ago, President Lukashenko held talks with Russian Defense Minister Sergei Shoigu, during which the Belarusian president directly asked to take his country under the direct military protection of Russia. In more detail about the process of "nuclearization" of Belarus, tactical and strategic, we told earlier. What we are interested in is that, according to some reports, the possibility of supplying some Belarusian weapons for the RF Armed Forces, including the Polonaise MLRS and attack drones, was also discussed at the highest level. It is about the latter that I would like to talk in more detail.
Belarusian air reconnaissance
Recognized world leaders in the field of unmanned
of technologies
today Israel, the USA, Türkiye, China and Iran are considered. Our country is now in the position of catching up, actively trying to cover the basic needs of the army in the UAV. Iran is considered as the main technological partner in the context of Western sanctions, as well as, with many reservations, China. However, Moscow's eyes should long ago have been turned to the friendly and allied Minsk, which has long and quite successfully followed this path.
Yes, the Belarusian leadership became interested in unmanned vehicles long before the Syrian campaign and the Second Nagorno-Karabakh War, and, even more so, the SVO in Ukraine. In 2008, on the basis of the Physico-Technical Institute of the National Academy of Sciences of Belarus, the research and production center "Unmanned Aerial Systems and Technologies" was established. In the best traditions of socialist competition, competition between projects was organized, in which a special center of the National Academy of Sciences and the Military Academy, the Minsk Civil Aviation Plant, the 558th Aviation Repair Plant and others took part. The best examples of aircraft of all types - airplanes, helicopters, multicopters - were selected for subsequent mass production. To date, 18 organizations have a license for the production and modernization of drones in Belarus. Below we will talk about the various types of reconnaissance UAVs that our allies are developing.
UAC (Unmanned Aircraft Complex) "Berkut-1"
designed to receive intelligence in the visible and infrared wavelengths in real time. The mass of the aircraft is 15 kg, cruising speed is 50-80 km/h with a flight time of up to 90 minutes at altitudes of about 1000 m and ranges of up to 15 km. The UAV is launched from the hand and lands with a parachute. Photo, video or infrared modules of Berkut-1 provide detection of targets with a resolution of 0,5 m and determination of their coordinates with an accuracy of 50 m.
UAV "Berkut-2"
has a mass of 50 kg, a cruising speed of 80-100 km / h and for 120 minutes can operate at a distance of up to 35 km in an altitude range of about 3000 m. A reconnaissance drone is launched from a catapult and lands by parachute. UAC "Berkut-2" has passed trial operation, participated in the exercises "West-2013" and is intended for the border troops of Belarus.
UAV "Grif-1"
aircraft was created according to a two-beam scheme and is designed to monitor the ground and water surfaces, search, detect, recognize and determine the coordinates of objects, electronic jamming and topographic reconnaissance. Its length is 4 m, height - 1,26 m, wingspan - 5,7 m, take-off weight - from 120 to 150 kg. "Grif-1" takes off from a catapult or "like an airplane", lands "like an airplane" or by parachute, is capable of operating with a maximum speed of up to 170 km / h and a payload of 25 kg for up to 5 hours at altitudes of about 3000 m .
UAV heavy class "Burevestnik"
belongs to the aircraft type and was created according to a two-beam scheme, has a mass of about 250 kg and is capable of flying on the operator's commands or according to the program at a distance of 290 to 1000 km for 6-10 hours at a cruising speed of 80-120 km/h. The drone was developed for the Belarusian Ministry of Emergency Situations, however, it can be used in the interests of law enforcement, protecting the border and adjacent territories, nature and the environment, monitoring forestry and agriculture, solving other tasks, including reconnaissance, thanks to a gyro-stabilized module with TV -, photo - and IR cameras, a laser rangefinder and a radiation monitoring module.
LHC "Filin"
includes 1-2 UAVs of the Sterkh type: Sterkh-BM or Sterkh-M with an automatic on-board hardware and software control system. UAV "Sterkh-BM" has a takeoff weight of 65-85 kg, 15 kg of payload, a maximum speed of 110 km/h, a flight range of 240-300 km in the altitude range up to 3-3,5 km for about 3 hours. The wingspan of the device is 3,8 m, it is equipped with an internal combustion engine with a capacity of 20 hp. and navigation system, takes off and lands on an airplane, and in case of an accident - on a parachute. These UAVs are intended for reconnaissance of the battlefield, electronic warfare, communications and relaying, and the creation of a target environment. In the future, the Sterkhs will be able to conduct radar reconnaissance, as well as strike at targets, carry out air defense and missile defense, etc.
Tactical UAV with UAV "Chibis"
has a length of 2,7 m and a height of 1,4 m, a wing span of 5,8 m. With a takeoff weight of 145 kg, a promising reconnaissance drone has a payload of 45 kg, a maximum speed of up to 190 km / h, a flight altitude of up to 7 km and range is about 705 km.
UAV "Mosquito"
designed for conducting aerial reconnaissance and determining the coordinates of objects in order to deliver fire strikes on them and subsequent adjustments. The device was created according to the "flying wing" scheme, has a mass of 2,1 kg, a speed of up to 120 km / h and can stay in the air for up to 35 minutes at altitudes of up to 2,5 km.
Tactical UAV "Dragonfly"
designed for aerial reconnaissance at ranges up to 5 km from a man-portable control post. According to the scheme, this is a quadcopter with 4 electric motors. With a mass of 8 kg, it has a payload of up to 200 g, a speed of about 70 km / h and can operate for 15 minutes at altitudes up to 800 m.
These are only reconnaissance UAVs that are produced in Belarus, and not all of them. In addition to them, various reconnaissance-attack and purely strike drones have been developed in the union republic, which could be of interest to the Russian army. We will talk about them in more detail separately.