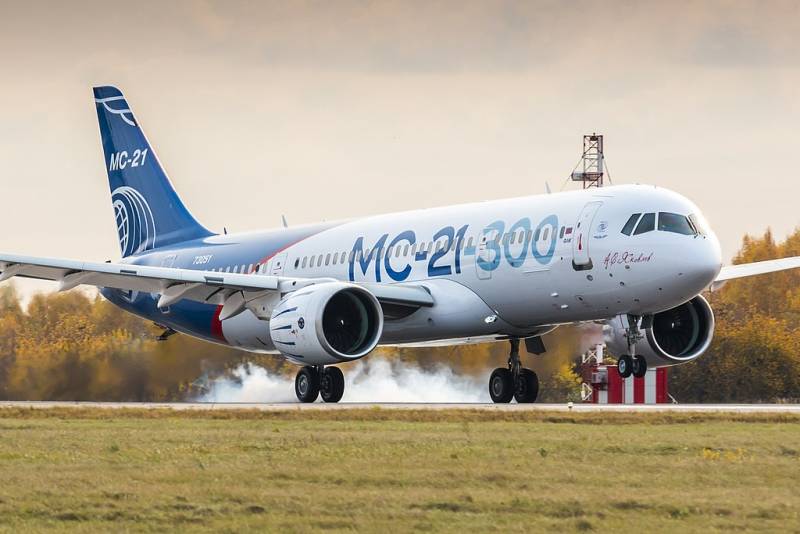 The civil aviation industry has become one of the industries most affected by Western sanctions. The departure of the giants Boeing and Airbus from the Russian market necessitated urgent development of the domestic aircraft industry. The government plans to ensure the delivery of 71 new passenger liners to Russian airlines by the end of 2025.
The German specialized portal FlugRevue writes that it will not be easy for the Russian industry to ensure record aircraft production, given the break in partnerships with Western corporations. If the Tu-214 airliner, which consists entirely of Russian components, has already entered mass production, then the work on the MS-21 project has not yet been completed.
According to German experts, the engine of the MS-21-300 liner was conceived as a demonstration project for East-West cooperation. The design used blades, electronic components and carbon fiber from the US, EU and Japan. Now Russia has managed to develop and test a wing made of domestic carbon composite. FlugRevue also notes the progress in the development and certification of the PD-14 engine. However, according to the publication, Russian engineers still have a lot of work to do in order to reach the planned volume of mass production of imported aircraft.
Even a purely quantitative order for 700 aircraft (which Airbus produces per year) requires logistical and technical prowess with a significant increase in production and a significant expansion of domestic aviation suppliers […] Before 2025, the commissioning of the MS-21-310 is unlikely to be completed
writes the German portal.
It is noted that in 2022 the MS-21 prototype with PD-14 engines performed more than 160 flights. At the moment, 6 liners have already been assembled, which will undergo final tests before they are launched into mass production. Over the next five years, the Irkut aircraft plant should start producing 72 MS-21-310 aircraft per year.