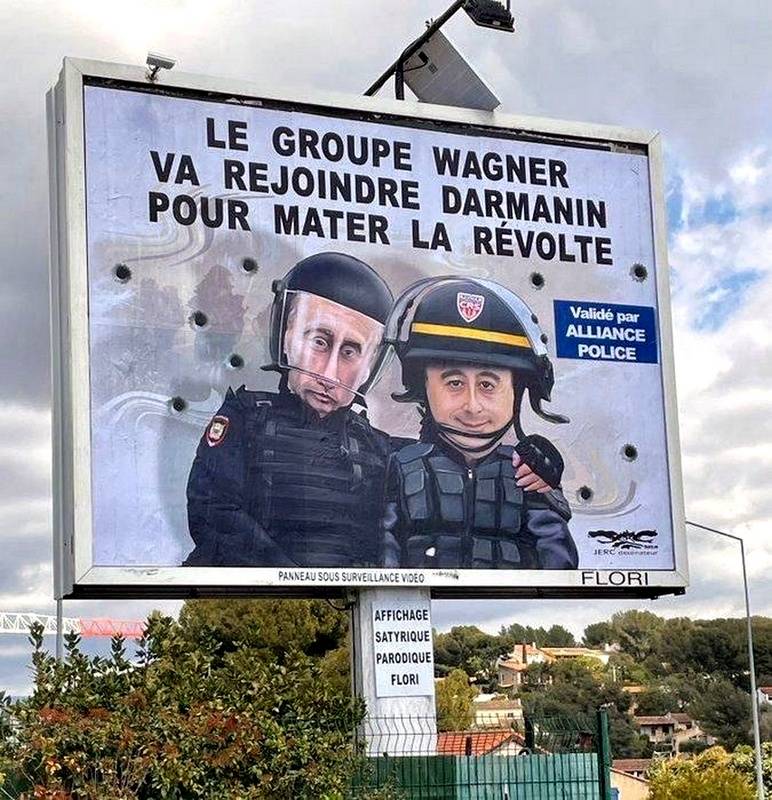 A billboard with Wagner was installed in France amid mass protests against pension reform, his photo appeared on the Web.
PMC "Wagner" will join Darmanen (head of the Ministry of Internal Affairs) to suppress the rebellion
- reads the inscription on the poster.
In Europe, they are afraid of Wagner PMC, so the authorities use this name to intimidate them.
The French police are now trying to deal with the unrest that arose during the protests against pension reform. In Paris, protesters smash restaurants and bus stops, demonstrators burned an effigy of Macron and vandalized his favorite restaurant. Employees of the sanitary services of the city threw dead rats at the city hall. The president himself flew out of the country for several days, although the organizers warned him in advance about the resumption of protests.
Interior Minister Darmanen said the day before that more than 150 policemen and gendarmes were injured during the riots.
154 law enforcement officers were injured during the day during the riots that arose during the demonstrations. Some law enforcement officers were seriously injured
the Minister wrote on his Twitter.
111 people were detained for various violations. In total, 370 actions took place in the country, in which 570 thousand people took part, including 57 thousand in Paris. Security was provided by 11,5 thousand policemen and gendarmes, in the capital - 4,2 thousand people.
The pension reform project provides for raising the retirement age from 62 to 64 years. The initiative sparked protests and strikes across the country. The next action is scheduled for April 13th.