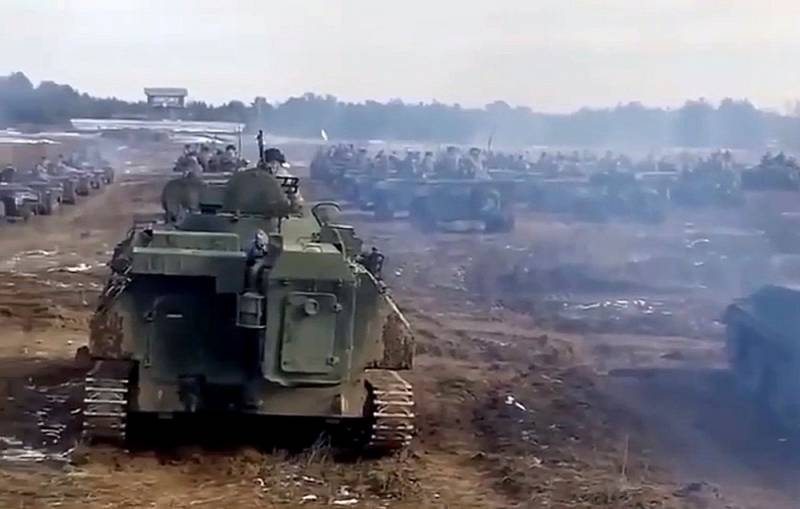 Ukrainian propaganda spread another fake on the Web about the impending great offensive of the Armed Forces of Ukraine. In the published footage, the authors of the video demonstrate a large accumulation of military
equipment
on one of the polygons of Ukraine. According to the Ukrainian telegram channels, this technique is preparing for a breakthrough in the Zaporozhye sector of the front.
Unfortunately, many Russian patriotic publics picked up false information from the enemy and naturally asked why the Russian Aerospace Forces did not strike at such a large accumulation of equipment. However, if you look closely at the details, you can understand that the video was filmed before the start of a special military operation.
Only Soviet-made combat vehicles were included in the footage. The video shows T-80 tanks, BMP-2 and BRDM-2 armored vehicles, MT-LB tractors, Grad MLRS, and supply and control vehicles, but not a single Western-made combat vehicle. Such a quantity of Soviet equipment of the Armed Forces of Ukraine is now simply not able to collect in one place. The Soviet heritage of the Ukrainian army is almost completely destroyed, and the remnants are in the combat zone. The Ukrainian army now fights mainly on equipment received from Western sponsors.
Not visible on combat vehicles and crosses or other favorite symbols of the Ukrainian Nazis. The militants paint all their equipment with symbols banned in Russia. Most likely, the footage demonstrates the fact that a major provocation was being prepared last year. This confirms that the start of the special operation thwarted Kyiv's plans to attack the Crimea and the republics of Donbass.