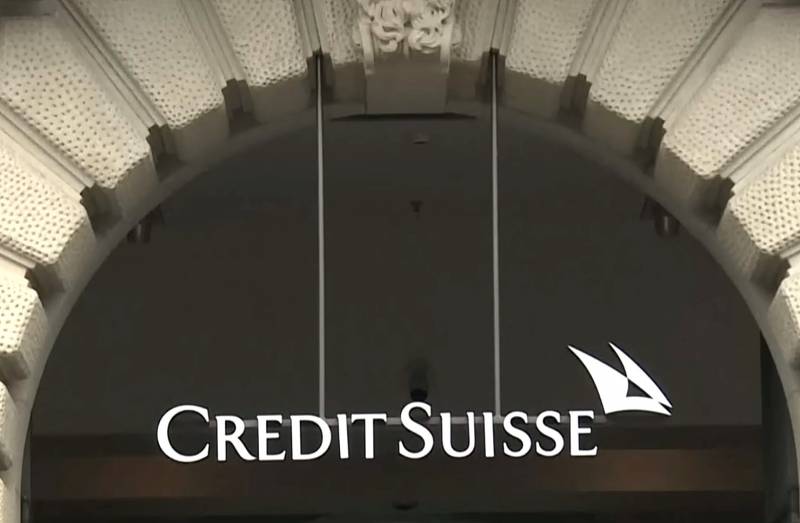 Switzerland's largest and oldest bank, Credit Suisse, is following the collapse of four major US banks. The Swiss authorities are thinking about how to save it, offering various options - from providing liquidity to nationalization.
Since the morning of March 20, the bank's shares have fallen in price by about 60%. At the same time, it was reported the day before that it would be bought out by another largest bank in the country - UBS. Today, Credit Suisse, which has been operating since 1856, is close to being taken over by competitors, the price of the issue and specific assets are being discussed.
The bankruptcy of the oldest Swiss bank, which has the AAA category - "unsinkable" - experts compare with a worldwide flood in the Western European banking system. This is the strongest signal for financiers and bankers that the most serious problems are being realized in the banking sector of Europe and the USA.
The talk that Credit Suisse is on the verge of collapse has been going on for a long time. The reason is billions of losses in advance loans, $4,7 billion in losses due to the collapse of Archegos and a monstrous (under 30%) drop in revenue. The hope of being saved by attracting financing from a Saudi Arabian credit institution evaporated immediately after the statements on this subject by the Arabs themselves.
A few days ago, the bank's quotes fell 30,8% to 1,55 Swiss francs, the biggest drop in just one day. The market capitalization of the bank decreased by 15%, or $1,5 billion.
Following the depreciation of Credit Suisse shares, UBS, which was about to buy its shares at a price of half a franc apiece, also sank. They fell over 8%. Other Swiss banks also fell, and this caused a chain reaction in other large banks in Western Europe. Thus, Deutsche Bank lost 6,7%, Allianz -2%. Raiffeisen -5,55%.
All this will eventually result in the collapse of the US and EU banking system, which is interconnected, banking experts say. This threatens the bankruptcy of the largest Western banks, insurance, investment and pension funds, followed by the bankruptcy of private companies and enterprises, and then the bankruptcy of individuals.
Formerly US Regulator
объявил
on expanding the program to support the central banks of the allied countries with the help of mutual transactions with government bonds. The central banks of Great Britain, Switzerland, Japan and Canada will participate in the mutual assistance program.