Epigraph: "All these eight years I have been plowing like a slave in galleys, with full dedication. I am pleased with the results of my work ... "(V.V. Putin, press conference on February 14, 2008 in the Kremlin).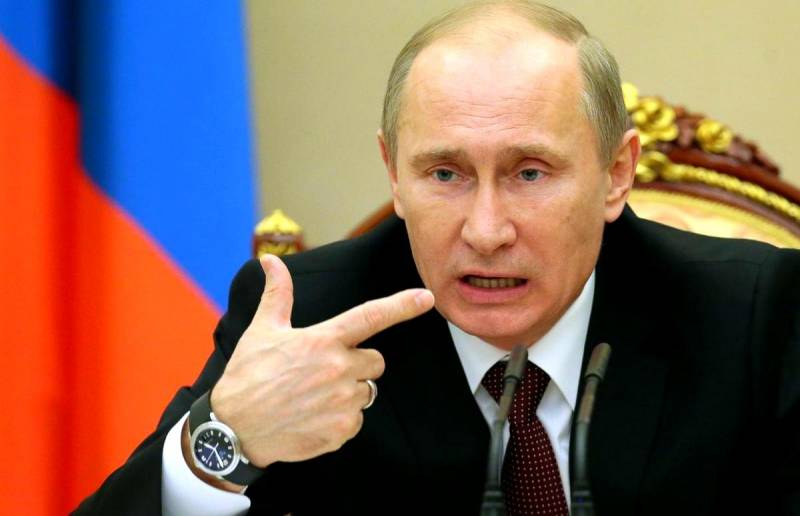 Who here believes that over the 18 years of work the President has not earned his own hours? Are there those who have already figured out how much his collection of watches costs and how much his presidential salaries are? (And how much they need to plow for it, these are Putin's critics, in general, they say lowering their voices and rolling their eyes! Critics can't earn as much as that!). And they immediately recall the famous phrase about "slave in the galleys", which was made in the epigraph. I already see the turn of these critics with signs: "Where is it recorded on the galleys? Write me down first! "
Yes, today we will talk about watches. Watch the President. Of the same. President of the Russian Federation. Putin Vladimir Vladimirovich, if anyone forgot. I hope here, and indeed in the world, there are none? Today I will answer questions regarding this slippery topic, because I know a little about the clock. Precisely those. Swiss. Until now, Boris Efimovich Nemtsov was the main expert and specialist in the clock of GDP. Where is he now, you know. Therefore, you understand how I risk it ... Well, we won't scuffle, because I personally have no complaints about Nemtsov. In this article, I will refer specifically to his data. Moreover, there are no other data. Putin's entourage knows how to keep his secrets.
I don't know why we have such a craving for expensive watches in our country, I personally have had this. And carrying two Porches-Cayenne on my hand, I personally do not pin. I never understood people who buy watches worth 86 thousand dollars, or 154 thousand of the same green American presidents (I've seen such "Patek Philippe" and "Franck Muller"). And these are not the most expensive ones yet! What kind of show-off to wear on your hand two Mercedes, because anyway no one knows how much they cost? Can you tell by eye which is more expensive "Omega" or "Tissot", "Maurice Lacroix" or "Baum & Mercier"? And nobody can! Believe me, from a distance of 10 steps, in general, you can't see if you have a watch or not. But in order to see their brand, you need to have truly falcon eyesight. Only tax inspectors have this in our country. Are you trying for them? Then buy a car - believe me, it is very difficult to confuse Porsche Cayenne with Lada-Kalina in its outlines.
Have you ever thought that in recent times the watch has already lost its original utilitarian value, slowly turning from an item of vital necessity into an element of luxury, an accessory, a beautiful tsatska, telling everyone around it the social status of its owner. Therefore, everyone is chasing after the Swiss - at least not to be left behind. What for? After all, we have already reached the point that the clock now surrounds us everywhere - turn on the computer, open the lid of your phone, just raise your head! Why do you still need a wristwatch ?! For pontus? For beauty?! Let it be!? At the same time, no one can distinguish expensive Switzerland from cheap (you can imagine - it happens like that!) And watches made in Switzerland from their Chinese counterfeit.
I remember the shock I experienced when I learned that there are more than 700 brands with the right to bear the proud name SWISS made (made in Switzerland). Just think about this figure - in every battered Swiss village there is its own factory for the production of what we call watches . You saw that Switzerland - 40 thousand square meters. km and 7 million inhabitants. The area is slightly larger than the Moscow region, and the population is even smaller. And what to do with products produced in such quantities? After all, watches from the subject of everyday life gradually turn into the category of a fetish, sometimes even decorative excesses, risking soon becoming an element of luxury or even art. But you yourself know what art is in demand.
When old Daimler patented his "Kerosene Riding Cart" in 1825, which later became known as a motorcycle, and a year later, together with old Benz and the first "Self-propelled carriage" - the ancestress of the car, there were also companies producing horse harnesses , and harness. Moreover, these were the best companies that make the best whips in the world and the best carriages in the world, who squeezed out all their competitors from the market in the uncompromising struggle. And where are these firms now?
Technical
progress is inevitable, like the arrival of a mother-in-law or the arrival of a fire inspector. Trying to stop him is like throwing a water gun at tanks. When a certain Edison (heard of this?) Came up with his own electric incandescent lamp, there were also candles. They exist now, but only in a decorative form. Because they have lost their utilitarian function. They are still sailing, riding horses, fencing with swords, but all this has passed into the category of sports, aesthetics, and expensive entertainment. Dear, mind you! A wristwatch will face the same fate. So stock up, gentlemen, until the price of watches has not reached the price of Van Gogh's paintings (he also underestimated them at the time, and therefore died in poverty!).
The basic law of marketing is that if a product is not for sale, this does not mean at all that it is necessary to lower the price of it. Raise the price for it and say that this is not a product, but a super-product, and you will find your buyer, and due to the difference in price, you will compensate for possible losses. Swiss watch companies have no choice but to follow in this direction. A watch goes from a device that records the exact time to the category of an accessory confirming the status of its owner. Well you will not save on your image? At a time when money is nothing and image is everything. Here are our newly arrived bourgeois and trying to keep up with them
policy
and deputies, as well as their environment, having seized upon the Western table after the Soviet famine, do not save, becoming easy prey for the producers of such products. Someone, however, fell ill and recovered, and someone still continues, like a squirrel in a wheel, spinning in an endless circle of accumulating advertising and marketing values ​​imposed on him by Western propaganda, trying to correspond to false ideas about success and social significance.
In a mild form, our President was ill with this disease. And what is he not a man? Nothing human is alien to him. But judging by the information conveyed to us by his whistleblower Boris Nemtsov, the rumors about his illness are greatly exaggerated. I judge only by the collection of 11 hours of GDP presented by Boris Nemtsov. Believe me, I didn't find anything special there. You haven't seen the collection of chronometers of the governor of Sakhalin, Alexander Khoroshavin, who is now checking his time in prison hours, where Putin is - he's just a snotty little preparation next to him! (Although both officials, and Putin is an official of much higher rank). I remember what a cultural shock I experienced when I saw in a certain American film that the hero of James Belushi, having climbed into someone's rich house, opened the owner's closet - and there ... 50 hours, for all occasions - and under a suit, and for playing sports, and on a leather strap, and on a bracelet, and round, and rectangular, and with a white dial, and with black ... "Do not tell a damn yourself! - I thought. People live! " (By the way, I never understood why a watch is considered a pair? It's not socks, and not boots. And not even gloves, although they are also worn on the arm). Well, okay, now is not about that. Now we are reviewing the collection of GDP watches and you will understand that the rumors about its myriad wealth are greatly exaggerated (a very modest collection, as for the President of Russia, except for one exhibit).
Let's start with it.
Under number 1 go
A. Lange & Sohne Tourbograph "Pour le Mérite"
: 390 euros.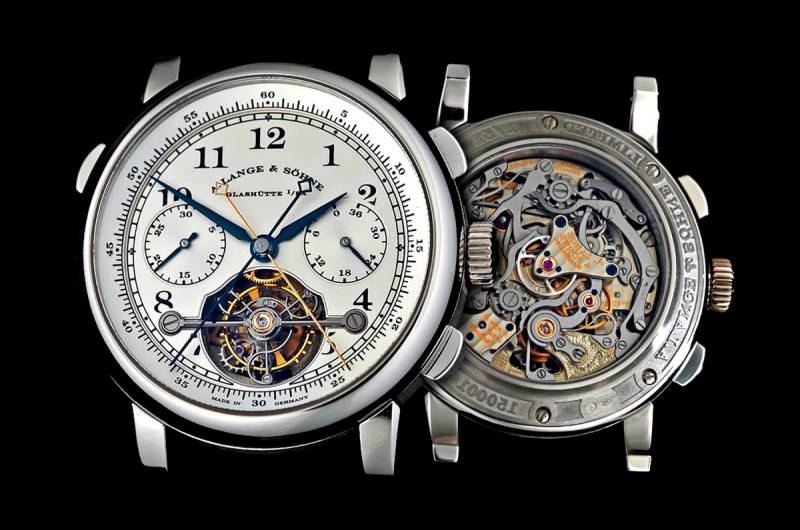 A very worthy specimen. And how can a chronometer costing almost half a million dollars be unworthy? Hand-wound movement, A. Lange & Sohne Caliber L 903.0 with tourbillon. Decorated and engraved by hand. Case: platinum, crown in white gold; case back with a sapphire window on 6 screws. Water Resistance: 300m. Dial: Solid Silver, Rhodium Plated; Alpha hands in blue steel, split chronograph hand in yellow gold. Strap: crocodile leather, hand-stitched; Platinum folding clasp. What can be added here? The most successful model of the A. Lange & Sohne manufactory. The only combination in the world of a chain fuse with a tourbillon, a split chronograph and a perpetual calendar. Where did the President get them from, I will tell you below.
At number 2 for the price go
Patek Philippe Perpetual Calendar ref. 3974
: $ 60 000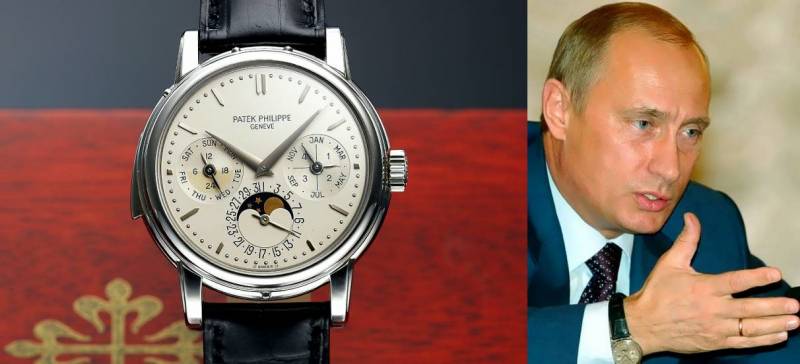 Also a very worthy brand and the price is appropriate. The only complaint to the catalog compiler is this ref model. 3974 is made of white gold, while in the photo of GDP presented by Nemtsov as evidence, it is clearly visible that the case is made of yellow metal. I found the explanation in another source. Apparently, Putin has two pairs of similar watches (a photo of Patek Philippe in a white gold case on his hand also has GDP, and Nemtsov presented it).
I put the second pair of Patek Philippe in third place, although at the price it was supposed to go in second (why Nemtsov didn't light it up with the people, I don't know, certainly not because of the great love for GDP). Maybe it's the old GDP watch, at that time the most beloved (about the current favorite GDP watch I will say below) that he lost (and what Putin is not a man?), And which Nemtsov, digging into his safe, did not find. I don't know, at least in the famous picture where Putin shows the then head of Transneft Semen Vainshtok a new oil pipeline route bypassing Lake Baikal, they are on his hand (but I found another picture, the clock is better visible here, the GDP itself isn't here it turned out very much, sorry).
No. 3 -
Patek Philippe Perpetual Calendar ref. 5140
: $ 74 800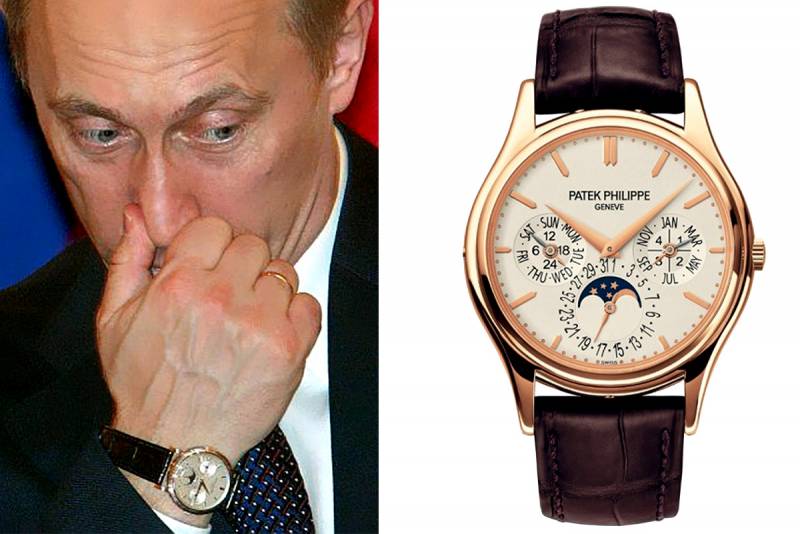 The watch is made in a pink-gold case with a diameter of 37,2 mm, a thickness of only 8,8 mm (this is an ultra thin model ref. 5140). The model is equipped with the famous, one of the thinnest automatic mechanisms with a perpetual calendar 240 Q with a balance frequency of 21 600 pc / h and a power reserve of up to 48 hours. In addition to the disk indicator of the phases of the moon, all other indicators (numbers, days of the week, months, years and time of day) are arrow indicators. The model has already been discontinued (now only the platinum version is released), therefore, it has every chance of becoming a rarity and, like many other Patek Philippe watches, grow in price several times, especially if it is put up for sale with the label "Vladimir Putin's watch" (precedents already existed last year and the GDP had nothing to do with them, but more on that below).
Further down the list of Nemtsov is another product manufactured by Adolf Lange and Sons (A. Lange und Söne).
No. 4 -
A. Lange & Sohne 1815
: $ 25 000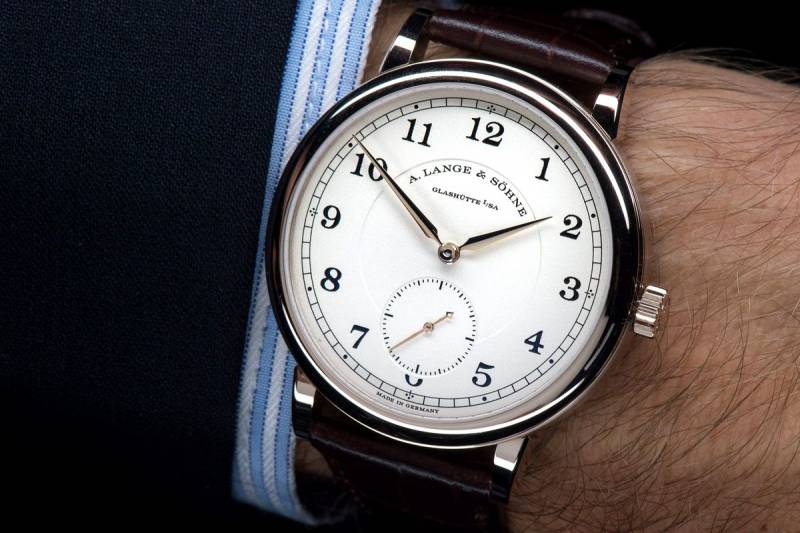 Case material - white gold. The color of the dial is silver. The color of the bracelet is black. The material of the bracelet is crocodile leather. What can I say, a watch, like a watch, nothing special. The cost is that because they are made at one of the most expensive and oldest manufactories. I must say, for those who do not know that there is fierce competition in the world of watches and their manufacturers, and the above two brands are Patek Philippe (family company, founded in 1839) and Lange and Sons (also a family company, founding year - 1845), along with three more (Putin doesn't, thank God) - "Vacheron Constantin" (one of the oldest manufactories, founded in 1755), "Audemars Piguet" (partner company of Piguet and Odemar, founding year 1875) and Jaeger-LeCoultre (a joint trademark registered in 1938, but the family company LeCoultre has existed since 1866) fight for the upper floors of the top segment of the premium class. This is a kind of Mercedes in the world of watches, more precisely, Ferrari, so you will understand. No "Cartier" (founded in 1847, but has been producing watches only since 1904, and the main direction is jewelry) and "Rolexes" (founded in 1905, a trademark registered since 1915) were not even lying around. Young predators Frank Muller (trademark Franck Muller, registered in 1992) and Francois-Paul Journe (trademark FP Journe, appeared in 1999) only storm these peaks, and there are 700 more competitors, but now these two the brand is quite a Maseratti in the world of watches (and Maseratti, as you know, is a Ferrari for the poor). And Putin has one of these Maseratis.
For some reason, Nemtsov did not indicate it, I fully assume that he appeared after his death, but, nevertheless, at the price of this product comes in honorable fifth place.
No. 5 -
FP Journe Chronometre Bleu
: $ 20 000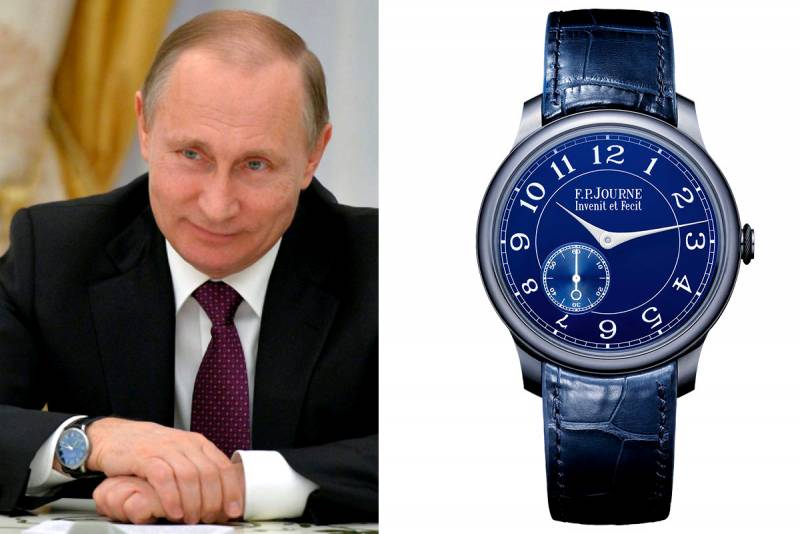 I don't know what attracted Putin Francois-Paul Journe - this young, affectionate press and jury of all the most prestigious watch competitions, a French watchdog prodigy, but this model is so-so, not for everybody. It is made in a 39-mm case made of tantalum metal, which is rarely found in watchmaking (it is very difficult to process it, it is even more capricious of the 950th platinum and has a bluish tint in daylight). The official name for the color of the dial is blue chrome. The mechanism 1304 with manual winding, two winding reels, a power reserve of up to 56 hours (45 of which comes with chronometric accuracy, which is why it is called Chronomètre Souveraine) is made of red gold. For me, Frank Muller is cooler, but Putin loves plain-looking models. And then we go to them.
In sixth place is another, third in the GDP collection, the product of the famous Patek Philippe stable, the simplest of them.
No. 6 -
Patek Philippe Calatrava ref. 3998
: $ 18 100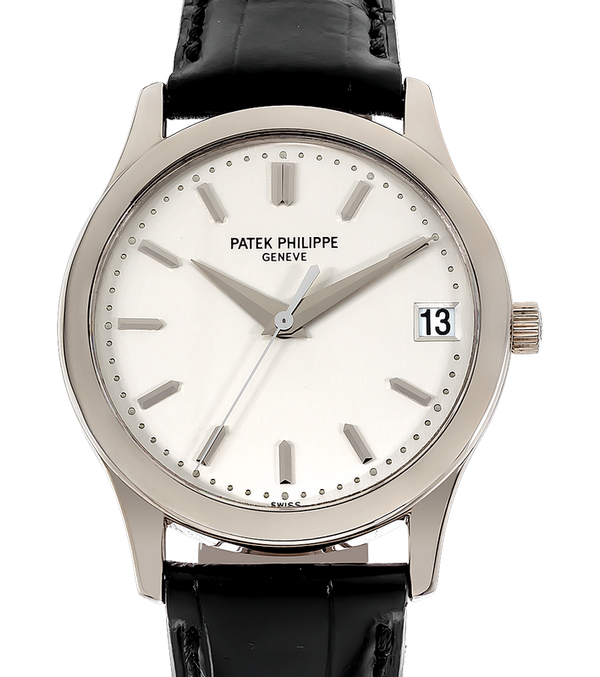 I will not write anything about them, a watch, like a watch, nothing special. As we say - without show-offs (Putin loves just such).
But in seventh place (at a price) are the watches of the famous Breguet brand, Pushkin wrote about him in Eugene Onegin in 1824: "Having put on a wide bolivar, Onegin rides on the boulevard and walks around in the open air until the dormant BREGET lunch will ring him ... ". Putin, of course, chose the simplest of them:
No. 7 -
Breguet Marine 5817ST / 12 / 5V8
: $ 15 000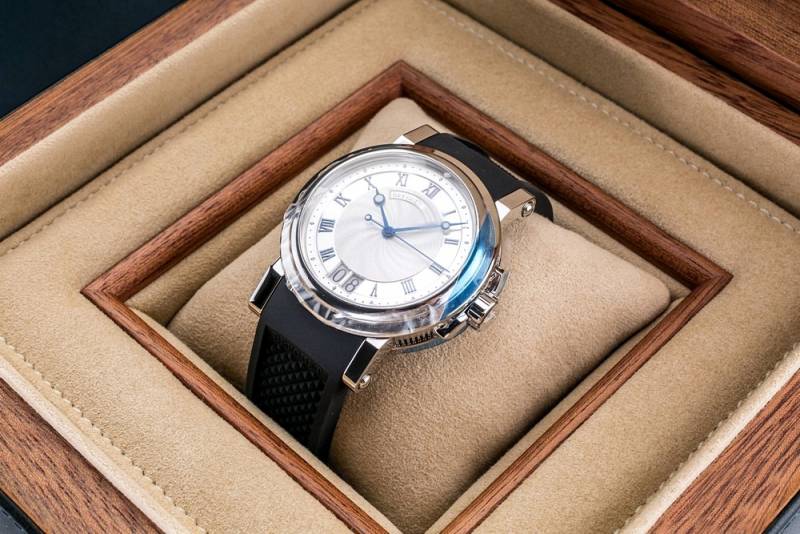 This is one of the most famous and oldest Swiss watch manufactories, (founded in 1775). Luxury watches. Among her famous clients were (I will give only a few names, you will be stunned): 1782 - Marie Antoinette, Queen of France, 1798 - Napoleon Bonaparte, Emperor of France, 1787 - Charles Maurice de Talleyrand-Perigord, Minister of Foreign Affairs of France, 1798 - Josephine Beauharnais, Empress of France, 1806 - Selim III, Sultan of the Ottoman Empire, 1809 - Alexander I, Russian Emperor, 1838 - Queen Victoria of England, 1901 - Winston Churchill, British Prime Minister, 2007 - Vladimir Putin (Breguet Marine), 2008 - Patriarch Kirill (Breguet Classique). Wow company ?! I'm really not ashamed of our president! (although the Breguet Marine Marine Chronograph is so-so).
Well, finally, we move on to Putin's most beloved watch, thereby.
No. 8 -
Blancpain, Leman Aqualung Grande Date
: $ 10 500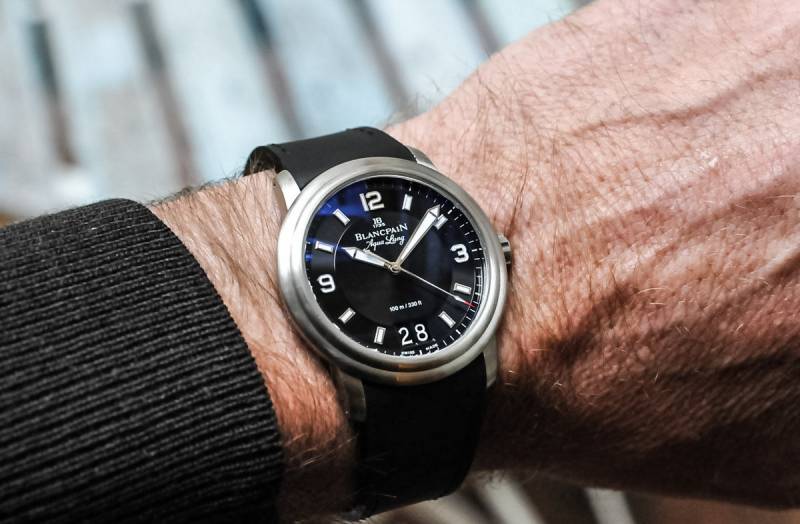 What he loves precisely this watch, I can not understand. Three times he parted with them. In 2009, he took it off and presented it to the son of a Tuvan shepherd during his short-term vacation in Tuva in the homeland of Shoigu. In the same 2009, they, but others, the exact same ones, were asked from him (literally, it was) by a locksmith of the Tula defense plant "Instrument Design Bureau". And another Leman Akvalang GDP threw into the poured concrete base of the Nizhne-Bureyskaya hydroelectric station in 2010. And the very next day they again had on his hand - Leman Akvalangi.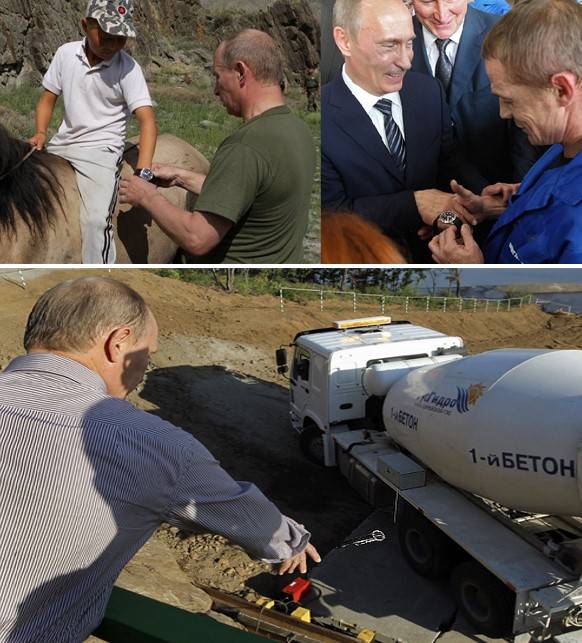 But I must say that this model was released by Blancpain in a limited edition of 2005 pieces, (either Putin bought the whole series, or they are doing it specifically for him). But for such advertising to the company, I think, they still have to pay extra. Blancpain, one of the oldest Swiss companies, was founded in 1735, but never belonged to luxury ones; moreover, it almost disappeared with the advent of quartz watches in general, but in 1983 it revived and specializes in waterproof mechanics. Putin for her is like a light in the window.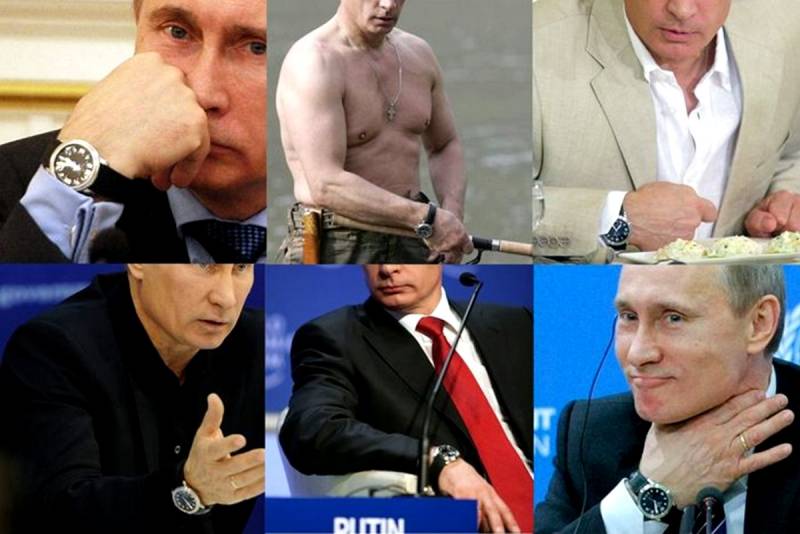 Whatever image Putin presents to people, the satin steel Blancpain Léman Aqua Lung Large Date always gleams modestly on his arm. This watch is the same constant in modern Russian politics as Putin himself. Thanks to the Russian president, this model, like the Blancpain brand, has become legendary. In Russia, everyone heard about her - from Tula gunsmiths to Tuvan shepherds. Perhaps the attention of the GDP was attracted by a stylish, concise and restrained design. And perhaps the head of Russia, as a former intelligence officer, was struck by the technical characteristics of the device. Lehman Scuba gear has a power reserve of 70 hours, shockproof balance and can withstand immersion to a depth of 100 m. The strap is similar to leather, but in fact it is rubber. What else does a man need? (To a real man, not to an "installer"!). The president's choice is understandable - the watch is universal, and throwing show-offs is not in the rules of the GDP (this can be seen at the price of the product).
According to Nemtsov's list, there are five such "Blancpain" (various models) in Putin's collection! I will give only one of them, pay attention to the price.
No. 9 -
Blancpain Leman Flyback Chronograph 2185F
: 5 euros

This is perhaps the most affordable flyback chronograph, which can be reset to zero and start a new countdown at the touch of a button at the 4 o'clock position (conventional chronographs require three consecutive presses on two side buttons). Also a difficult and rare thing. It appeared in the early 2000s, and cost less than 5 euros, (then a very impressive amount for steel, albeit luxurious, watches). The steel case is still small - 000 mm. Now such a machine, and even on the basis of the manufactory automatic caliber 39 with a 1185-minute and 30-hour chronograph counters and a 12-hour power reserve, will cost much more. The watch is attracted by its functionality, high readability of the dial and versatility. Putin already does not give them to anyone. I don't bring you other Blancpain models, there's nothing new, the price range is in the range of 40-7 thousand dollars.
The last in the collection of GDP Nemtsov called: No. 10 -
IWC, Pilot's Watch Mark XV
: $ 3400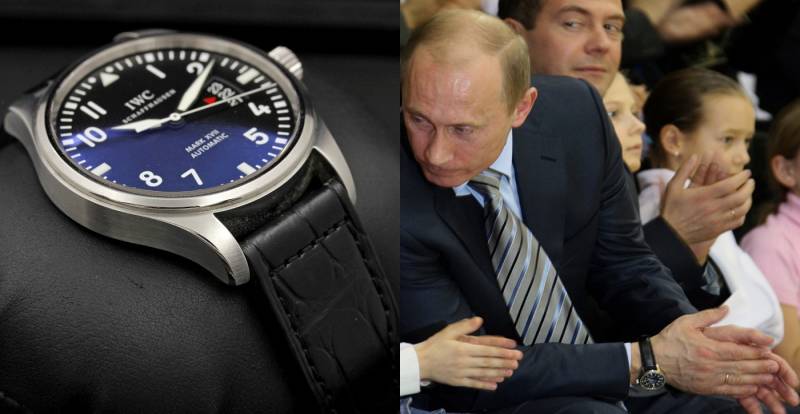 The clock is old. For the price you can see. However, in the pictures accompanying his investigation, Nemtsov posted a photo of IWC Pilot's Watch Mark XVIII Ref. IW326501 is the watch of the 2016 collection, when, on the occasion of the 80th anniversary of this brand's watch, the company released the Le Petit Prince model in a characteristic design with a dark blue dial as a tribute to Antoine de Saint-Exupery based on his story "The Little Prince" ". Saint-Exupery was a pilot, and the IWC company specializes in the production of navigational aviation watches. Putin has other "IWCs" with a black dial. You saw the price.
I want to finish the collection review with another model missed by the tireless exposer of GDP Boris Nemtsov. He forgot to indicate the most rare watch in it. I know for sure, because Putin himself saw them.
No. 11 -
"Commander"
, produced by Chistopol Watch Factory.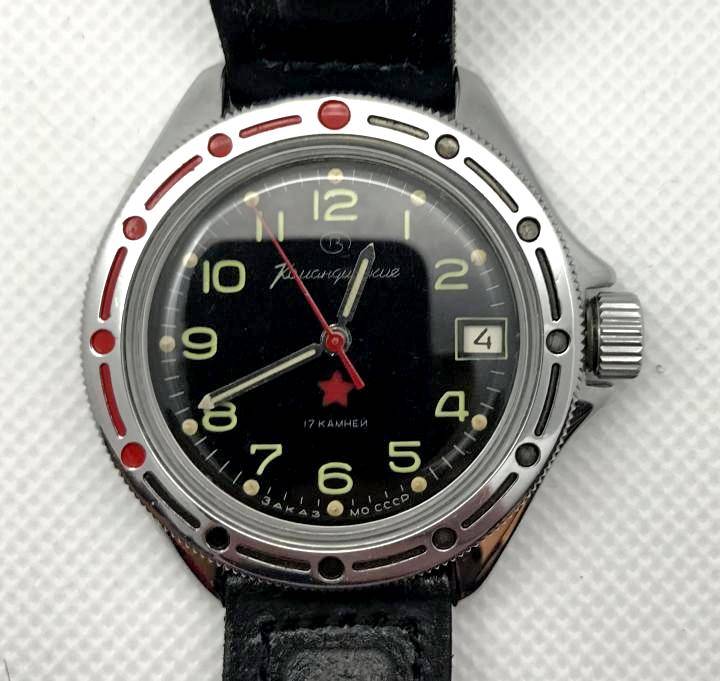 Issue of another Soviet limited edition: by order of the USSR Ministry of Defense (I am enclosing a photo of the original watch of the USSR production and their modern copies of the production of the Russian Federation). It is worn in special occasions. For example, when meeting with Trump, he was in them. In America, too, by the way, politicians are considered bad manners to wear expensive watches. Maximum for 300-500 US dollars. I didn't see what Trump had, but definitely more expensive than Obama (he was noted for a cheap Chinese fake for $ 300 to the unknown brand Jorg Gray 6500, which in China became a bestseller after that, Trump does not need such popularity in China).
But back to Putin. Total GDP collection pulled a maximum of 770 thousand dollars. But the most interesting, you do not know yet. In fact, the President did not buy all the watches himself. Half went to him in the form of gifts. But more about that below. Like why Putin wears a watch on his right hand.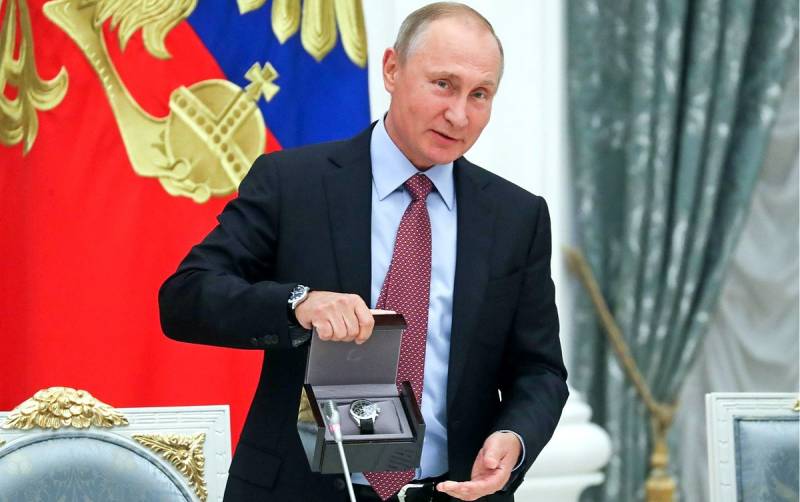 Maybe for whom it will be a revelation, but those same "most expensive watches" of GDP for half a lemon of green from platinum with white gold and sapphires produced by Lange and Sons are not even Swiss at all (not SWISS made!). Already I hear indignant voices: "Oops! How so ?! Nevermind a U-turn! But does that happen? " It turns out it happens. Imagine, friends, not all expensive watches are Swiss, and not all gold that glitters. These are German! True, they belong to the Swiss holding Richmond, but this does not make them Swiss, but they are the modern reincarnation of an old German brand that disappeared with the Third Reich after WWII. The plant was located in a suburb of Dresden, which was bombed by the Allies, on the last day of the war an air bomb hit it, in 1948 it was nationalized by the GDR government and resurrected again after the unification of Germany in 1990. I suspect that the watch is a gift of GDP from his German friends, whom he could not refuse, and who thus wanted to emphasize their attitude towards him. I assume that from Schroeder, the former Chancellor of Germany, now Chairman of the Board of Directors of Rosneft, and since 2006 Chairman of the Committee of Shareholders of Nord Stream AG. No associations? Would you take it? Well, they don't offer you!
By the way, I'm not at all sure that Gerhard Schroeder bought this chronometer for his money, or rather, I'm sure of the opposite, the owner of this company, Walter Lange, also paid him to give his watch the GDP. And he chose the best at that time (early 2006). Because you can't even dream of such an advertisement. This is what any luxury goods manufacturer dreams of (and watches now relate specifically to them). Any of the Swiss brands would also pay Putin to wear watches of his brand. But not everyone is as lucky as Walter Lange and Blanpen (I mentioned the Blancpain above - the President's favorite watch).
What only manufacturers do not go here. Last year, in June, everyone was intrigued by the news that someone who wished to remain anonymous put up a watch belonging to Vladimir Putin for a million dollars at an auction in Monaco. The press service of the President of the Russian Federation immediately denied that the head of the Russian state belonged to this event. Nevertheless, the interest was so heated that in a month Lot No. 239 - the Patek Philippe Triple Complication Platinum watch, which was auctioned by Antiquorum with guarantee documents in the name of Vladimir Vladimirovich Putin, went under the hammer on the very first day of the auction, which was held from July 19 to July 21, 2017. This was announced by a representative of the company Monaco Legends, which conducted this auction. The lot went for € 1,054 million, with a starting price of € 900. The name of the buyer is kept confidential.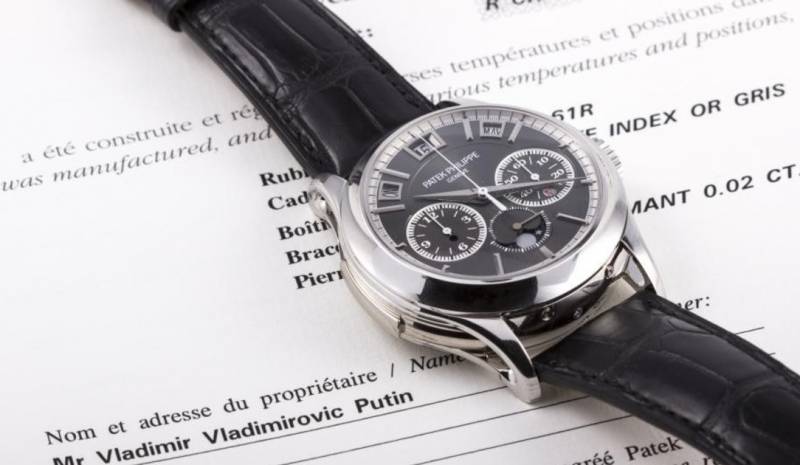 The funny thing is that in the GDP collection among his three "Patek Filippov" there was no such instance (and you already know about it). The Patek Philippe company itself probably knew about this. But what is the difference - whether they were or were not, the main thing is to create a scandal and break the bank in this matter. And he was ripped off! Sales of all Patek Filippov probably grew as a result. And as far as the claimed model is concerned, I'm sure that even a line has formed. The Patek Philippe 5208P Triple Complication model with a platinum case, a perpetual calendar and a gold dial is very rare, they hastened to inform Monaco Legends. It is produced in limited quantities, and you can buy it only by special order. And who would doubt that ?!
Do you remember the most expensive watches in Putin's collection? The very ones - A. Lange & Sohne Tourbograph "Pour le Mérite". While writing this article, I came across last year's interview with the head of this Saxon watch manufacture, Wilhelm Schmidt, who took over this post after the death of Walter Lange in 2017. So he said that they do not have time to produce this model, demand exceeds supply. For 4 years they made only 50 pieces, and they already have an order for 150 (for years to come!). Walter Lange, having presented the watch to the President of the Russian Federation through Schroeder, knew what he was doing. He is no longer alive, but his work lives on!
So that you understand what I am talking about, I will quote Schmidt: "We are special, I agree. Our brand from little Glashütte is not very well known. We are a special brand for special people. If you are not one of those who are usually called watch enthusiasts, if you are not a collector, then you most likely do not know about us. But if you buy our watches, then most likely you are buying them for yourself. Therefore, for example, the Christmas period is not as important for us as for others, because our watches are very rarely used for gifts. As strange as it may sound, this special position in the market makes us less vulnerable. As long as there is, I would say, an appetite for good watches, there will be a demand for "A. Lange & Sohne "..." (c). A watch for special people! Putin belongs to such! Walter Lange knew who to give. The gift was targeted. The costs are justified. And then the basic law of marketing comes on - in order to sell more, it is necessary not to lower, but to raise the price, not forgetting to artificially create a deficit, fueling demand.
In principle, Putin's spokesman said about this, commenting on the Patek Philip scandal: "Absolutely - this is a trick, a marketing move, apparently, very successful, judging by the amounts. We weren't even going to establish any kind of connection. This is an absolutely curious topic that has nothing to do with us. " They didn't have a relationship, but they made money on it! As they say - any mention, except for the obituary. And in combination with the name VVP - guaranteed sales! I think that all the persons involved, starting with "A. Lange & Sohne "and ending with" Breguet "and" Patek Philippe "(from the favorite brand of VVP -" Blanpen ", I don't take money).
And finally, as promised, I reveal the secret why Putin wears a watch on his right hand. The unusual habit of GDP to wear a watch on the right, and not on the left hand, has been a talk for many years. Many legends and versions are connected with it - someone, having studied the everyday gestures of the president of the Russian Federation, considers him a retrained left-handed person, someone an ambidexter - a person who is equally good in both hands. Someone recalls Putin's passion for judo and blames traditional oriental practices on everything. Everything is actually much simpler. Here, watch this video
No suspicion? Turns out Putin didn't always wear a watch on his right hand. So why? History is rooted in the distant 90s. It's all about EBN. More precisely, in the daughter of Yeltsin - Tatyana Dyachenko. When it came to the successor of Boris Nikolayevich, several options were considered, and Putin was far from the only one (now it's even scary to imagine what would happen if you didn't choose him!). And before the decisive meeting of the candidates for this post with a guarantor who was suddenly sharply tired, Tatyana's gaze settled on Putin, and she said her sacramental phrase:
You are so correct that even there is nothing to catch on the eye. If only they wore a watch on their right hand, or something ...
Since then, GDP has not changed the habit. To the fart! And I think that I, and you, and the whole country have been lucky with him. For once! And the watch is just a bonus to the position.