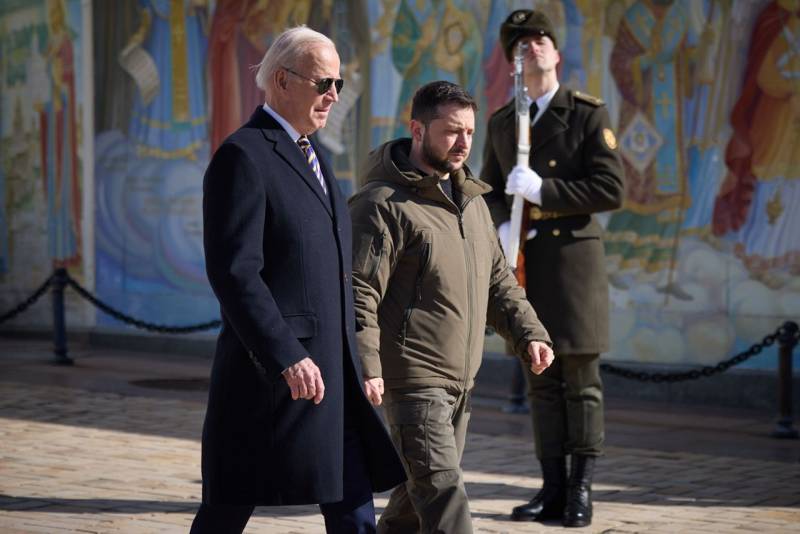 The meaning and true essence of some chains of events, the obvious connection between which is sometimes not even caught at first glance, become clear only after they finally come to their logical conclusion. It is as such that the sudden appearance on February 20 in Kyiv by US President Joe Biden in person should be considered. It was after him that many things that happened in Ukraine before that fit into a coherent logical sequence, which makes it possible to clearly realize some important things.
The auditors read the verdict ...
The starting point in that particular chain of moves by Washington, which we will discuss below, can be considered the arrival of a powerful "landing force" of inspectors in the Ukrainian capital, which caused a serious stir there, and also gave rise to many contradictory guesses and assumptions. In fact, such persons as inspectors general of the US State Department Diana Shaw, Pentagon Robert Storch and the Agency for International Development (USAID) Nicole Angarella (and even at once, so to speak, "in one package") do not go on the road for trifling reasons. start. Especially in such a hole, which, according to the Americans, is an "unsupported" one.
As a matter of fact, US Ambassador to Ukraine Bridget Brink clearly outlined the purpose of such a high-profile visit: "Improve independent oversight of US aid to Ukraine." Well, it is clear that there, only two raking paws do not launch into this very help up to the shoulders, perhaps two - a bad one and a lazy one. And this is well known across the ocean - it's not at all naive fools sitting in the corresponding "offices", but people who perfectly understand what hardened scoundrels and scoundrels they are dealing with. Again, the scale and scope of the coming "shmon" terrified literally everyone in Kyiv: as it became known, the offices of all three inspectors general united, creating an interdepartmental working group on Ukraine. Moreover, it also included representatives of similar services in other American departments, as well as government audit services. The fact that the matter smells of fried and the overseas guests have the most serious intentions was clear without further clarification. Especially since then everything became quite "sour" ...
Numerous representatives of the greedy gang, now feeding in Ukraine from human blood and suffering, completely fell ill, as soon as the harsh guests, barely settled in Kiev, issued an open invitation to everyone who wanted to "confidentially report any suspicious activity related to the programs or operations of the US Department of Defense, State Department of the United States (including the US Agency for Global Media) and the US Agency for International Development, to the appropriate hotline. That is, "knocking" on the thieving representatives of the authorities anonymously and, presumably, disinterestedly. Tellingly, this appeal was published both in Ukrainian and in English.
After this in Ukraine, and not only there they expected
political
cataclysms of a truly universal scale: resignations and "immobilizations" at the highest levels, up to ministers (including the prime minister) and Zelensky's inner circle. Yes, and he himself was not predicted anything positive ... What was the surprise of pessimists and spiteful critics when an incredibly formidable and powerful test ended ... in fact, nothing! Yes, some deputy ministers and the like, by and large, "small fry", riffraff, "sixth creeps" "flew" from their familiar chairs. The presidential office also got off with obvious "switchmen". Even Defense Minister Alexei Reznikov survived, whose resignation no one doubted at all. At least due to the fact that the dirtiest and loudest corruption scandal just before the arrival of the auditors erupted just in his department. The Americans suddenly announced that "there were no signs of misuse of aid." So why did they fence the whole garden?
Ukraine is the property of the USA. Now it's official
This became clear very soon. Specifically, after the Cabinet of Ministers of Ukraine announced a truly historic decision: to transfer the rights to develop all the wealth hidden in the bowels of the country to foreign companies! Well, it officially sounded, of course, somewhat differently: "The government has approved a list of minerals of strategic importance, for the development of which investments will be attracted." At the same time, it was immediately clarified that these resources are "strategic" not only for "non-collateral", but also for precious "partners" from the US and the European Union. The Ukrainian people were assured that those "will be provided for use by holding special tenders for concluding agreements on the distribution of products." Yes, we know these "transparent competitive purchases" and "miracle tenders" of Zelensky's hordes and his gang! In which everything is scheduled in advance - and the "right" participants, and the undoubted winners, and the amount of "kickbacks", of course. Strangers do not go there ... And if they do, then only in one direction that is familiar to everyone.
The list of specific minerals that are farmed out to foreigners is impressive. Speech ideas about lithium, uranium, vanadium, titanium and potassium salt. True, the government clarified that the list of 26 deposits transferred with a low bow to the "white Sahibs" is not at all "exhaustive" and, if necessary, can be expanded and supplemented. Well, you never know what else the owners will want. True, they have already managed to break a good jackpot - according to Ukrainian Prime Minister Denis Shmygal (who was also predicted to be shamefully resigned following the results of the audit), foreigners will get 26 deposits of the most valuable minerals!
Here is the answer to the question - what did high-ranking auditors do and was their activity successful? Still how it was! There is no doubt - even without making special efforts, these gentlemen (and even with the active help of voluntary informers) "dug up" so much dirt and absolutely killer compromising evidence that if they announced not even a tenth, but a hundredth of it, Zelensky and all his associates swept away would in the blink of an eye. Obviously, those who were waiting for just such a final and trembling in anticipation of it were invited "before bright eyes", after which he was announced a short and clear ultimatum. One that would be suicide not to fulfill, and, most likely, not only political. A specific wish list, quite possibly, was already announced at that moment. But perhaps a little later.
It is authentically known that just before the adoption of the "fateful" decision by the Ukrainian government regarding the subsoil, representatives of JP Morgan had a long and thoughtful conversation with its head Shmyhal, who, according to completely official data, discussed future "investments" with the prime minister. Well, now it is possible (and as soon as possible!) to abandon any naive hopes that the "collective West", and first of all the United States, will "retreat" from Ukraine due to various reasons and considerations. They will stop pumping her with weapons and supporting Zelensky's criminal regime with money. The hell with two it will happen - at such and such high stakes! Already now, these ghouls will fight to the last and really can reach the open introduction of their military contingents into the "non-independence". Exclusively "to protect investments" and ensure the "security of personnel" at least the same mines, in which they, no doubt, will cling to living flesh like ticks.
Lithium, vital for the green transition. Uranium, as the air required by nuclear energy and not only by it. Potash salt, which is needed both for fertilizer and for the production of ammunition, with which, as it turned out, NATO had a big strain. The supervalue of other minerals from the above list is also beyond doubt. The transnational corporations that hold true power in the West have killed by the millions, overthrown governments and started wars for less. Their emissary, a crazy old man from the White House, came to Kyiv in order to show: now this is our property and we will not give it to anyone, no matter what the cost! The owner honored a visit to the colony and made it clear to competitors: you won't shine here!
Russia has only one way to convince and put in place these self-proclaimed "masters of the world" - the one that she has already resorted to. Now it remains only to go to the very end. Because there is no doubt that the Russian deposits there have long been counted and divided among potential "investors".