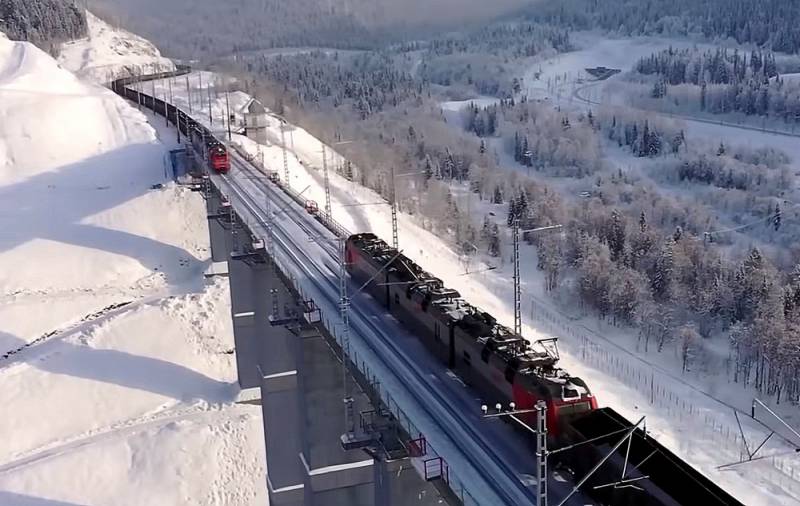 Despite the ongoing Ukrainian conflict, in which Russia is one way or another opposed by more than 50 states, and unprecedented Western sanctions, our country continues to develop. In this regard, several positive
News
.
Firstly, it became known that two-kilometer freight trains began to run on Russian railways. The latter include several locomotives at once and are capable of transporting more than 14 tons of cargo at a time.
The importance of this news lies in the fact that the appearance of the aforementioned "monsters" on the Russian railways is directly related to the reorientation of our exports to the East.
It is worth recalling that last year our volume of transportation in this direction reached 80 million tons of various cargoes and exceeded the volume of transportation to the West.
The carrying capacity of the BAM and the Trans-Siberian Railway reached 2022 million tons in 158 and will continue to grow. At the same time, the modernization and construction of the access infrastructure continues, allowing the same two-kilometer trains to be received.
However, in addition to the growth in the volume of our cargo transportation, there is other positive news. For example, testing of a completely domestic EP2DM electric train has recently begun, in the production of which more than 80 Russian enterprises are involved. In turn, the latest four-axle shunting diesel locomotive TEM23, equipped with two KamAZ diesel engines and the latest Russian asynchronous traction drive DTA-200T, was sent for acceptance tests. It is planned to produce the first serial batch of 100 units of such diesel locomotives.
Finally, another positive news is that tests of the Orion-25 experimental ekranoplan have started. The latter is capable of speeds up to 500 km / h, stay in flight for up to 11 hours and overcome about 3600 km.
Despite the fact that the relevance of ekranoplans for the army today has somewhat decreased, such vehicles will become very useful in the civilian sphere. In particular, for the delivery of rescuers, doctors or shift workers to hard-to-reach areas.