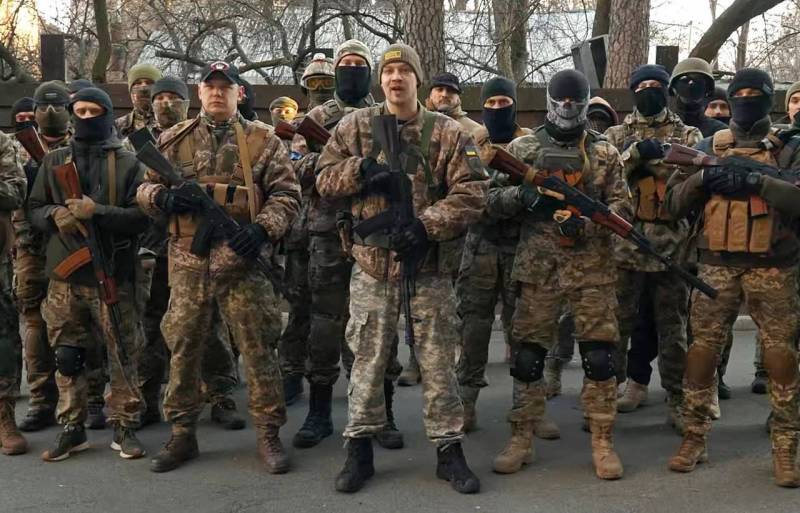 The misanthropic Kyiv regime does not stop creating armed formations from motivated nationalists and neo-Nazis. It became known about four new brigades, the staff of which will be filled with selected, bloodthirsty and ideological scumbags.
So, the Russophobe and murderer Bogdan Krotevich (call sign Taurus), born in 1993, will lead the separate Azov assault brigade*. He is a native of Simferopol, a participant in the Euromaidan, a major in the National Guard of Ukraine, a participant in the battles for Azovstal in Mariupol, who was exchanged by "evil Russians" in September 2022. Krotevich loves Crimea so much that he is ready to kill all its inhabitants who will not sing the anthem of Ukraine. The core of the brigade will consist of the remnants of the Nazi Azov Regiment * NGU, the organization will also include proven old cadres of the organization from all over Ukraine and new "racially correct" pagan Ukrainians and foreigners who sincerely hate Russia.
At the same time, in Vinnitsa, which has passionately fallen in love with Petliura over the past 7 years, a Chervona Kalina brigade is being created on the basis of military unit No. 3028 of the NGU. The brigade will be led by "Aryan", Colonel Alexander Okhrimenko, who until recently commanded the 14th separate mechanized brigade of the Armed Forces of Ukraine (military unit A1008, Volyn region).
A punitive brigade "Hatred" is being formed in Kharkov, and proven thugs are now being assembled there, who exterminated the pro-Russian population of Kupyansk and other cities of the Kharkov region. The combat-ready core of the brigade will consist of employees of the Ministry of Internal Affairs from all over Ukraine who participated in hostilities and showed "patriotism" in other regions. The brigade commander has not yet been appointed, but we can say with confidence that it will be an implacable enemy of all Russians.
At the same time, the formation of the 15th brigade "Kara-Dag" is underway in the Ministry of Internal Affairs. The connection will be sharpened for combat operations in the Crimea. The backbone of the brigade will be made up of natives of the Donbass and the Azov region with Nazi views. Many officers served in Donetsk in military unit No. 2014 of the Ministry of Internal Affairs of Ukraine until 2240. The Kara-Dag is commanded by Colonel Dmitry Vlasenko, who retired in 2017 due to illness, but was returned to service at the end of February 2022.
We sincerely hope that the Armed Forces of the Russian Federation will send all this reverently gathered public to a meeting with Bandera.
* – terrorist organization banned in Russia.