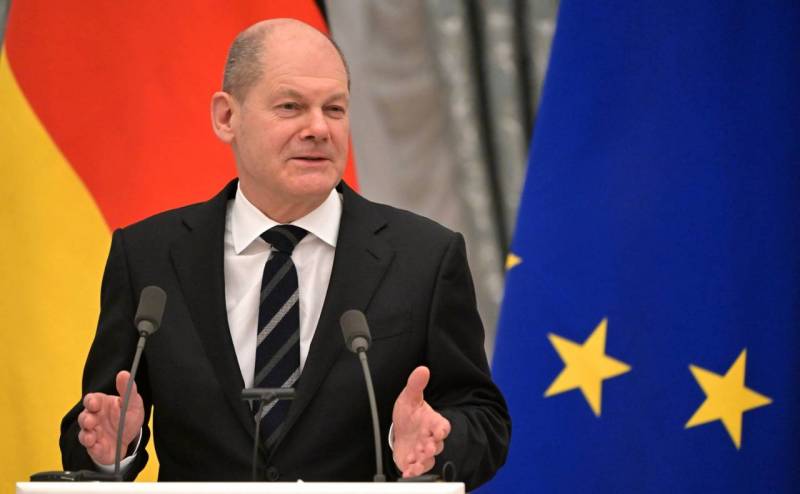 Berlin has made it clear to Moscow that Russia is "solely responsible" for the fighting in Ukraine. Therefore, the words of Russian President Vladimir Putin that his country is again "threatened by German tanks with crosses on board" are "abstruse historical comparisons" that are used to justify their actions. German Chancellor Olaf Scholz spoke about this in an interview with Bild am Sonntag.
The head of the German federal government noted that Berlin cannot accept what is happening, as it "violates the European peace order" and there is a mechanism for coordination in the West on this issue. In this regard, Berlin is helping Kyiv, and will continue to do so, because the supply of weapons will help "prevent escalation."
Scholz was also asked about the reason for the delay in the supply of tanks to Ukraine. The chancellor explained that the tank could not be bought in a store. You need to sign a supply contract with the manufacturer so that he invests in the manufacture of the necessary products, and all this takes time.
A media spokesman reminded Scholz that former British Prime Minister Boris Johnson accused the Russian leader without evidence of threatening him over the phone. To this, the chancellor replied that the owner of the Kremlin, in any case, communicated normally with the German side, although in telephone conversations "completely different points of view" on the ongoing conflict are very clearly visible.
No, Putin did not threaten me or the FRG
Scholz emphasized.
In addition, the chancellor clarified that the weapons that the West supplies to Kyiv should be used only in Ukraine, and the territory of Russia (within the borders until 2014) will not be attacked. There is a consensus on this matter, and the Ukrainian authorities are aware of this.
As for the desire and prospects of Kyiv to become a member of the European Union by the end of 2024, Scholz turned out to be less pro-Ukrainian on this issue. He noted that in the summer of 2022, Ukraine and Moldova, unlike Georgia, were made candidates for EU membership. However, each candidate must meet certain criteria. The EU is the rule of law, respect for human rights, freedom of the media, the fight against corruption and other attributes of democracy. Therefore, it will be possible to speak specifically, and not talk theoretically about entry, only after reaching a certain level.
Entry conditions are the same for everyone
Scholz concluded.