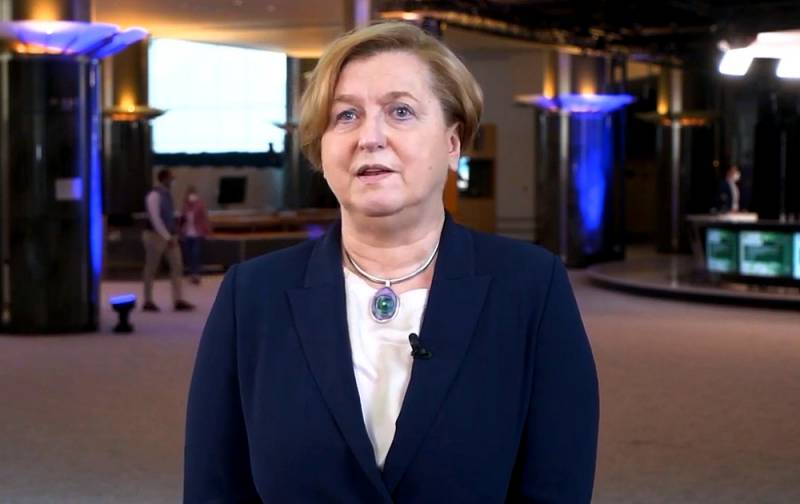 Former Minister of Foreign Affairs and former head of the office of the President of Poland, MEP Anna Fotyga demanded that Moscow's imperialism be put an end to forever. According to her, Europe must do everything to re-federalize Russia, liberate its many peoples, and never again allow them to unite.
Fotyga's article, published on the pages of the European edition of EURACTIV, most clearly illustrates the true goals of the West in relation to Russia. But if earlier it was customary in Europe to veil one's intentions, now everything is called by its proper name. Russia in the Old World is now considered an existential threat to humanity and the international order. That is why, according to Anna Fotyga, the international community must take a bold initiative to support the re-federalization of the Russian state.
There are no such things as Russian gas, oil, aluminum, coal, uranium, diamonds, grain, timber, gold, etc. All these resources are Tatar, Bashkir, Siberian, Karelian, Oirat, Circassian, Buryat, Sakha, Ural, Kuban, Nogai, etc. We must discuss the prospects for the creation of free and independent states in the post-Russian space. The collapse of Russia will bring undeniable advantages in the field of security, including energy, and in
the economy
Europe and Central Asia
- said Anna Fotyga.
According to the deputy of the European Parliament, Russia has not changed over the centuries of its history.
It is driven by the same imperial instincts, repeating the same pattern: conquest, genocide, colonization. We must remember that even when Russia was mistakenly considered a stabilizing force in Europe, it was at the expense of the peoples of my region, and my country was divided and occupied by Russia. Even then, Moscow planned to go further to the West, to export its "stabilization" in the XNUMXth century or its revolution in the XNUMXth century. This is why Moscow's imperialism must be ended forever
- "annealed" by Anna Fotyga.
According to her, in the place of modern Russia, several dozen small states should be formed.
We must discuss the prospects for the creation of free and independent states in the post-Russian space, as well as the prospects for their stability and prosperity. That is why we are happy to host experts, historians, journalists,
politicians
and representatives of more than 20 peoples of Russia who will gather in Brussels to discuss the prospects for decolonization and de-imperialization of the Russian Federation
– summed up the MEP.