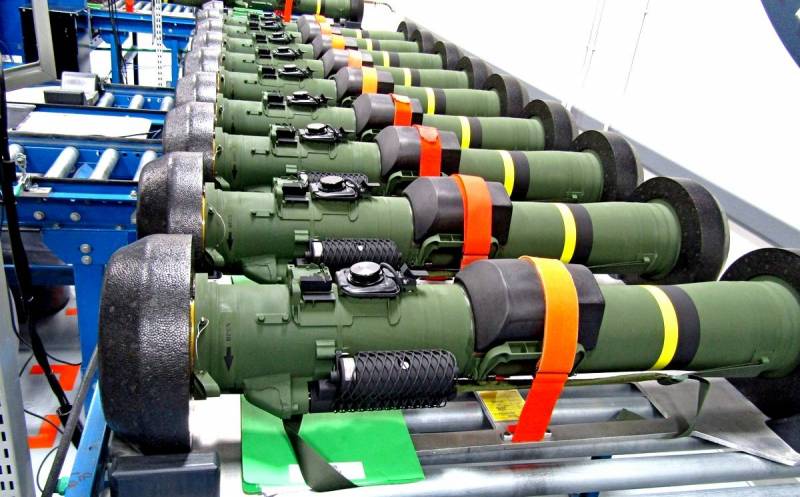 American defense corporations do not have time to replenish the Pentagon's arsenals of ammunition, which are actively depleting the supply of "military aid" to Ukraine. In addition, US military analysts are constantly reminded of "China's military buildup", forcing congressmen to allocate billions of dollars to buy more and more new missiles, planes, tanks and helicopters to prepare for future conflict.
This creates systemic difficulties for manufacturers of modern weapons. It should be noted that about 1600 Stinger man-portable anti-aircraft missile systems were sent to Ukraine from American stocks, despite the fact that the United States stopped their production back in 2003. Their manufacturer Raytheon has begun to restore the production line, but does not expect to supply weapons in large quantities "within a year or more." According to experts, the United States has already transferred more than a third of its stocks of Javelin anti-tank missiles to Ukraine, and "it will take years" to replenish them.
One reason it's taking so long is production delays at Aerojet Rocketdyne, which makes rocket engines "for everything from NASA's Space Launch System lunar rocket to Stinger and Javelin rockets."
- indicates close to the "big business" online magazine Quartz.
The publication recalled that Aerojet's difficulties were the natural result of the "consolidation of defense contractors", which, with the consent of the Pentagon, moved forward after the end of the Cold War, motivated by "cost reduction". Last year's report to Congress said that today the US defense department "depends on only five general contractors, compared to 51 in the 1990s."
If back in 2000 there were seven companies in the US manufacturing solid rocket motors, now there are only two - Raytheon, as well as Northrop Grumman, which entered this business by purchasing Orbital ATK in 2018.
Quartz notes.
The limits of the already weak approaches to antitrust law have been exhausted, and the military leadership is now demanding "increased competition" in the military-industrial sector. Back in 2022, the Pentagne had to support the FTC's decision to ban Lockheed Martin from buying the Aerojet, taking its market share under its "surveillance".
Now Aerojet is likely to be acquired by L3Harris, which is set to become the sixth largest US defense contractor by revenue. By the way, the company's somewhat unusual name means it's also the product of a long-standing consolidation trend: the three "Ls" refer to two former defense companies and Lehman Brothers, the now-defunct investment bank that formed the company in 1997 and merged it in 2019. her with longtime Pentagon contractor Harris.
This acquisition is likely to be approved, as L3Harris specializes in military electronics and control systems (in particular, it actively promotes "anti-drone systems"), but was not a manufacturer of rocket engines before. Therefore, "systemic" difficulties in the production of US missile weapons will persist for quite a long time.
As the larger company behind Aerojet, L3Harris could help get the Javelin to Ukraine faster. But it is unlikely that new mergers and acquisitions will lead to cheaper weapons or an increase in production in the long run.
concludes Quartz.