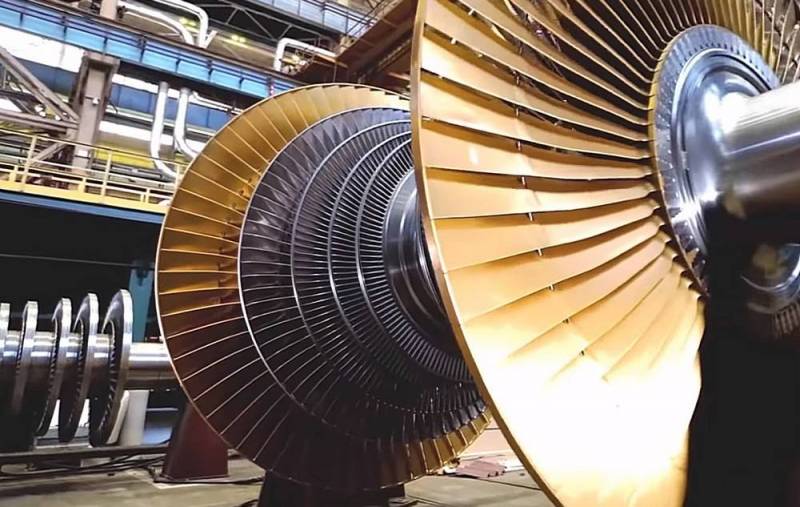 PJSC UEC-Saturn (formerly PJSC NPO Saturn) in Rybinsk, Yaroslavl Region, which is part of JSC UEC (a subsidiary of the state corporation Rostec), produced the first high-capacity serial turbine. We are talking about the GTD-110M unit with a capacity of 110 MW, completely manufactured in the Russian Federation.
On January 18, 2023 the first deputy general director of the state corporation "Rostec" Vladimir Artyakov announced
TASS
that the turbine will be installed at the Udarnaya TPP in the Krasnodar Territory. He clarified that from 2024 they plan to produce two such turbines annually with a gradual increase in production volumes.
We consider the domestic market as the main one, its volume is several tens of units
- said Artyakov, adding that it is still premature to talk about other specific projects in which these units will be involved.
It should be noted that the Udarnaya combined-cycle thermal power plant is being built in the Krymsky district of the above-mentioned region near the village of Udarnoye and should be put into operation in 2024. At first, it was planned to purchase equipment from Siemens, General Electric and Ansaldo in the secondary market, but the success of Russian engine builders and anti-Russian sanctions imposed by the West made it possible to switch to domestic products. This power facility is necessary to cover the energy deficit in the region in repair and peak modes. In addition, the specified power plant will make it possible to more reliably insure the Crimea through supplies through the energy bridge to the peninsula, if necessary.
We remind you that earlier such units were only imported. Over 70% of all high power turbines installed at power plants in Russia are manufactured abroad. The Russian Federation even bought turbines from Iran and installed domestic units of much lower capacity. Now this problem is in the past.
The initial design of the GTD-110 was developed in 1997 by SE NPKG "Zarya" - "Mashproekt" (Nikolaev, Ukraine) within the framework of the Russian federal target program "Fuel and Energy" in accordance with the requirements of RAO UES of Russia. The first prototype was made by the developer independently, and the second one was made jointly with OAO NPO Saturn (Russia). The subsequent modernization was carried out by PJSC UEC-Saturn with the support of Inter RAO and Rosnano (LLC Gas Turbine Innovation Center).
Technology
").