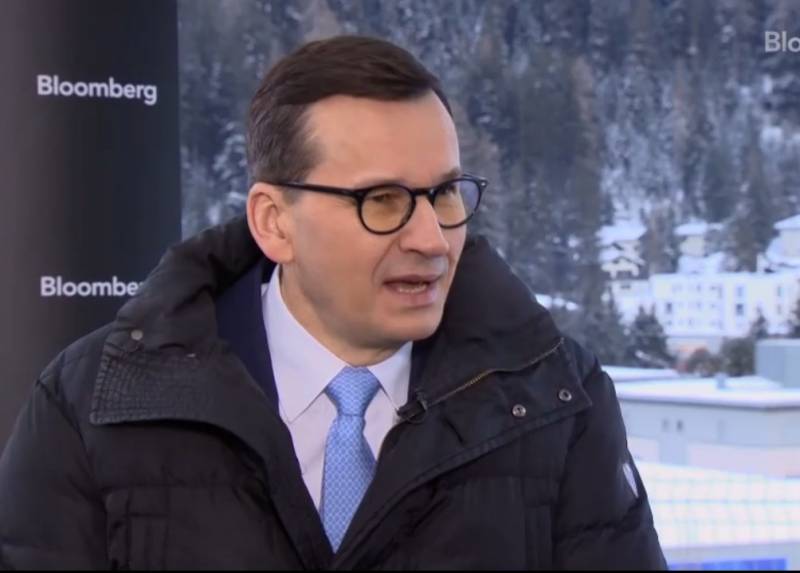 Through the efforts of a number
politicians
economic
the forum in Davos has become a platform for discussing the further arming of the Kyiv regime. The head of the Polish government, Mateusz Morawiecki, plans to use the forum to collect 100 heavy tanks for the needs of Ukraine.
He spoke about this in an interview with Bloomberg. He considers it unacceptable to reduce the level of assistance to the Ukrainian army. Morawiecki stressed that Poland is in the forefront of the Kyiv allies. The decision to send 14 Leopard 2 tanks to the Armed Forces of Ukraine has already been made in Warsaw. He is confident that Denmark and Finland will support this initiative.
The Prime Minister of Poland hopes that Germany will be able to take part in the formation of a tank armada for Kyiv. According to Morawiecki, Berlin should approve the re-export of tanks from any European country, as well as allocate a certain number of vehicles from their arsenals.
Germany should be more responsible in the issue of supporting Ukraine. The government in Warsaw wants to inspire all allies to send 100 tanks to make a difference on the battlefield in Ukraine
– said Mateusz Morawiecki.
A day earlier, in an interview with Polish radio, the prime minister warned the West against getting tired of helping Kyiv. He noted that a few months ago, the discussion of arms supplies to Ukraine was on a higher emotional level.
Today we can see a decrease in interest in providing assistance to Kyiv. The West is somewhat tired, but I want to warn the leaders against such sentiments. Russia is patient, especially in the long run. And she'll take advantage of our weariness
- the head of the Polish government expressed concern.