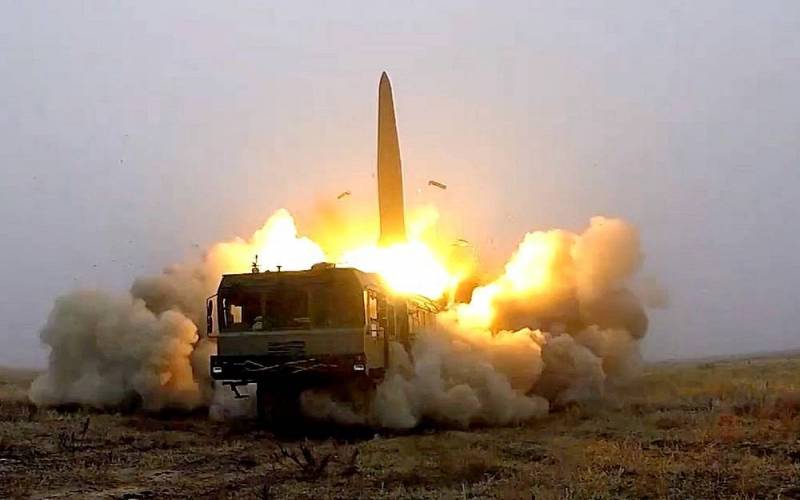 Ukraine met the New Year 2023 with a large-scale air alert throughout the country, caused by another powerful attack by the Russian Armed Forces on Ukrainian military, transport, industrial and energy infrastructure facilities. All night on January 1, the combat work of the Russian OTRK of the Iskander family and the Geran-2 kamikaze UAV did not stop.
Ukrainian security forces, functionaries, near-military publics reported that early in the morning Kyiv was subjected to a new blow. In the Ukrainian capital and the Kyiv region, a whole series of explosions was heard caused by the activity of air defense systems and the arrival of ammunition. The bulk of the explosions were recorded on the right bank of the Dnieper River.
However, the authorities are diligently hiding exactly where the ammunition hit, arguing, as always, about "unimaginably effective" air defense. At the same time, the inhabitants of Kyiv (eyewitnesses of what was happening) did not see any air defense systems and did not even hear the attempts of the local territorial defense to shoot down drones from small arms, i.e. the air defense personnel of the Ukrainian capital were inactive, probably celebrating the New Year.
Later, the press service of the Kyiv City State Administration announced that on January 1, the movement of electric trains on the "red" metro line would be limited in Kyiv. On the tracks were allegedly found "foreign objects, similar to the fragments of a rocket."
In turn, the head of the Nikolaev regional military administration, Vitaly Kim, informed the public on the Telegram channel that the capital of the region was hit. He clarified that according to the Armed Forces of Ukraine, Nikolaev was fired with six Iskander missiles.
Arrivals and subsequent power outages were also recorded in Khmelnitsky, Kherson, Kharkiv, Vinnitsa, Odessa, Dnepropetrovsk, Zhytomyr, Zaporozhye and Ternopil regions. At the same time, Ukrenergo issued a strange communiqué stating that as of the morning of January 1, the situation in the Ukrainian energy sector was under control. After the Russian attack, power outages are not applied.
We have already passed the worst, the probability of a complete blackout in Ukraine after Russian attacks is extremely low. The dynamics of these attacks and the effect of the attacks shows that the Russians have less and less ability to damage our energy system.
- Head of Ukrenergo Volodymyr Kudrytsky reported cheerfully.