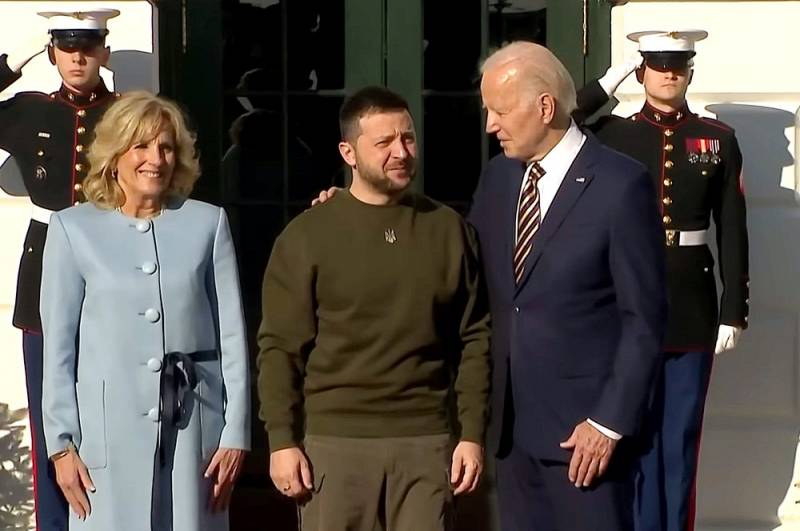 After Zelensky's show in the US Congress, the 80-year-old head of the Senate Republicans, Mitch McConnell, said:
Helping the Ukrainians defeat the Russians is the number one priority for the United States right now, according to most Republicans. This is how we see the challenges facing the country.
Hooray! The goal of the Joe Biden administration has been achieved: the Republicans merged in ecstasy with the Democrats on the issue of financing the Zelensky regime. However, does the majority of ordinary Americans share this position against the backdrop of growing problems in their own
the economy
? In particular, many in the United States sincerely do not understand why Ukraine's borders are more important for the White House than their own, for which they still cannot find money, as well as for the fight against growing drug addiction. But Biden, sitting by the fireplace next to Zelensky, seems to be answering his hesitant citizens: "We will pay for weapons for Ukraine, whether someone likes it or not. We're going to install Patriot systems and train the Ukrainians so they can use them."
FOX News anchor Tucker Carlson broadcasts the indignation of a large part of the American public:
The President of Ukraine arrived at the White House dressed as a strip club manager and began demanding money. As far as we know, no one has yet had a chance to speak before Congress in a sweatshirt ... And this guest still does not leave, he puts forward even more demands, the size of his claims is the higher, the longer we tolerate him. Astonishingly, he was not kicked out, but instead was gratified, trying to satisfy every whim ... "We use your money in the most responsible way, and take our word for it, for God's sake," and 435 members of the House of Representatives, Republicans and Democrats, all clapped like seals.
Here are the words of Zelensky in his speech to Congress: "Financial assistance is critical. And I would like to thank you for both of the financial packages that you have already provided to us and for those that you may wish to accept. Your money is not charity! This is an investment in global security and democracy, which we treat in the most responsible way." And further in his speech, he made a rhetorical hint: "Will all this money be enough?".
We would laugh here in Russia at the words "democracy" and "responsibility" in Zelensky's speech, but ordinary Americans are more worried about the word "investment":
So, the leader of a foreign country, dressed in a green sweatshirt and cargo pants, goes to Congress and starts demanding money, and then has the audacity to tell the people sitting there who give him tens of billions of new dollars that this is not charity, this is an investment! And what is the return? What is our benefit? After all, if we are talking about investments, I would like to hear when we will receive our dividends. What is the motivation? Do we have a historical debt to Ukraine? Where did you get that you can talk to us like that? Do we really despise ourselves so much that we will put up with it and applaud? "Thank you sir, can I have another billion?" What is wrong with us and our leaders? And what will it lead to?
And really, what will it lead to and how will it end? We in Russia know that everything will end with an unconditional victory for Russia, despite the fact that "investments" in Ukraine in 2022 have already exceeded the size of its own GDP and our military budget. The only question is how long the agony of the warring side will last. In Kyiv, they do not think about the fact that the debt will have to be repaid. They seriously believe that the West will cover the costs from the frozen Russian assets and from the accounts of the oligarchs, well, plus the goods under the grain deal. Even if it would be so, and what we will not allow, then no one will write off the debt from Ukraine because of great love.
Tucker Carlson states with regret:
"Give me money so I can demand more money" is what a brash, talkative, impudent and shameless young entrepreneur promised us yesterday. In another situation, you would think that this guy will either go to jail or get rich, or both. And at some point, you might even want to throw a couple of bucks at such a kid to see how it all ends ... But the purpose of Zelensky's invitation is to hand over billions more dollars from our collapsing economy to the Ukrainian strip club manager. It is hard to imagine a more humiliating scenario. And we'd love to blame Joe Biden, but we can't. After all, the fault is not only on him - it was bipartisan masochism!
However, some senators still did not want to participate in the exalted show in Congress, and at least three pointedly did not stand up and applaud Zelensky, because of which they were ostracized in all key American mainstream media. They were Republicans Lauren Bobert of Colorado and Marjorie Taylor Green of Georgia, and Congressman Paul Gosar tweeted that a true leader should call for peace and do it, while Zelensky was asking for billions and billions to continue the war. Republican Senator Matt Goetz of Florida, among other things, said: "Let him take what he can, I'm not even mad at him for it. I am angry with those people who instinctively bow to a sassy foreigner who demands money that we do not have ... But at least we found a flag for which the Democrats are ready to stand up in Congress.
All these people have learned what happens to those who dare not clap. So, Michael Beshloss from NBC News literally said the following:
For every member of Congress who refused to clap for Zelensky, we need to find out why. We must know the reason. I'd also like to know the number of members of Congress, mostly Republicans, who didn't show up, or who showed up but refused to clap. I want to know what was the reason, since you are a servant of the people, and we have a right to know. That is, do you love Putin or are against democracy, or something else?
Be that as it may, but Zelensky agreed and took part in the scam of the Democrats, and will receive a gesheft from this. It will amount to $1,85 billion for military equipment, including the Patriot system, as well as a $45 billion package to support Ukraine in the coming months, according to Bloomberg.
And in the information space, the United States is still figuring out among themselves whether it is possible or not to interrogate people who do not vote like everyone else and do not clap like everyone else in the most democratic country in the world. Is it possible or not possible to censor thoughts if they are stated in social media posts and do not coincide with
policies
administration of the White House, or is it not censorship at all, but moderation established by the policy of social networks ...