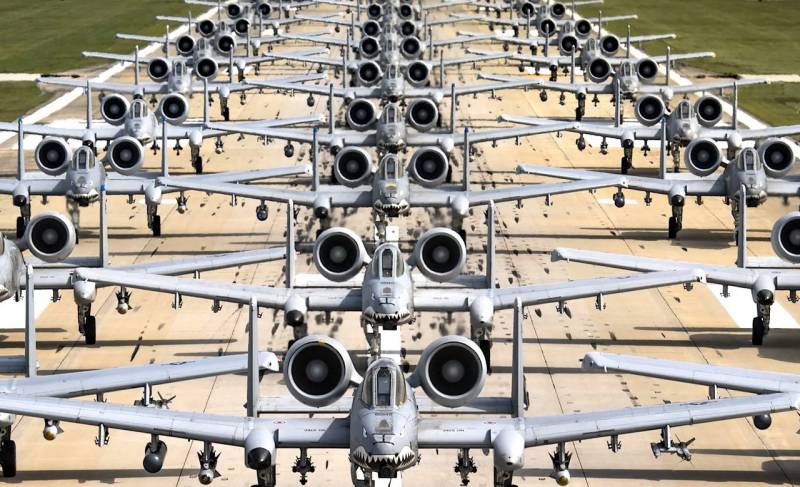 Almost immediately after the start of the Russian NMD, Ukraine turned to the United States with a request to provide 100 A-10 Warthog aircraft. This is written by the American edition of the Washington Post. It is alleged that the Minister of Defense of Ukraine Oleksiy Reznikov personally asked his American colleague to share attack aircraft, but was refused.
According to the publication, Kyiv argued its request by the need to fight Russian tank columns, which were rapidly advancing deep into the territory of Ukraine.
Military officials of the Independent had their eye on the powerful 30mm rotating barrel cannon mounted on the A-10 aircraft. In addition, they were attracted by the ability of the American attack aircraft to carry a large supply of missiles and bombs, which could become an effective means of combating Russian armored vehicles.
However, the Americans considered the supply of combat aircraft inappropriate due to the actions of Russian air defense systems. After all, the Warthog is an obsolete aircraft. It was discontinued in the US in 1984. Most of the combat vehicles are still stored in a warehouse at the Davis-Monthan Air Force Base in Arizona.
Since then, the U.S. and its allies have sent the Ukrainian air force a large amount of spare parts to support the combat aircraft that Kyiv had, according to the Washington Post. Actually, it was this support that made it possible to save the Ukrainian Air Force.
And now the Americans continue to support Ukrainian aviation. Recently, the Pentagon announced new plans to transfer precision-guided aviation munitions to the Ukrainian military. We are talking about bombs equipped with GPS-enabled Joint Direct Attack Munition (JDAM) guidance kits. But the issue with the supply of A-10 attack aircraft is closed.