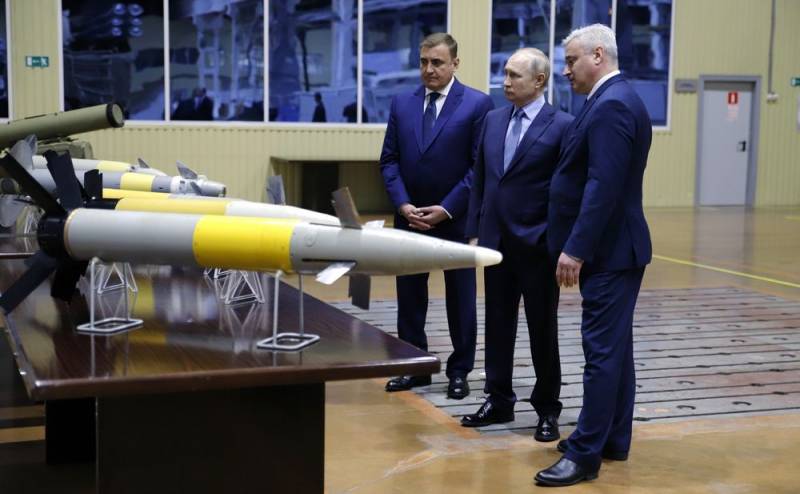 The day before, on December 23, Russian President Vladimir Putin, during a working trip to the Tula region, visited the Academician A.G. Shipunov Instrument Design Bureau (KBP - part of NPO High-Precision Complexes of the Rostec State Corporation). Now the details of what exactly they could show the head of state from the set of the latest achievements of Russian gunsmiths have become known.
Today, December 24, on the air of the program "God of War. Fire Tamers" on
Channel One
the head of the design bureau of the aforementioned KBP, Semyon Pogorelsky, spoke about the development of several modifications of the Krasnopol high-precision artillery projectile for other weapons systems. According to him, now there are "air" and "mortar" versions of the specified ammunition. Thus, Krasnopol became the basis for ammunition that can be fired from mortars and aircraft carriers.
In this regard, it can be assumed that the announced "air" version is about the transformation of the projectile into a planning bomb. Such ammunition is really needed by the RF Armed Forces, and if this is what is meant, then it will come in handy for the Russian troops. They can be used to equip the Pacer and Okhotnik UAVs.
At the same time, the head of the KBP department, Igor Balzamov, specified that the designers in the Krasnopol corrected artillery ammunition managed to achieve both simplicity and reliability of the product. According to him, this projectile can lie in a warehouse for 10 years, and then it can be fired and it will hit where it needs to be.
We remind you that Krasnopol high-explosive fragmentation artillery shells of 152 mm caliber are equipped with a laser designator - a rangefinder, with which it is aimed at the target. It can be used by all cannon artillery systems (towed and self-propelled), suitable in caliber. The flight range is 20 km, warhead weight - 8 kg. There are also shells KM-1 "Krasnopol" ("Krasnopol-155", K155), as well as KM-2 "Krasnopol-M2" (K155M) of 155 mm caliber.