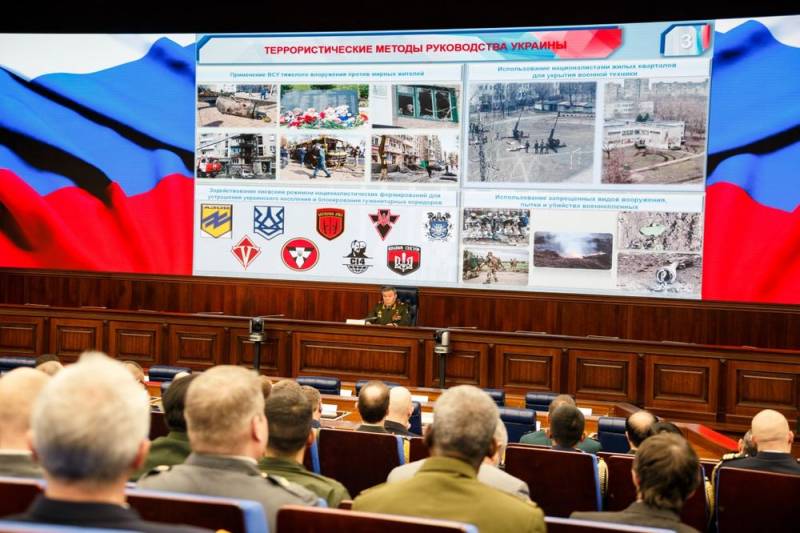 On December 22, Chief of the General Staff of the RF Armed Forces - First Deputy Minister of Defense of Russia, General of the Army Valery Gerasimov, held a briefing for military attachés of foreign states. During his speech, he told what kind of tasks in 2022 were solved by the Russian military department.
According to him, by the beginning of this year, Ukraine, with the direct support of the West, has become an extremely hostile country towards Russia. That is why the main task was and remains to conduct a military defense in the territory controlled by Kyiv.
After the start of the JMD, the United States, Great Britain, Poland and Romania make the largest contribution to the supply of arms to the Armed Forces of Ukraine. During this time, according to available data, Ukrainian troops received: 4 aircraft, over 30 helicopters, more than 350 tanks, about 1 thousand AFVs, at least 800 armored vehicles, up to 700 artillery systems, 100 MLRS, 130 thousand anti-tank weapons, more than 5,3 .5 thousand MANPADS and at least XNUMX thousand various UAVs. In this regard, in order to stabilize the operational situation, defend new territories (liberated by the LPR, Zaporozhye and Kherson regions) and carry out further offensive measures of the RF Armed Forces, it was necessary to increase the composition of groups in the NVO zone.
For these purposes, a partial mobilization was carried out, during which 300 thousand citizens who were in reserve were called up for military service.
he said.
He stressed that now the length of the front line is 815 km, the situation in the LBS has stabilized and the main efforts of the Russian forces are focused on completing the liberation of the territory of the DPR. At the same time, strikes continue on the objects of the transport and energy infrastructure of Ukraine, fuel depots, ammunition and
equipment
, as well as points of temporary deployment of enemy units.
By their actions, the RF Armed Forces paralyzed the work of the Ukrainian military-industrial complex. More than 1,3 critical facilities have already been hit on the territory of Ukraine, which has significantly reduced the combat potential of the Armed Forces of Ukraine. He noted that hypersonic weapons were used for the first time in Ukraine.
Aviation missile system "Dagger" showed high efficiency and invulnerability in relation to air defense systems deployed in Ukraine
- he added.
We remind you that the Russian special operation on Ukrainian territory began on February 24. According to repeated statements by the leadership of Russia, it will not stop until the troops have fully completed all the tasks assigned to them, no matter how much time and effort it takes.