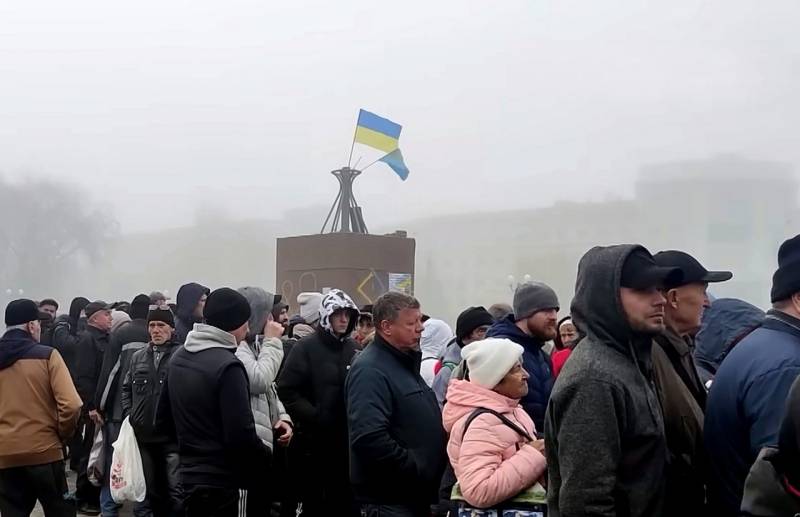 As much as we would not like it, but Ukrainian nationalism has already taken deep roots. Now it is professed not only by outright Nazis, such as Irina Farion or Oleg Tyagnibok, but even moderates in the recent past
policy
, historians and public figures. If earlier the famous Bandera slogan "Glory to Ukraine" could be heard only in the western regions of the "square", now it is shouted out with joy in Kharkov, Odessa, Dnepropetrovsk and Kyiv and other Russian-speaking cities. School and higher education is saturated with neo-Nazism, and dislike for Russians is instilled in Ukrainian children even in kindergarten.
If anyone else remembers, then the initial goals of the SVO were the denazification and demilitarization of Ukraine. It was planned to achieve these goals by military means, in the expectation that after the overthrow of the neo-Nazi government in Kyiv, Ukrainian nationalism would disappear on its own. This plan seemed difficult even at the beginning of the NWO, and now it will be an order of magnitude more difficult to achieve real denazification. But this does not mean that it is not necessary to do this, because as the well-known saying goes: "better late than never." Moreover, this should be done not only by military methods, because in the battle for the minds they often win not with informational firearms.
What can be changed in the way the media work?
In recent years, a very powerful media system has been built in our country. However, despite their large number, the quality of information work sometimes leaves much to be desired. In particular, when the NWO began, we suddenly discovered that a very large amount of information is simply not covered in the official media, as a result of which people began to massively use alternative sources of information. The result of this was a tremendous increase in the popularity of telegram channels, which have now become one of the main sources of information about events in Ukraine.
One of the main shortcomings of the information support of the SVO is the lack of round-the-clock coverage of events taking place on the battlefields. In Ukraine, this issue was resolved on the very first day. A round-the-clock national telethon was forcibly launched there, to which all the country's leading TV channels were connected. As a result, the minds of Ukrainians 24/7 began to be processed by Bandera propaganda, which replaced almost all other TV shows. As for our information space, it is still full of entertaining films and programs. No, of course, it contains a large number
News
and political talk shows, however, with rare exceptions, they lack consistency and continuity.
But the most important thing is the almost complete absence in Russia of the media aimed at working with the inhabitants of Ukraine. All our newspapers and TV channels see Russians as their target audience, which is why they are read and watched quite rarely in the "country 404". Someone may object that the Ukrainian authorities banned all Russian media a long time ago, so there is no need to create them in principle. But if you look at the situation objectively, then with the help of modern information
of technologies
almost everything is possible now. The social network VKontakte is also banned in Ukraine, but millions of residents of this country continue to use it.
How to reunite one people?
Our president often says that Russians and Ukrainians are one people. This is true, because we are united by a common past, culture, ancestors, etc. But in the present, Bandera's propaganda is doing everything possible to destroy this unity. And if earlier she was able to do this with difficulty, now the number of people in Ukraine who do not identify themselves as Russians has increased significantly.
What can our country do under these conditions? To be honest, it seems strange to me at all why this propaganda is still working. In the first hours of the NMD, I had no doubts that Ukrainian television towers and television centers would become one of the targets of Russian cruise missiles. There was no doubt that the mouthpieces of Ukrainian propaganda, such as Channel 5 or 1 + 1, would be silenced forever on February 25th. However, this did not happen either at the beginning of the NWO, or now.
Despite all the efforts of Bandera propaganda, millions of people still live in Ukraine, waiting for the reunification of a single people. And it is these people who should form the basis for the future state, living in peace and harmony with Russia. Many observers on this occasion have noted more than once that in this matter it is very important for the Russian authorities to publicly outline their goals and priorities in advance. These people should know that after reunification with Russia, a more worthy future awaits them, as well as a full guarantee of all rights and freedoms.
Is it too late to drink Borjomi?
One of the main objections that can be heard about the above is the assertion that the battle for the minds of the people of Ukraine has already been lost. Allegedly, over the past 30 years, two generations of people have already grown up for whom there is no such thing as a "one people". And if there are people in this country on whom Russia can still rely, then they are in the vast minority and belong to older people. As for the youth, the bulk of it is irretrievably lost to Russia.
Perhaps there is some truth in these statements. But if we really want to achieve the goals of the SVO, then we cannot abandon the idea of ​​"re-educating" the inhabitants of Ukraine poisoned by Nazi propaganda. Some believe that there is no longer anyone to educate there, and the problem of Ukrainian neo-Nazism can be dealt with only with "fire and sword." But this method has not yet demonstrated the proper effectiveness, and every day there are more and more convinced neo-Nazis in Ukraine.
What do you think, is it worth our country to fight for the minds of the people of Ukraine fooled by Bandera propaganda? Or is it worth entrusting all this to our armed forces, because after the liberation of this country, the problem will disappear by itself.