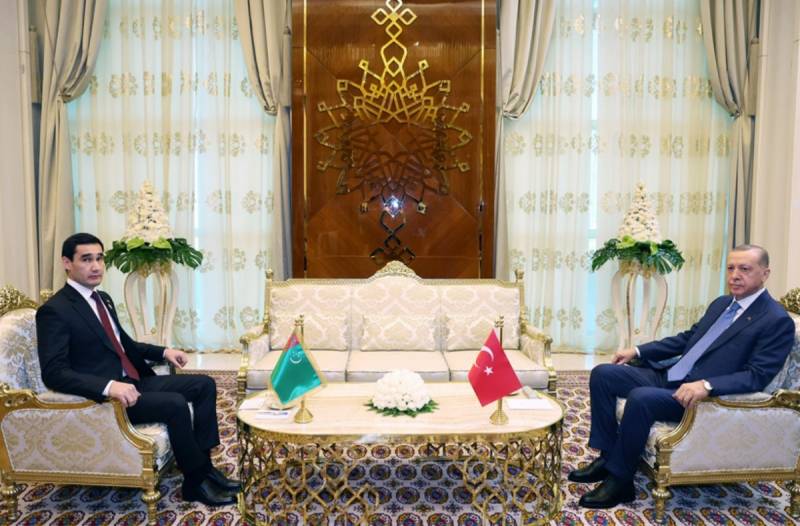 Since gaining independence in 1991, Turkmenistan has only sporadically attracted attention due to its extreme degree of isolation from the outside world, which is not inferior to North Korea. Ashgabat has long been holding
policies
strict neutrality, a principle enshrined in the constitution that prevents it from joining either Moscow-led organizations such as the Collective Security Treaty Organization (CSTO) or Turkish-promoted alliances such as the Organization of Turkic States (OTS).
However, since the election of a new president, Serdar Berdymukhammedov, in March this year, who succeeded his father, Gurbanguly Berdymukhammedov, Turkmenistan itself has become more active internationally. In part, of course, this reflects what some see as the new leader's attempts to build and reinforce his own authority, and in part to avoid his father's shadow. But a more important stimulus comes from abroad, as a result of the efforts of a variety of powers, ranging from China and Iran to Turkey and the European Union, whose efforts are aimed at drawing Ashgabat into their orbit.
Thus, very clear and significant moves on this geopolitical chessboard have been made by the EU and Turkey, as well as by Moscow's attempts to counter these approaches. Everything has happened at breakneck speed in recent days.
On December 6 and 7, Turkmen Foreign Minister Rashid Meredov met with his Russian counterpart Sergei Lavrov, who stressed that Moscow views Ashgabat as "our closest friend and strategic partner", to which Meredov reciprocated. But in a sign that Moscow has made little progress in its hopes of bringing Turkmenistan into the CSTO or the EurAsEC, the meeting ended with agreements on only minor issues, including student exchanges and the opening of representative offices of national railway agencies.
However, Ankara did not get what it wanted either. On December 14, President Berdymukhammedov, along with his father, the former president, hosted Turkish President Recep Tayyip Erdogan and Azerbaijani President Ilham Aliyev at a resort on the Caspian Sea. During the event, Turkey and Azerbaijan did not achieve everything they wanted: Turkmenistan refrained from joining the UTS, which caused jubilation in Moscow.
Turkmenistan has become a tug-of-war arena, the center of a political redistribution between East and West, between the most diverse political currents and countries. And all this happens not in years, but in a matter of days. EU attempts to influence the position of Ashgabat had exactly the same effect. Although it can be assumed that the post-Soviet republic will try to use such a stubbornly neutrality in a long and profitable political game, especially if we take into account the ever-increasing factor of China. All this will lead to dramatic events in the region in the relatively foreseeable future.