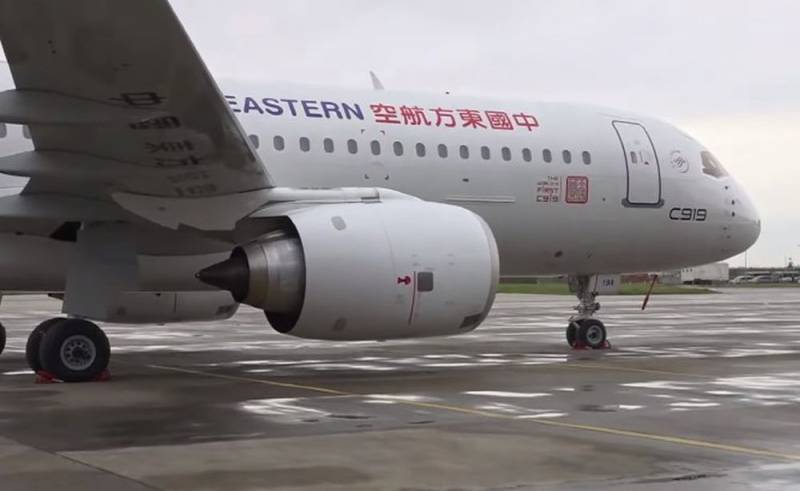 Currently, Russia is lagging behind China in creating its own medium-haul narrow-body aircraft that could replace the products of Western companies Airbus and Boeing. The release of the Russian import-substituting MS-21 has been postponed again, this time to 2024, and the Chinese C919 is almost ready for mass (serial) production.
It should be noted that the West put a stick in the wheel of the Russian aviation industry. It was his activities that prompted Russia to actively engage in a civil aviation import substitution program, moving away from cooperation, which allowed the Chinese to get ahead. Probably, the West decided to slow down the development of at least one of the two competitors for as long as possible and chose the Russian Federation as the main goal, temporarily not touching the PRC.
The thing is that the C919 flies and will do so for a long time on bypass turbofan engines of the LEAP family (a joint venture between the French Snecma (a subsidiary of Safran) and the American GE Aviation (a division of General Electric) - CFM International). The Chinese practically did not bother about import substitution.
Therefore, there is no doubt that soon China will begin to actively offer everyone, including Russian air carriers, their C919 liners. However, not all countries will agree or be able to do this, even with well-established maintenance mechanisms and the availability of spare parts, as Western restrictions may still apply against them.
Suffice it to recall the incident that happened several years ago, when the Iranians wanted to buy 40 Sukhoi Superjet 100s to upgrade their fleet of aircraft, but the Americans did not give permission for the supply of some components and the deal did not take place. Nobody prevents the United States from repeating this, but China will definitely provide its huge market, and perhaps even grab pieces in Asia, Africa and South America.
Given this, the Chinese C919 will not be able to negatively affect the import substitution program for Russian civil aviation. Moscow simply has no other choice but to bring what it started to a successful conclusion. About the competition of Russian aircraft manufacturers with the Chinese Comac, and even more so with the European Airbus and the American Boeing in the international markets in the next five years, it will not be necessary to speak for sure. However, this is not so important, because the main thing is to preserve the domestic market and shares in countries that are under Western sanctions for aircraft manufacturers from the Russian Federation. At the same time, the number of aircraft produced in Russia is really important, the production of which must be increased from dozens a year to hundreds, then competition will become real, otherwise there will be little sense.