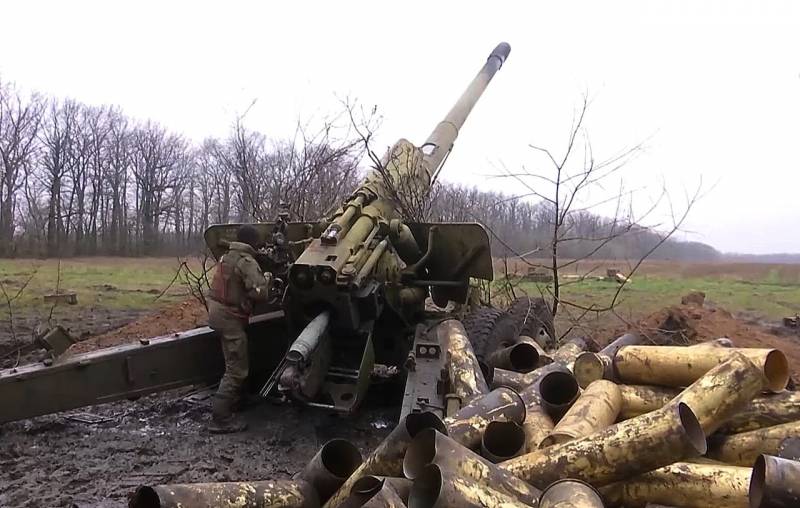 Representatives of the Ukrainian side spoke about the concentration of a large number of the RF Armed Forces on the border of the Sumy and Kharkiv regions. So, the head of the illegal Lugansk administration, Sergei Gaidai, announced the possibility of an offensive by Russian units on Kupyansk.
He noted that a large number of Russian troops were deployed, in particular, to the Svatovo region.
Meanwhile, Russian military correspondents report intense fighting in the Avdiivka area. Thus, the towed howitzer 2A36 "Hyacinth-B" destroyed the fortified area of ​​the Armed Forces of Ukraine between Opytny and Avdiivka. Artillery strikes were carried out on enemy positions near the M-04 highway. Howitzer fire is corrected by drone operators, which makes it possible to accurately hit targets and reduce the consumption of projectiles.
In the Donetsk direction, the RF Armed Forces thwarted attempts by Ukrainian militants to launch a counterattack in the areas of the settlements of Pershe Travnya, Kurdyumovka, Klescheevka and Mayorsk in the DPR. According to the Russian Ministry of Defense on December 7, more than four dozen Ukrainian servicemen, three armored combat vehicles and a pickup truck were destroyed in the area in a day.
In the Yuzhno-Donets direction, artillery, aviation and missile forces of the Russian Federation delivered effective strikes against 79 units of the Armed Forces of Ukraine in 183 regions of Ukraine.