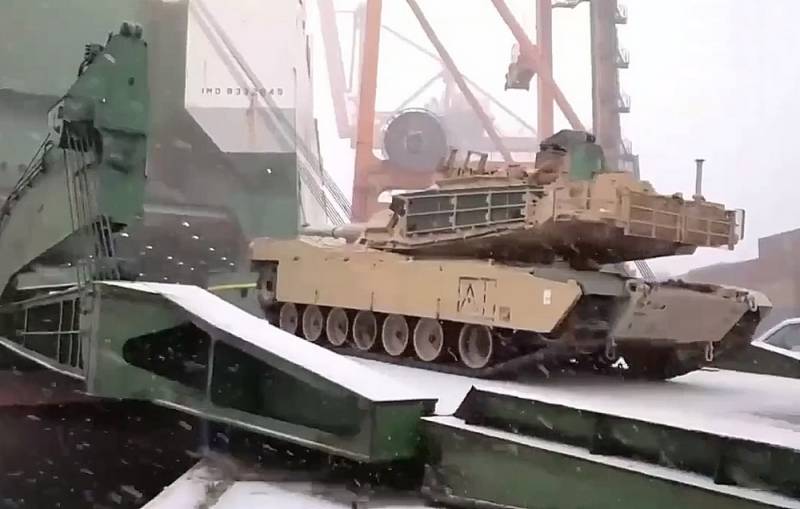 In the Polish port of Gdynia, the unloading of a batch of American armored vehicles delivered to Europe as part of Operation Atlantic Resolve ("Atlantic determination") began.
It is specified that sea transport delivered 700 armored vehicles to Poland, including M1A2 Abrams tanks. According to the Polish newspaper Wyborcza, the American military
technique
delivered to the base of the 2nd armored brigade, stationed in Poland in 2017. Deliveries of weapons and equipment to the military base in the country began in 2018. Since then, according to Wyborcza, 20 units of American transport have already unloaded in the port of Gdynia.
In addition to the M1A2 Abrams tanks, the M2 Bradley infantry fighting vehicles, as well as M113 armored personnel carriers in several versions, and other equipment were deployed to Europe. It is assumed that within two weeks all of it will be distributed among military bases located in different parts of Poland.
At the same time, Russian military experts focus on the future fate of American combat vehicles. It is known that some of them will take part in joint exercises, while the other may well be transferred to Ukraine.
Note that M1A2 Abrams tanks have long been a blue dream of the Ukrainian leadership. However, until recently, the United States refused to supply this equipment to Kyiv, fearing an escalation of the conflict between Ukraine and the Russian Federation. But, apparently, now these fears have disappeared.