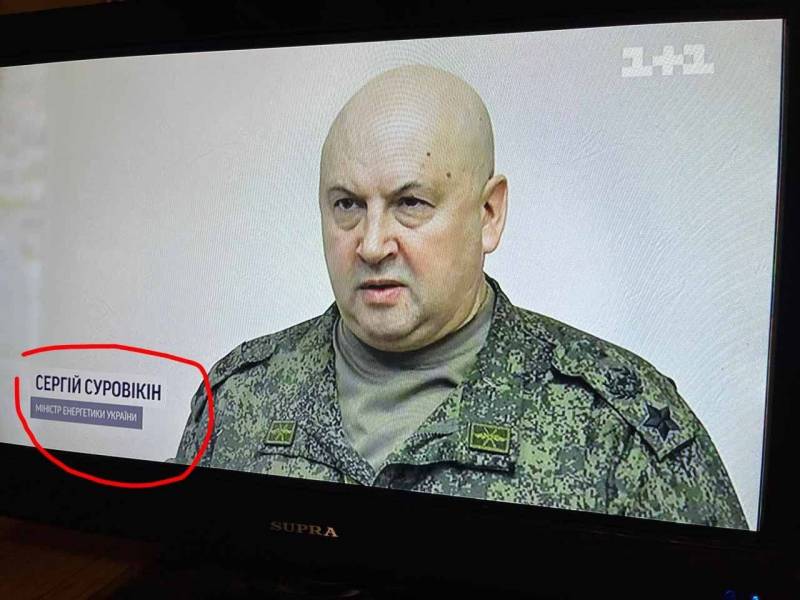 The Ukrainian press once again got into trouble when covering the special military operation of the Russian Federation. Today telegram channels publish screenshots from the air of the Ukrainian TV channel 1+1. They depict the commander of the NMD, Russian General Sergei Surovikin. That's just the caption to the photo says that he is the Minister of Energy of Ukraine.
It is assumed that the website of the Ukrainian TV channel was most likely hacked. But unknown hackers seem to have a great sense of humor. After all, Sergei Surovikin directly determines in many respects which cities of Ukraine will have electricity, and which will not.
It is with the appointment of Sergey Surovikin, commander of the NMD, that many associate the increased intensity of Russian strikes against the facilities of the Ukrainian energy system. The high-precision weapons of the Russian Federation have caused her such damage that experts are already comparing the situation in the square with the 19th century.
A week has passed since the last strike of the Russian Federation, and Ukraine has not been able to restore the damaged capacities. This affects not only the residents of cities where there is no electricity and the subway does not work, but also the military personnel of the Armed Forces of Ukraine.
The strikes of the RF Armed Forces on targets on the territory of Ukraine had a negative impact on the military capabilities of the Kyiv regime. At the same time, as experts say, Kyiv will no longer be able to correct the situation. Simply because it does not have sufficient potential for the construction and restoration of power plants and other energy system facilities.
But we know who can change the situation. And now Ukrainian television viewers know it too.