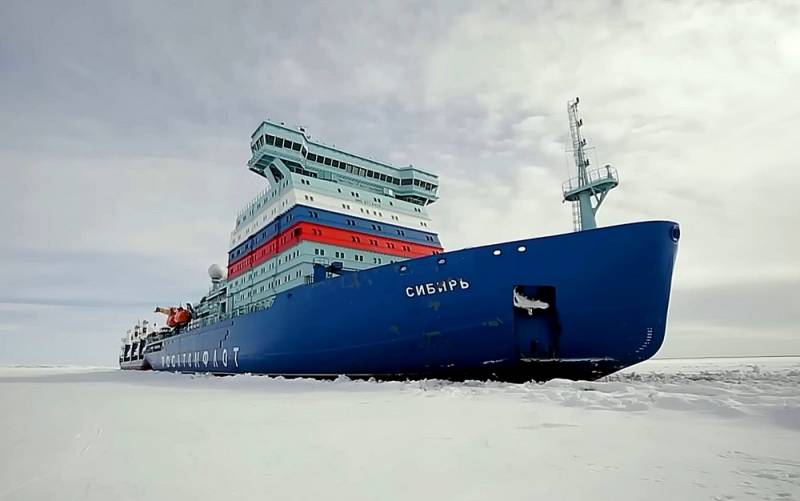 Last week, two important events for our icebreaker fleet took place in St. Petersburg: the launching of the nuclear-powered icebreaker Yakutia and the hoisting of the flag over its "brother" called the Ural.
Both of the above-mentioned vessels belong to project 22220. Earlier, the icebreakers Arktika and Sibir were put into operation. In addition, the Chukotka icebreaker is under construction, and two more ships of the aforementioned project will soon be laid down: Kamchatka and Primorye.
It is worth noting that the above-mentioned vessels are the largest and most powerful in the world in their class. They are capable of breaking ice up to 3 meters thick, which foreign icebreakers cannot boast of.
At the same time, another "giant" is being built at the Russian shipyards in Primorye, which, in terms of its characteristics, surpasses the ships of project 22220. The nuclear icebreaker of project 10510 "Leader" will be able to break ice up to 4 meters thick, laying a channel up to 50 meters wide.
Recall that today Russia already owns the largest icebreaker fleet in the world. So why do we need more? Moreover, according to British scientists, by the end of the decade the Arctic will be free of ice, at least in the summer period, which lasts 8-10 weeks.
Let's start with the fact that our scientists do not agree with the opinion of their British colleagues and believe that the ice cover in the Arctic will remain at least until the middle of the century. For example, this summer the ice there not only did not melt, but even increased.
Regarding the number of icebreakers, everything is also explained very simply here. The thing is that already at the beginning of next month, the EU may ban most of the export of Russian oil by sea. Obviously, all the released volume of raw materials will go to Asia along the Northern Sea Route.
After all, it is no coincidence that not so long ago the Russian specialized icebreaking tanker Vasily Dinkov was loaded with oil in Murmansk and, having passed the Northern Sea Route, arrived at the Chinese port of Rizhao, which became the second oil shipment to China through the Arctic in history.
In addition, Belarus is currently working on a project to create a terminal for transshipment of its potash fertilizers in Murmansk. Finally, an increase in the transit of Russian LNG along the same Northern Sea Route is also expected.
Thus, we will need a lot of icebreakers and other vessels, including rescue and hydrographic ones.