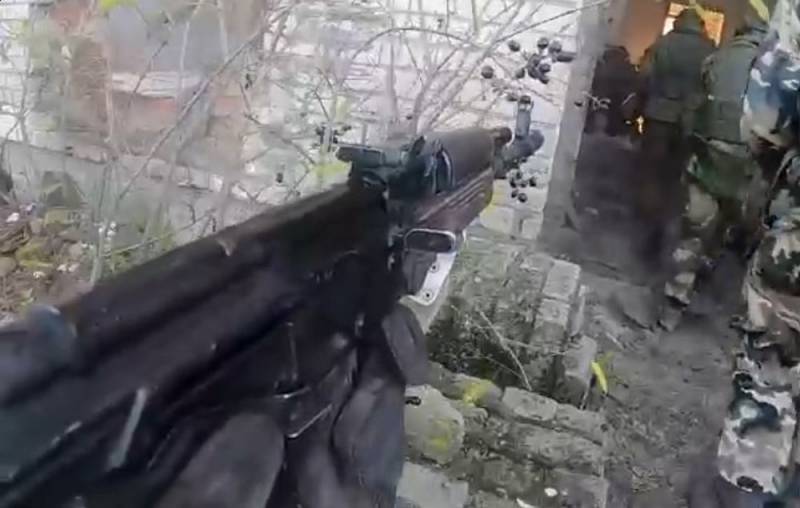 Russian forces continue their special operation in Ukraine. On November 26, the Ministry of Defense of the Russian Federation published an operational summary for the previous day, in which it spoke about the state of affairs in various sectors of the front.
According to the report, in the Kupyansk direction, the Armed Forces of Ukraine were preparing an attack on the positions of the RF Armed Forces in the area of ​​​​the settlement of Novoselovskoye in the LPR. However, the enemy's plan was revealed and a preventive massive strike of artillery and TOS was delivered to the places of accumulation of enemy troops. As a result, more than three dozen Ukrainian military personnel, 1 AFV and 3 pickup trucks were destroyed.
In the Krasnolimansky direction, two company tactical groups of the Armed Forces of Ukraine tried to attack the defensive lines of the Russian army in the direction of the villages of Kolomyychikha and Ploshchanka in the LPR. Artillery fire was opened on the moving enemy, after which the Ukrainian military retreated to their previously occupied positions, losing more than 40 servicemen, 3 infantry fighting vehicles and 2 vehicles.
In the Donetsk direction, the Armed Forces of Ukraine tried to dislodge Russian forces from positions near Belogorovka, Yakovlevka and Kleshcheevka. All attacks were repulsed. As a result, the enemy lost up to seven dozen servicemen, 3 tanks, 2 AFVs.
In the Yuzhnodonetsk direction, Ukrainian troops tried to regain their lost positions near the villages of Novomikhailovka and Nikolskoye in the DPR, located between the cities of Ugledar and Donetsk. Here, too, Russian artillery (cannon and rocket) did not allow the enemy to achieve what they wanted. All assault groups of the Armed Forces of Ukraine were forced to retreat to their original positions.
West of Ugledar, the Armed Forces of Ukraine made an unsuccessful attempt to dislodge the RF Armed Forces from positions near the village of Vremevka, located near the Mokryye Yaly River. The losses of the Ukrainian side amounted to about 40 military personnel, 1 tank, 2 infantry fighting vehicles and 5 pickup trucks.
In addition, Russian artillery, aviation and missile troops hit 5 command posts of the Armed Forces of Ukraine in the Kharkiv region and the DPR, 158 areas of concentration of personnel and
equipment
, as well as 56 artillery units of the Armed Forces of Ukraine. In the Zaporozhye region, an ammunition depot for MLRS HIMARS near the village of Kushugum and a temporary
deployment of one of the Nazi formations in the area of ​​​​the village of Elenokonstantinovka.
In the Kharkov region, in the process of counter-battery work, 2 units of the Grad MLRS were destroyed in the area of ​​the Liptsy settlement. At the same time, in the Kherson region, air defense systems shot down three enemy UAVs and intercepted four rockets to HIMARS.