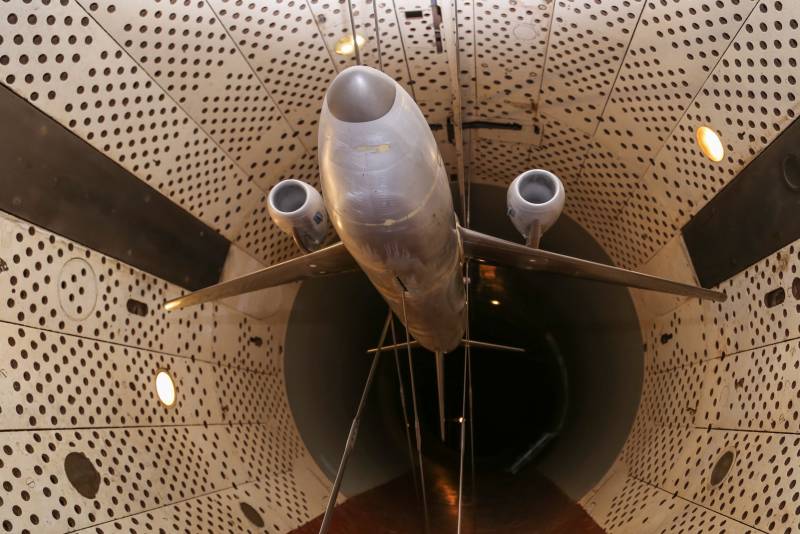 The Central Aerohydrodynamic Institute (TsAGI) completed tests of the Sukhoi Superjet model with domestic PD-8 engines commissioned by the Irkut corporation, the aircraft manufacturer.
The purpose of the research was to determine the optimal installation angle of the vortex generators, as well as to study the aerodynamic characteristics of a Russian airliner with a new engine.
The high aerodynamic properties of the SSJ-NEW with the Russian engine have been confirmed, and after testing the prototype at the Il-76 flying laboratory, we will be ready to begin work on integrating the new power plant into the aircraft
Andrey Boginsky, General Director of the Irkut Corporation, said.
The tests were carried out in the TsAGI transonic wind tunnel in cruising flight modes at Mach 0,75-0,82. Visualization of the tests showed the absence of adverse aerodynamic effects in the model with the new PD-8.
We confirmed that the layout of the SSJ-NEW with the promising Russian PD-8 engine has aerodynamic qualities no worse than with the original engine
- said Ivan Chernyshev, deputy head of the TsAGI aerodynamics department.
Recall that earlier Russian-French PowerJeT SaM100 engines were installed on the medium-haul Russian liners Sukhoi Superjet SSJ-146. However, with the beginning of the CBO, the French partner withdrew from the project, which led to the acceleration of work on the creation of domestic PD-8 engines.
The next stage of testing, according to the United Aircraft Corporation, will be held in the spring of 2023. Research is to be carried out to confirm the results of work to improve the aerodynamic characteristics of the wing of the SSJ-100 airliner.