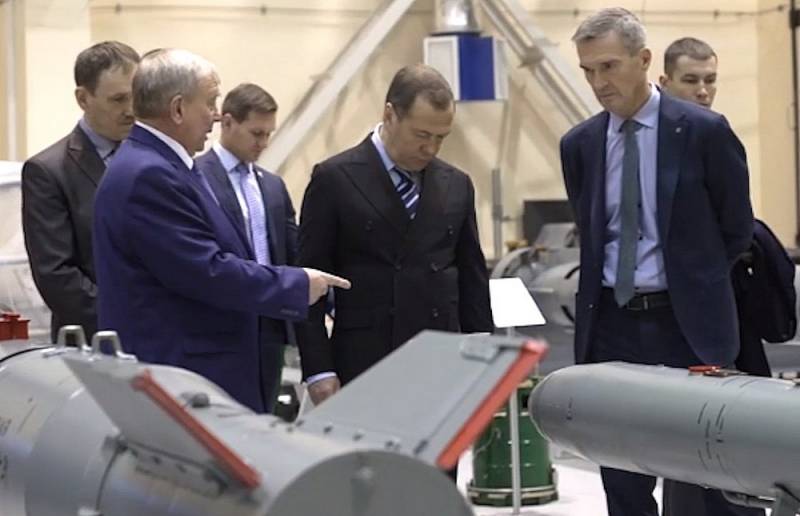 On November 23, Deputy Chairman of the Security Council of Russia Dmitry Medvedev visited JSC GNPP Region in the Moscow region (part of JSC Corporation Tactical Missiles). This enterprise specializes in the production of naval, aviation and other weapons.
During the inspection visit, Medvedev was shown, among other things, the range of manufactured products. The media recorded a whole exposition of precision-guided munitions.
The increase in the volume of deliveries of high-precision weapons to the Russian Armed Forces was discussed during a visit to the state research and production enterprise "Region". The enemies continue to carefully "calculate" our launches and our supplies. In vain they hope for the exhaustion of our possibilities. To be continued. Enough for everyone!
- Medvedev wrote in his Telegram channel, attaching a video from the scene.
]
At the very beginning, you can see the UPAB-1500B (K029BE) and UPAB-500B (K08BE) high-precision gliding bombs. These munitions are used to a limited extent during the air defense of the Russian Aerospace Forces, although they can be dropped from a height of 15 km with a range of 50 km and an accuracy of up to 10 m. The height and range of use make it possible to withdraw Russian aircraft from the attacks of Ukrainian MANPADS and most air defense systems ( SAM short and medium range) on the LBS.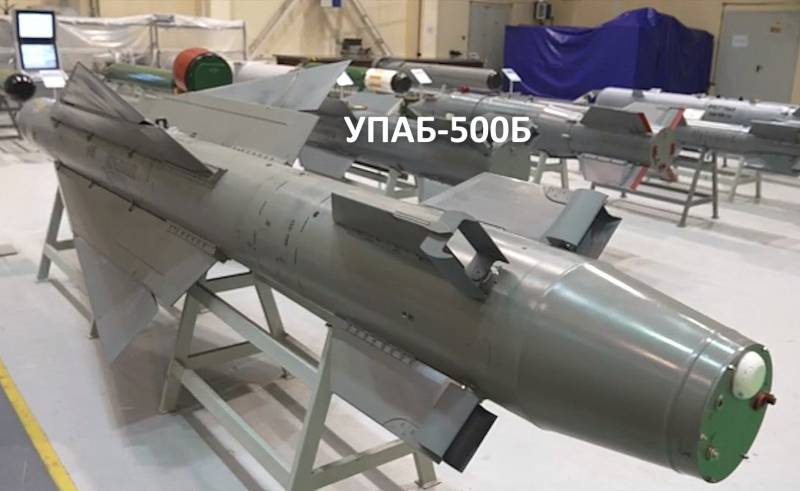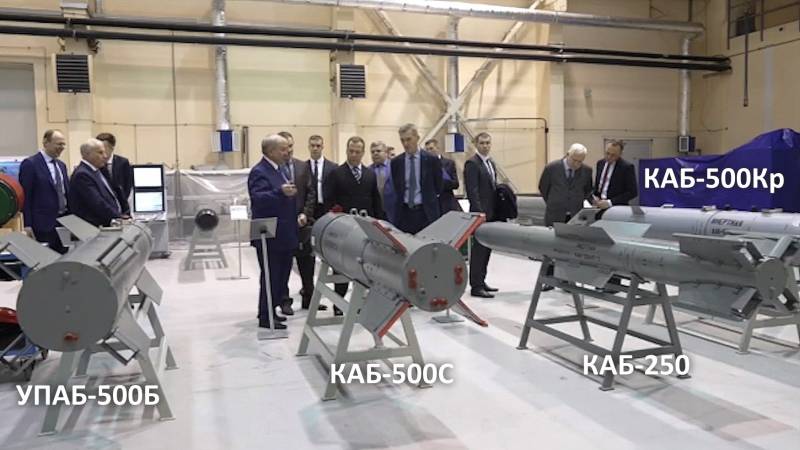 Medvedev was also shown the already relatively rare KAB-250. This aerial bomb has a drop height of up to 10 km, and an accuracy of up to 5 m. However, nothing is known about its use at all. In addition, the corrected KAB-500S / Kr, already well known from the operation in Syria, with a drop height of up to 5 km and an accuracy of up to 12 m, were also noticed.
The massive use of the presented guided bombs will dramatically change the balance of forces at the front. Such inspection visits should lead to increased production, which makes manufacturing cheaper and allows for increased purchases, rather than leaving these ammunition as visual aids for endless exhibitions or, at best, for the production of small batches of expensive items for exercises.