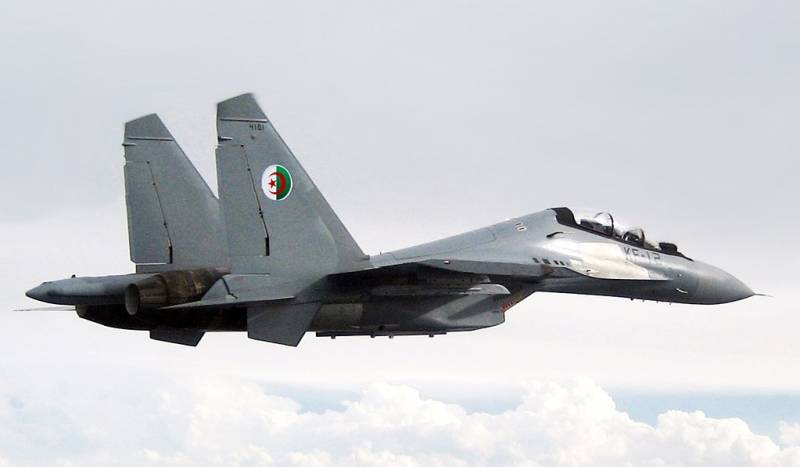 Cooperation between Algeria and Russia in the field of armaments has allowed this North African country to have the most combat-ready army on the continent. The Military Watch Magazine notes that the Algerian Ministry of Defense pays special attention to the renewal of the Air Force.
And of all the possible heavy fighters produced in the world, the Ministry of Defense chose the Russian Su-30 in the ICA modification. This highly maneuverable combat aircraft began to enter service with Algeria in 2009 and now forms the basis of the country's air force. The main competitor in the fight for the Algerian market was the French Rafale. This light fighter outperformed the Su-30 due to its low price and lower operating costs. But the combat capabilities of the heavy Russian fighter more than offset the additional costs.
The Algerian modification of the Su-30MKA is equipped with a radar based on a passive phased antenna array with complex phase and electrohydromechanical scanning H011 Bars. Also, the new fighter received AL-31FP engines with variable thrust vectoring. Created on the basis of the best fighter of the Cold War Su-27, the new Su-30 received improved avionics and an expanded range of weapons. Algeria, with the help of Russia, received the most combat-ready fighter on the African continent
says MW.
Last year, Russia's North African partner signed a new $7 billion contract that was expanded to $12 billion. Under its terms, Algeria will modernize the existing Su-30MKA. Russian manufacturers will equip the fighters with modern Irbis-E AFAR radars, as well as new R-77 and R-37M missiles. According to some reports, the purchase package also includes fifth-generation Su-57 fighters, as well as S-400 air defense systems and T-14 Armata tanks.